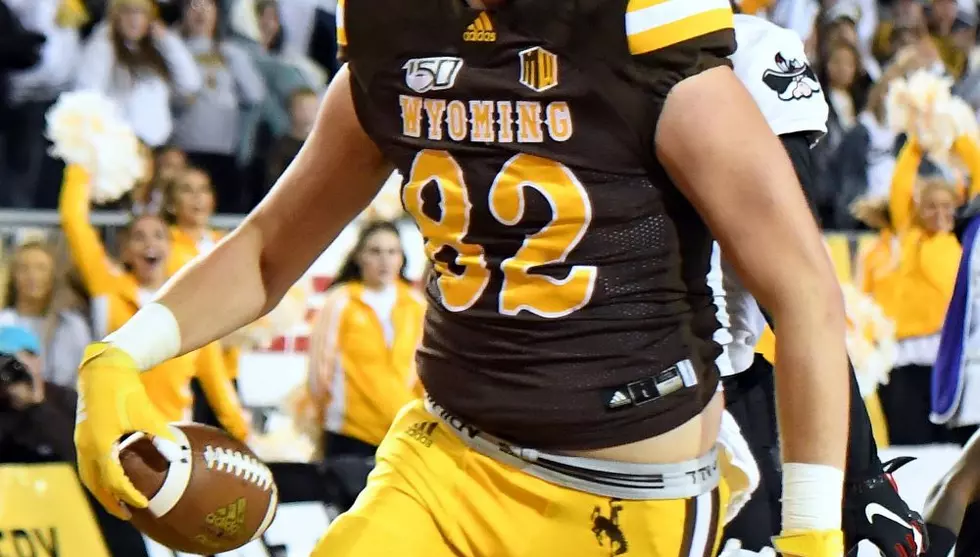 Which Wyoming Cowboy wore it best? No. 82
82cropuse
CHEYENNE — Do you ever see a number on a Wyoming football jersey and think of all the great players to wear it? Yeah, me too. In this daily series, I'll give you my take on which Pokes' football player was the best ever to don each number. The criteria are simple: How did he perform at UW? What kind of impact did he have on the program?
No. 82 – Keith Bloom
Split end, 1947, Powell
Résumé in Laramie
Keith Bloom was a three-sport star at Wyoming, playing football, baseball and basketball from 1947-50. The Powell product earned a spot in the UW Athletics Hall of Fame in the Class of 1997.
Why Bloom?
Keith Bloom played just one football season in a Cowboy uniform.
So, why on earth would he be our pick here? Pure talent, that's why.
The Powell native suited up for Bowden Wyatt's Cowboys in 1947, lettering as a sophomore. A career-ending "football" injury derailed his glory on the grid iron, but he wasn't done with UW athletics.
Not by a long shot.
Bloom walked on to the Wyoming baseball team -- having never played the sport before -- and became a three-year starter, leading the squad in put outs and fielding percentage from his first-base position as a junior and senior.
That's not all.
Bloom also excelled on the basketball court in his final two seasons on campus, starting every single game for legendary head coach Everett Shelton. Bloom was named the team's most valuable player after his senior campaign. The Cowboys overall record in those last two seasons was 50-22. During the 1948-49 season, Wyoming made the NCAA Tournament, falling in the regional semifinals.
Bloom was enshrined in the UW Athletics Hall of Fame in 1997.
His plaque begins like this: "Keith Bloom is one of the last and greatest three-sport athletes at the University of Wyoming."
That's why he made this list.
Honorable mention
Mike Van Diest (1971-74) walked on to the UW football team in 1970, the season after the Black 14 incident. In Laramie, the Montana product played tight end and eventually moved to the offensive line. Van Diest played under head coach Fritz Shurmur and compiled an overall record of 15-29.
That all changed after college.
Van Diest became a graduate assistant and strength coach at UW in 1977 under then-head coach Bill Lewis. From 1978-79, Van Diest earned his first full-time coaching job at his alma mater. He later returned to Laramie from 1991-98, serving under head coaches Joe Tiller and Dana Dimel.
Van Diest returned to his hometown of Helena in 1999 where he took the reins of the Carroll College football program. There, all he did was win six national championships and 14 Frontier Conference championships with the Saints. He wrapped up his coaching career in 2018 after compiling a record of 203-53.
Who else wore No. 82
Hank Marshall (end), JP Williams (WR), Michael Jefferson (WR), Russell Bannister (TE), Sean Brennan (WR), Marshall Schaap (TE), Ty Phillips (WR), Greg Genho (TE), Justin Morgan (WR), Kyle Cobb (WR), Tanner Simpson (WR), Alec Stewart (TE), Luke Padula (WR), Jackson Marcotte (TE), Grant Linck
*** All available rosters and photos courtesy of the University of Wyoming. If we missed one, please email Cody@7220sports.com. ***