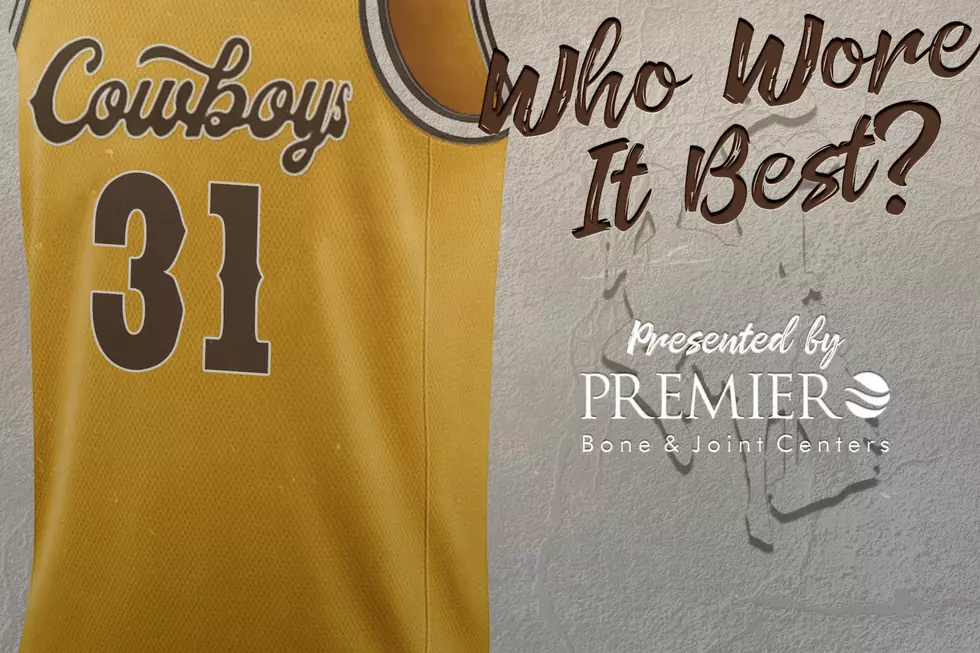 Which Wyoming hoopster wore it best? No. 31
Jen Kost graphic
LARAMIE -- Do you ever see a number on a Wyoming basketball jersey and think of all the great players to wear it?
Yeah, me too.
In this summer series, I'll give you my take on which Pokes' hoopster was the best ever to don each number. The criteria are simple: How did he perform at UW? What kind of impact did he have on the program?
No. 31 - JOHN BERTOLERO
Forward, 1957-60, Lead, S.D.
Résumé in Laramie
* Led Cowboys in rebounding in 1958 (9.5 per)
* Skyline Conference Champion in 1958
* NCAA Tournament appearance in 1958
Why Bertolero?
It was not exactly a dazzling start to the season for the 1957-58 Cowboys.
Back-to-back double-digit road losses to Wichita State and Nebraska kicked off John Bertolero's sophomore season. A home win over Tulsa was followed by four consecutive setbacks, including a 21-point blowout inside War Memorial Fieldhouse courtesy of Iowa State.
Things were looking bleak.
Then came a trip to Albuquerque and a pair of neutral site tilts with Big Ten foes Michigan and Wisconsin.
Surely Everett Shelton's Pokes would fall to a dismal 1-8 after that trip to New Mexico. Only that didn't happen. Bertolero and the Cowboys stunned the Wolverines 88-76 in the opener. The Badgers took even more of a beating at the hand of the underdogs, falling 93-65.
Beginning with a Feb. 1 victory over Border War rival Colorado State in Fort Collins, the Cowboys reeled off seven wins in eight opportunities. Wyoming claimed the Skyline Conference crown with a 10-4 record in league play.
That meant, despite a 13-14 overall record, the Pokes were NCAA Tournament bound.
Bertolero, who also wore No. 33 during his UW career, averaged nearly nine points and pulled down a team-best 9.5 rebounds per game. The 6-foot-3 forward from Lead, South Dakota, played a key role for the Cowboys that year alongside Tony Windis, Don Hatten and Harold Whitefoot, among others.
The Cowboys' draw in the opening round was none other than the No. 18-ranked Seattle Chieftains who were led by 6-foot-5 First-Team All-American forward Elgin Baylor.
Before he became the No. 1 overall pick of the NBA Draft and was named an All-Star 11 times, Baylor was averaging an eye-popping 32.5 points per game for Seattle.
Good luck, Mr. Bertolero.
Yes, the Chieftains rolled to a dominating 88-51 win, but the battle between the Helms Foundation Player of the Year and the kid from the Black Hills wasn't the mismatch most figured it would be. Bertolero netted a team-high 22 points in the loss. He held Baylor to just 26.
Seattle made it all the way to the National Championship game that season before running into Adolph Rupp's Kentucky Wildcats.
Who else wore No. 31
John Bertolero (50's), Fred Gish (60's), Flynn Robinson (60's), Ev Martindale (60's), Steve Popovich (60's), Denny Mountz (70's), Mory Correa (00's), Eric Platt (00's), Javier Turner (10's), Cort Roberson (20's)
Look who wore the No. 30 best right HERE.
Check out our "Who Wore it Best" football series right HERE.
* All available rosters provided by the University of Wyoming Athletics Department. If we missed a player who wore this number, please email cody@7220sports.com
* A number of players wore different jersey numbers during their careers. From the 1930's through the 50's, players were issued a home and an away jersey.
POKES: The Seven Best Games In The History Of The Wyoming-CSU Border War Rivalry (Naturally, they were all Wyoming wins)