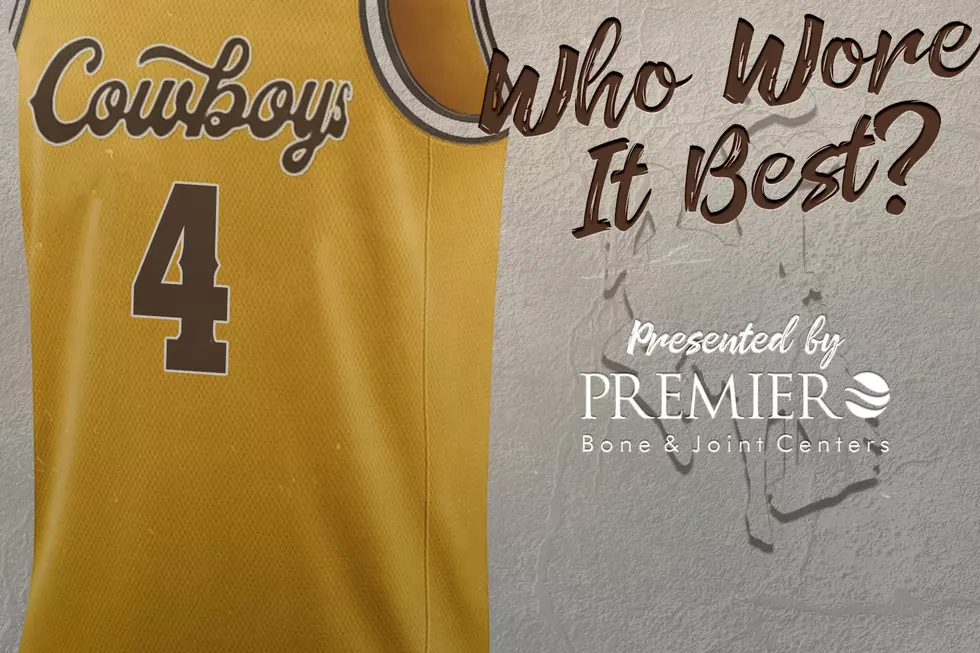 Which Wyoming hoopster wore it best? No. 4
Jen Kost graphic
LARAMIE -- Do you ever see a number on a Wyoming basketball jersey and think of all the great players to wear it?
Yeah, me too.
In this summer series, I'll give you my take on which Pokes' hoopster was the best ever to don each number. The criteria are simple: How did he perform at UW? What kind of impact did he have on the program?
No. 4 - KENNY SAILORS
Point guard, 1940-43, 1945-46, Hillsdale, Wyo.
Résumé in Laramie
* Inventor of the modern-day jump shot
* 1943 National Champion
* 1943 NIT Champion
* 1943 Unanimous selection as College Basketball Player of the Year
* Only three-time All-American in UW history (1942, '43 and '46)
* First Wyoming player in program history to have jersey retired
* 1993 Wyoming Athletics Hall of Fame
* 2012 National Collegiate Basketball Hall of Fame
* UW All-Century Team
Why Sailors?
I once asked Wyoming legend Fennis Dembo to list the top basketball players in school history.
We all know confidence isn't an issue for the Dazzling Dude. I fully expected him to accept that honor himself and celebrate that decision with his trademark smile, along with another Lone Star beer and a fresh cigar as we sat on the River Walk in San Antonio.
He could've, too. He certainly has the stats, stature and career accolades to back that statement up.
But it never came.
In fact, Dembo didn't hesitate -- it's Kenny Sailors.
When you're the player credited with inventing the modern-day jump shot, you brought a national championship trophy to Laramie and your jersey is the first ever to hang from the rafters inside the Arena-Auditorium, it really seems like a silly question in the first place.
Dembo's jersey later joined Sailors' high above Maury Brown Court. Those two are the only UW players to ever earn that honor. Dembo doesn't have a statue though. Sailors does. You can add multiple books and a full-length documentary, too.
Just a few more examples why Dembo didn't flinch at my original question.
"An American original."
That's what author Ryan Thorburn refers to Sailors as in his 2011 book, Cowboy up: Kenny Sailors, the Jump Shot and Wyoming Basketball History. That statement couldn't be more accurate.
He was a farm boy from rural Laramie County who pioneered something we see every day on television and in arenas around the world, simply because he was attempting to get a shot off over his 6-foot-4 brother, Bud.
After the Pokes national title run, Sailors, like most men his age, was ushered off to fight in World War II. Sailors became a teacher and a coach in Alaska after his six-year professional basketball career came to an end. He later returned to Laramie where he lived out his days, always keeping a watchful eye on his beloved Cowboys.
Sailors died on Jan. 30, 2016. He was 95 years old.
Honorable mention
Let's be clear here, No. 4 belongs to Sailors and Sailors alone, but there were a couple other guys who sported that number before it was lifted to the ceiling.
LaDrell Whitehead's name pops up time and time again throughout the UW history books. During his three-year career in Laramie, the Indiana product averaged 17.6 points per game from 1994-97. That's still good enough for 10th all-time in scoring average.
Whitehead is also in the Top 10 in assist average (3.7), steals (150), steal average (No. 1-2.1), 3-point field goals made (168) and 3-point field goals attempted (459). He was named the WAC Freshman of the Year during the 1994-95 campaign. He was a two-time All-Conference selection.
Have to give some love to Ugo Udezue, too.
Oh, what could have been. The Nigeria native, like Dembo, graced a page of Sports Illustrated magazine. He was the next big thing. During his sophomore season in 1998-99, Udezue averaged 20.5 points per night. He also added 7.4 rebounds an outing. He earned All-WAC honors after that showing.
Knee surgery would end his brief dominance, but Udezue did battle back and give it a go, playing in parts of five seasons for the Cowboys.
Ever hear of AFA Sports? That stands for "Africa for Africa." It's Udezue's athletic company. After a brief stint as an NBA agent, the former UW standout went home to create a new basketball league. That led to an apparel company. If you ever see the African National Team on television, that's Udezue's brand on the uniforms.
Who else wore No. 4
David Murray (90's), LaDrell Whitehead (90's), Ugo Udezue (90's), Dion Sherrell (00's), Francisco Cruz (10's)
Look who wore the No. 3 best right HERE.
Check out our "Who Wore it Best" football series right HERE.
* All available rosters provided by the University of Wyoming Athletics Department. If we missed a player who wore this number, please email cody@7220sports.com
* A number of players wore different jersey numbers during their careers. From the 1930's through the 50's, players were issued a home and an away jersey.
University of Wyoming's Top 50 Football Players
The rules are simple: What was the player's impact while in Laramie? That means NFL stats, draft status or any other accolade earned outside of UW is irrelevant when it comes to this list.
This isn't a one-man job. This task called for a panel of experts. Joining 7220's Cody Tucker are Robert Gagliardi, Jared Newland, Ryan Thorburn, and Kevin McKinney.
We all compiled our own list of 50 and let computer averages do the work. Think BCS -- only we hope this catalog is fairer.
Don't agree with a selection? Feel free to sound off on our Twitter:
@7220sports
- #Top50UWFB
- University of Wyoming's Top 50 Football Players