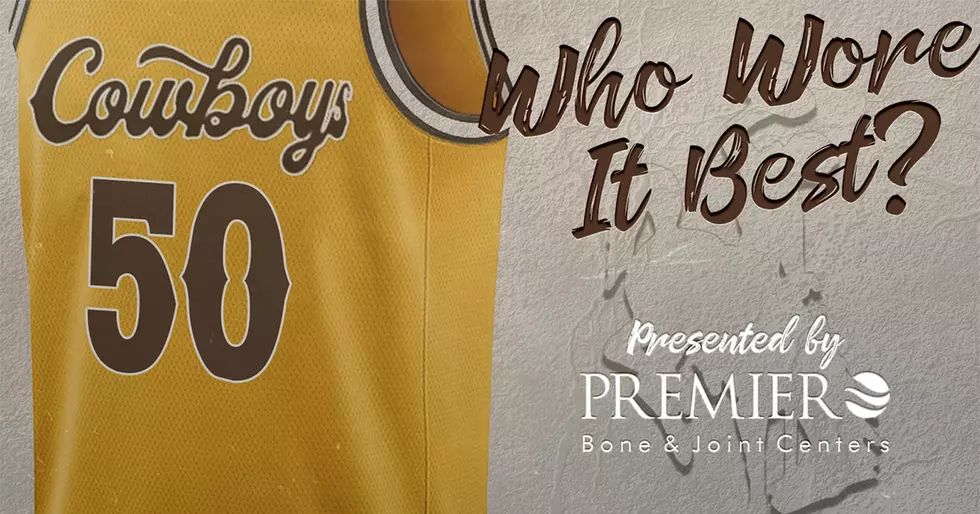 Which Wyoming hoopster wore it best? No. 50
Jen Kost graphic
LARAMIE -- Do you ever see a number on a Wyoming basketball jersey and think of all the great players to wear it?
Yeah, me too.
In this summer series, I'll give you my take on which Pokes' hoopster was the best ever to don each number. The criteria are simple: How did he perform at UW? What kind of impact did he have on the program?
No. 50 - REGGIE SLATER
Forward, 1989-1992, Houston, Texas
Résumé in Laramie
* 121 games played at UW
* 15 points per game
* 9.9 rebounds per game
* One of 38 players to score 1,000-plus points
* 1992 WAC Player of the Year
* Led the WAC in rebounding three straight seasons
* No. 1 rebounder in UW history (1,197)
* No. 1 in double-doubles in UW history (58)
* 7th leading scorer in UW history (1,809)
* 7th leading shot blocker in UW history (100)
* Four-time First Team All-WAC selection
* Two-time WAC All-Tournament Team selection
* Member of UW All-Century Team
* Inducted into UW Athletics Hall of Fame 2002
Why Slater?
If you're nickname is the "Big Cat" you're likely landing on a list like this one.
If you have the statistics Reggie Slater had in college, you're also considered one of the best players in Wyoming history.
Try this outing on for size.
In mid-December of 1991, Troy State paid a visit to the Arena-Auditorium for a non-conference matchup. Slater, then a junior, snagged a record-breaking 27 rebounds against the Trojans. For good measure, the 6-foot-7 forward poured in 29 points in a 108-92 victory.
Read that stat line again.
That number is still tied for the 20th-best performance in NCAA history.
Slater, to the surprise of no one, is the school's all-time rebounding leader with 1,197. The next closest is Josh Davis -- our selection for the best No. 22 in UW history -- who finished with 956.
Slater was the first player in the history of the Western Athletic Conference to lead the league in rebounding three straight seasons. For his efforts, he was named the WAC Player of the Year after his senior season.
Wyoming mostly hovered around the .500 mark during Slater's career in Laramie, aside from a 20-12 campaign during the 1990-91 season. The Cowboys made the NIT that year, knocking off Butler 63-61 in Laramie. Their season ended three nights later in Boulder.
Slater is still in Wyoming's Top 10 in points (7th-1,809), blocked shots (7th-100) and double-doubles (1st-58).
Slater was named an honorable mention All-American as a senior and also earned Sports Illustrated College Player of the Week honors. The year prior, he led the conference in shooting and finished second in scoring. He was a five-time WAC Player of the Week honoree during his career at UW.
After going undrafted in 1992, Slater had a long professional basketball career that included NBA stops in Denver, Portland, Dallas, Toronto, Minnesota, New Jersey and Atlanta.
Slater was enshrined into the UW Athletics Hall of Fame in 2002. He currently lives at home in the Greater Houston Area. His son, Rashawn, was a first-round selection of the Los Angeles Chargers in the 2021 NFL Draft.
Who else wore No. 50
George Black (50's), Bill Stuart (60's), Randy Richardson (60's), Steve Popovich (60's), Tom Clough (70's), Al Eford (70's), Doug Bessert (70's), Mark Wrapp (70's), Dave Lodgins (80's), Anthony Dixon (90's), Chris Haslam (90's), Marty Kleeman (90's), Jarrod Boswell (00's)
Look who wore the No. 45 best right HERE.
Check out our "Who Wore it Best" football series right HERE.
* All available rosters provided by the University of Wyoming Athletics Department. If we missed a player who wore this number, please email cody@7220sports.com
* A number of players wore different jersey numbers during their careers. From the 1930's through the 50's, players were issued a home and an away jersey.
Wyoming Cowboys football players in the NFL: Then and now