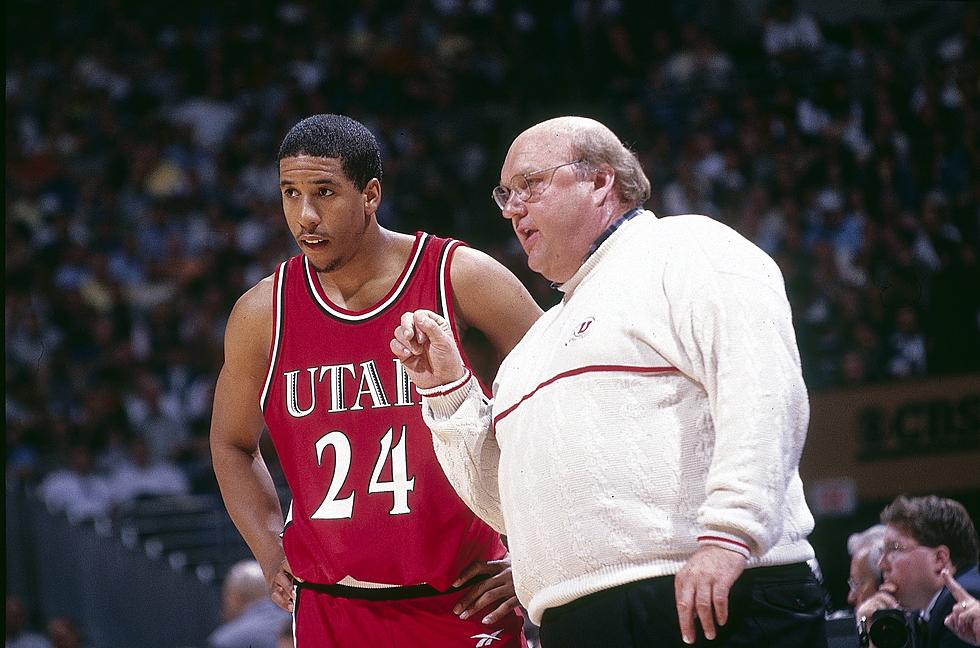 Who are the Biggest 'Villains' in Wyoming Hoops History?
NCAA Final Four, Utah coach Rick Majerus on sidelines with Andre Miller (24) during game vs North Carolina, San Antonio, TX 3/28/1998 (Photo by Manny Millan/Sports Illustrated via Getty Images)
LARAMIE -- Who do you consider the biggest villains in Wyoming basketball history?
No, seriously. We want your opinion.
You might recall, we did this same series before the 2022 football season. Your votes indicated former BYU head coach LaVell Edwards was indeed the most disliked figure to ever face the Cowboys.
Saying things like "I'd rather lose and live in Provo than win and live in Laramie" will land you at the top of a list like this.
Last time around we made the mistake of internally deciding who would be in the 16-person tournament field. There were names like Kyle Whittingham, Bradlee Van Pelt and Sonny Lubick, among others. We don't think we were too far off on our selections, but we might have missed some.
We also weren't very clear on what it took to make the list. Just being unlikeable and a thorn in UW's side can't be the parameters.
Why?
That could be a number of people: Officials, league commissioners, athletic directors, etc. So, this time around let's be very limited: Which opposing players and/or coaches were in your mind the worst of the worst?
The guy in the photo above -- rocking the trademark sweater -- certainly had some memorable moments against the Pokes. Rick Majerus developed Utah into a powerhouse in the late 90's. Sometimes Wyoming was on the receiving end of some ugly losses, other times Brett McFall was tossing three-quarter court alley-oops to Josh Davis on national television.
Those were always fun meetings, weren't they?
We will seed the final selections 1-16 and have them go head to head. Who moves on to the next round will also be decided solely by your votes.
So, let's start throwing some names around. Feel free to start rattling off some villains in the comment section on social media and let's discuss. It's always fun to hear stories of pure disdain from different eras of fans.
Senior Sendoff: Hunter Maldonado & Hunter Thompson
Today we celebrate the careers of Wyoming basketball players Hunter Maldonado and Hunter Thompson, who tonight will play their last game inside the Arena-Auditorium in Laramie