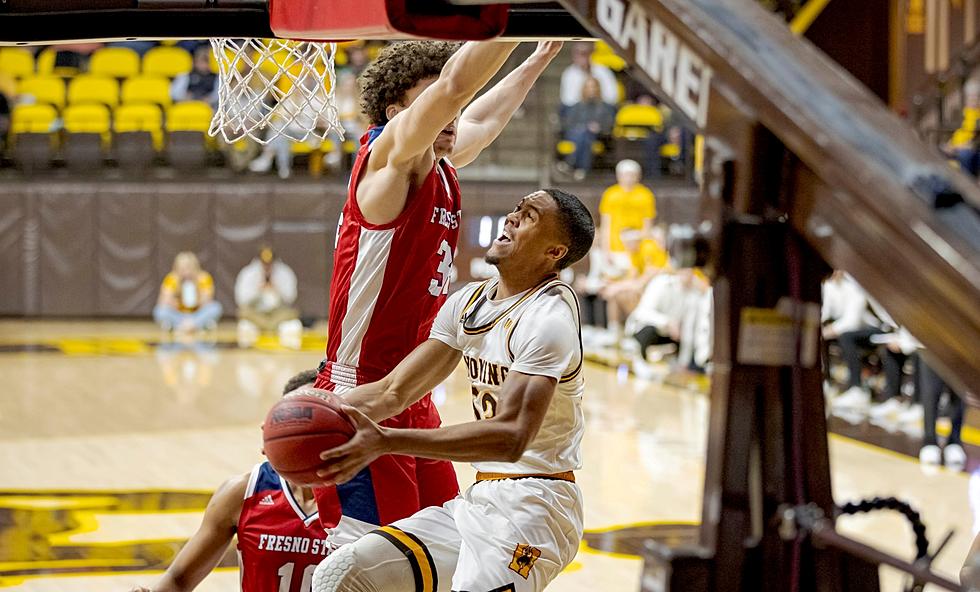 Wyoming looking for an aggressive Xavier DuSell in Sin City
Xavier DuSell netted a team-high 21 points for the Cowboys in a 68-64 overtime victory over Fresno State in last Saturday's season finale in Laramie./ UW courtesy photo
LAS VEGAS, Nev., -- "Paralysis by analysis."
That can happen to smart kids, according to Jeff Linder. In this instance, Wyoming's head coach is referring to Xavier DuSell.
"You know, when he's good, he just lets it go," Linder said, adding that the freshman tends to overanalyze certain situations. "After the UNLV game, in the locker room, I mean, I told him, 'man, you have to stop to look in the mirror."
The sophomore guard took his coach's words to heart.
DuSell fired the Cowboys' first five shots in the season finale -- all from beyond the arc -- and drained three of them as Wyoming held off Fresno State 68-64 in overtime last Saturday in Laramie.
Three nights prior, DuSell attempted just five all game in a road loss to the Rebels.
He missed them all.
"Coach has just been getting on me lately, you know, saying I have to bring more to the team," DuSell said after the win over the Bulldogs. "Obviously, that's something that I know internally, as well. So, tonight, I thought I might as well just go out guns blazing and see what happens."
DuSell put up 17 shots from the field -- 13 from deep -- sinking six total to lead Wyoming with 21 points in the win. The Scottsdale, Arizona, product had eclipsed the 20-point mark just twice this season.
MORE UW HOOPS NEWS:
* Pokes, Rebels to square off Thursday in Las Vegas
* Wyoming's 'Big Two' land All-Mountain West honors
* Maldonado: 'He was going to do big things here and he has'
* Rested, rejuvenated Graham Ike could be key to knocking off Rebels
* Does Wyoming need to win in Las Vegas to punch ticket to NCAA Tournament?
After suffering a hamstring strain in the dying seconds of a Jan. 15 road victory at Utah State, DuSell was forced to miss four straight games. It took him nine games to get back into double-figures on the scoresheet.
It took 10 to re-enter the starting lineup.
During that rough stretch, DuSell averaged just 3.2 points per game. Worse, just 21 minutes an outing.
"As I always told him, the process is different for everybody," Linder said. "There have been a lot of sophomores that have had it tough for years. You know, the thing about X is, he just continues to work."
DuSell had a breakout freshman season on the high plains, averaging nearly 10 points per game and connecting on nearly 46% of his shots from behind the arc.
Wyoming needs that guy in Las Vegas this week, starting Thursday afternoon when the Cowboys once again play UNLV inside the Thomas & Mack Center to kick off the Mountain West Tournament.
"I think it's huge," said Hunter Maldonado, referring to DuSell stepping up on the offensive side of the ball. "It spreads out the defense, for sure. They don't want to help off. Obviously X is kind of coming back, trying to find his rhythm since his hamstring (injury). Now that he is starting to get going, he's just another offensive threat.
"I mean, at the end of the day, like I was saying, you have to pick your poison. Today, they picked me and Graham (Ike) and X went off."
When DuSell adhered to Linder's words and started that self-reflection, his play looked different. So did the man himself.
During his first two seasons in Laramie, DuSell became known for his big, bushy hairdo.
Not anymore.
"As far as the haircut, I just wanted to start fresh," he said. "You know, take away the whole hair-identity thing and focus on playing."
Like smart kids tend to do, Linder joked that DuSell took him literally.
"I'm kind of disappointed he cut it off," he said with a grin. "But hey, if that's what he needs to do to kind of get a clean slate as we make our way down the stretch, then I'm all for it."
Linder might miss the locks, but he likes the aggressive guard that showed up -- and showed out -- against Fresno State.
"He cares. That's the thing -- he cares," Linder said. "He really cares about being a good player, being a good person, being somebody that represents the University of Wyoming and what it's about to be a member of our basketball team. So, I'm just happy that he got to see that because we need that as we move forward."
The Pokes and Rebels are set to tipoff at 3:30 p.m. MT and the game will be telecast on CBS Sports Network.
Wyoming Cowboys football players in the NFL: Then and now