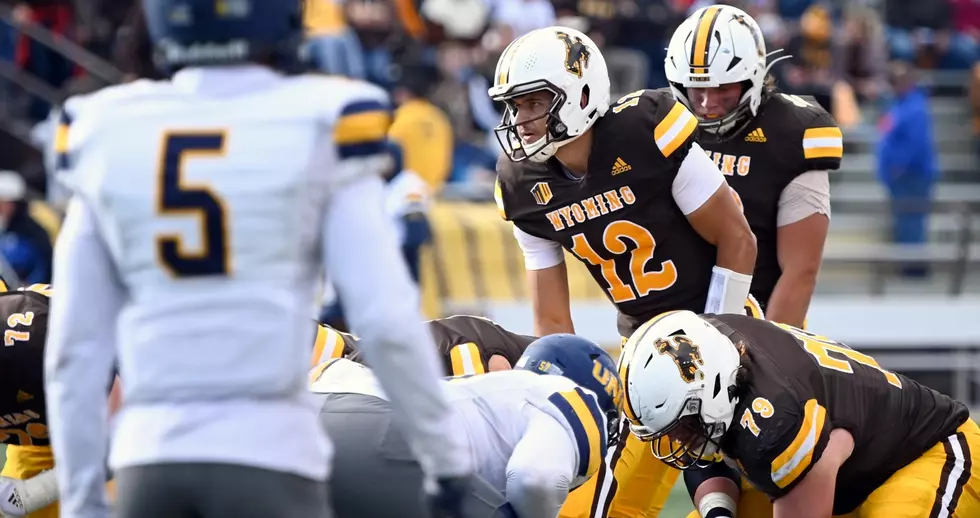 Wyoming QB Jayden Clemons placed a risky bet on himself — and won
Jayden Clemons, a former walk-on from Utah, earned a scholarship a week before the 2022 regular season and was named the Cowboys' back-up quarterback./ DJ Johnson photo
LARAMIE -- That school 17 miles down the road never bothered to call. Neither did the ones in Salt Lake City or Logan for that matter.
Despite throwing for 2,430 yards and 26 touchdowns at Skyridge High School in Lehi, Utah -- not to mention rushing for nearly 1,000 yards and adding 11 more scores on the ground -- Jayden Clemons never received even so much as a letter from in-state schools like BYU, Utah or Utah State.
You can add Weber State, Southern Utah and Utah Tech to that dubious list, too. Oh, and don't forget about Snow College, a JUCO that produced fellow Wyoming quarterback Evan Svoboda.
"I didn't really have any interest or notice for many teams anywhere coming out of high school," Clemons said. "There could be a whole conversation of speculation why."
Not only did he guide his team to consecutive 5A state championship appearances, Clemons said he attended all the local camps and combines. He reached out to coaches around the country, sending highlight-filled film to any and everyone just like another widely known former Wyoming quarterback once did.
No one bit.
Eventually, Clemons walked on at the University of Utah. There, he was immediately moved to the safety spot. He obliged, gladly. He was just seeking an opportunity. Still, that desire to line up under center never left.
Buried on the depth chart, Clemons said he decided to place a bet -- on himself.
"That's a few years in the past," the redshirt freshman said with a shy grin. "I'm here now and I'm a Cowboy. All my work has paid off."
Craig Bohl is not a big fan of flair or individual attention. Wyoming's ninth-year coach instead excels in the role of straight shooter. When other schools announce scholarships for walk-ons, often an emotional, celebration-filled video on social media follows.
Not in Laramie.
"Did I do something wrong?" Clemons joked when recalling the day he was told the head man wanted to see him in his office after practice. "It threw me for a loop. My mind was spinning, thinking, 'what does coach Bohl want to talk to me about?'"
MORE UW FOOTBALL NEWS FROM 7220SPORTS:
* Renewed rivalry: Wyoming, BYU to meet for 79th time Saturday in Provo
* GALLERY: Youthful Wyoming football team beginning to emerge
* Wyoming Football: News and notes ahead of BYU
A week away from Wyoming's season opener at Illinois, Clemons' wager finally paid off.
"He thanked me, gave me gratitude and kind of congratulated me on everything I did during camp and how I had been playing," he said. "He said him and the rest of the coaches took notice and I earned a scholarship. He gave it to me and that was pretty cool."
Admittedly, Clemons said digesting that news didn't come immediately. It was the first goal -- one of many, he added -- on his list. It wasn't until a phone call to his parents that he finally decided to take the rest of the day to celebrate.
It was short lived.
After all, it was game week. And unbeknownst to him, he was named the Cowboys' second-string quarterback, backing up Utah State transfer Andrew Peasley.
"I really didn't know," he laughed, referring to where he fell on the QB depth chart heading into Champaign. "There really wasn't a conversation of like, 'hey, by the way, you're the backup.' I was just kind of taking the two-reps. I was like, 'I think I'm the backup.' Then my teammates were like, 'hey, are you the backup?' I don't really know.
"It was an unspoken thing, but I got it."
This week, Clemons is in a unique position. He suited up at Utah and now Wyoming. If those two programs have one commonality it's in the enemy category, and the bull's-eye lands squarely on that team from Provo.
One of the many that didn't give Clemons a sniff.
Does he have a chip on his shoulder heading into this one? Sure. Clemons added the Cougars weren't the only team to pass on him though.
Will he tell his teammates just how important a win inside LaVell Edwards Stadium is to him? Not necessarily.
"I didn't know how big this game was for the fans," he said. "... This fanbase is very loyal. They hold grudges on teams and that's very cool. Being the team in Wyoming, we represent them. We're the ones that go out there and go to battle. We play for that name on the front and that logo on the back and ride for the brand.
"... We got this state's back, the peoples' back and our fans' back. I mean, it's a two-way street -- and they've got our back."
Kickoff between the Cowboys and Cougars is set for 8:15 p.m. Mountain Time and the game will be televised on ESPN2.
2022 Wyoming Football