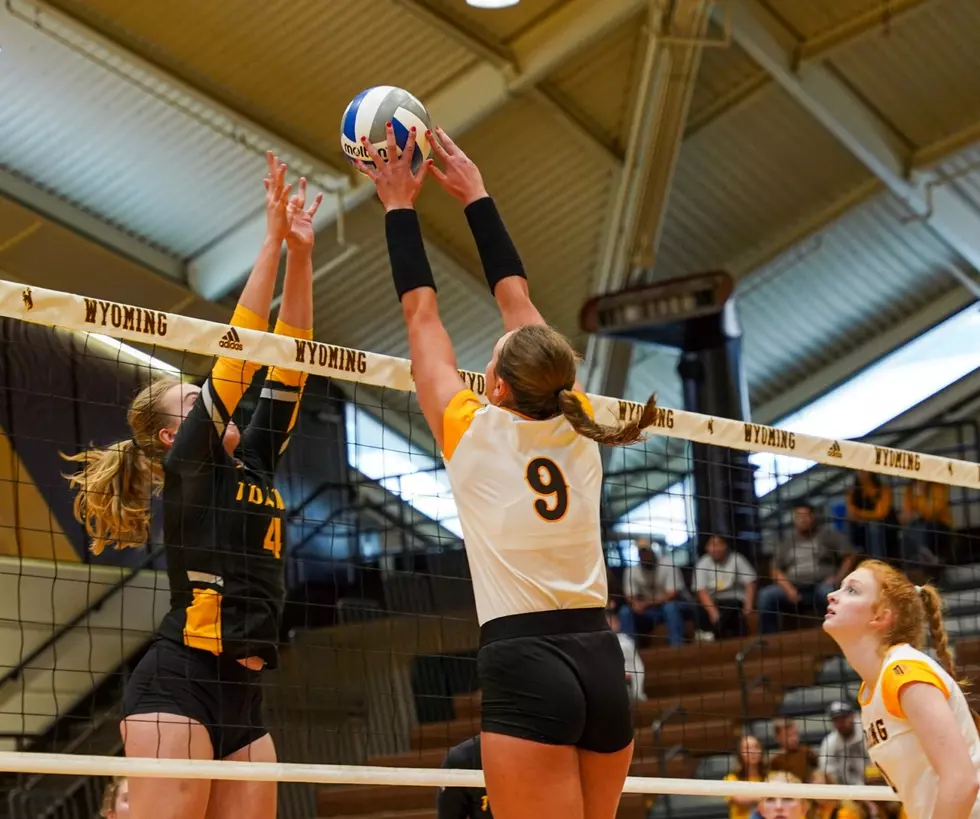 Wyoming volleyball starts fast, but falls to Idaho in four sets
The University of Wyoming volleyball team started out strong but couldn't maintain the momentum Friday during its third game of the UniWyo Invite. The Cowgirls fell to Idaho in four sets, 25-16, 23-25, 22-25, 23-25. / Uw courtesy photo
* University of Wyoming press release
LARAMIE -- The University of Wyoming volleyball team started out strong but couldn't maintain the momentum Friday during its third game of the UniWyo Invite. The Cowgirls fell to Idaho in four sets, 25-16, 23-25, 22-25, 23-25.
The defeat drops the Cowgirls to 4-8 on the season and snaps their two-match winning streak. The victory moves Idaho to 2-9 on the year.
UW got off to a fast start. It seized control of the match in the first set with early leads of 13-5 and 19-13 before scoring four straight points to end the set.
Success in the first set carried over into the second. The Cowgirls owned the early 4-0 edge and doubled the Vandals up 8-4 shortly after that.
But that's about where the dominance ended. Idaho utilized a pair of 4-0 runs to vault ahead 20-18 and after Wyoming knotted things at 23, the Vandals closed with the final two points to draw even 1-1.
The third set featured a pair of 3-0 runs and a 4-0 run en route to the Vandals taking it 25-22. The fourth and final frame saw Idaho rally from a 14-10 deficit with six straight points en route to their second victory of the season.
Senior KC McMahon paced Wyoming with 17 kills, while junior Corin Carruth boasted 13 kills and both sophomore Kasia Partyka and freshman Tierney Barlow logged eight kills apiece. Barlow and Partyka both led the Cowgirls with four blocks, and senior Hailey Zuroske registered a team-best 14 digs.
The Cowgirls open Mountain West Conference play next week. Wyoming battles Colorado State on Tuesday at 7 p.m. inside Moby Arena
Here Are Words And Phrases That Drive Wyomingites Crazy
There are certain words or phrases that when you hear them it makes your skin crawl. We headed to social media and asked you to share what words or phrases drive you crazy when you hear them. Here's a collection of the top 12 from what you shared with us.
- Here Are Words And Phrases That Drive Wyomingites Crazy