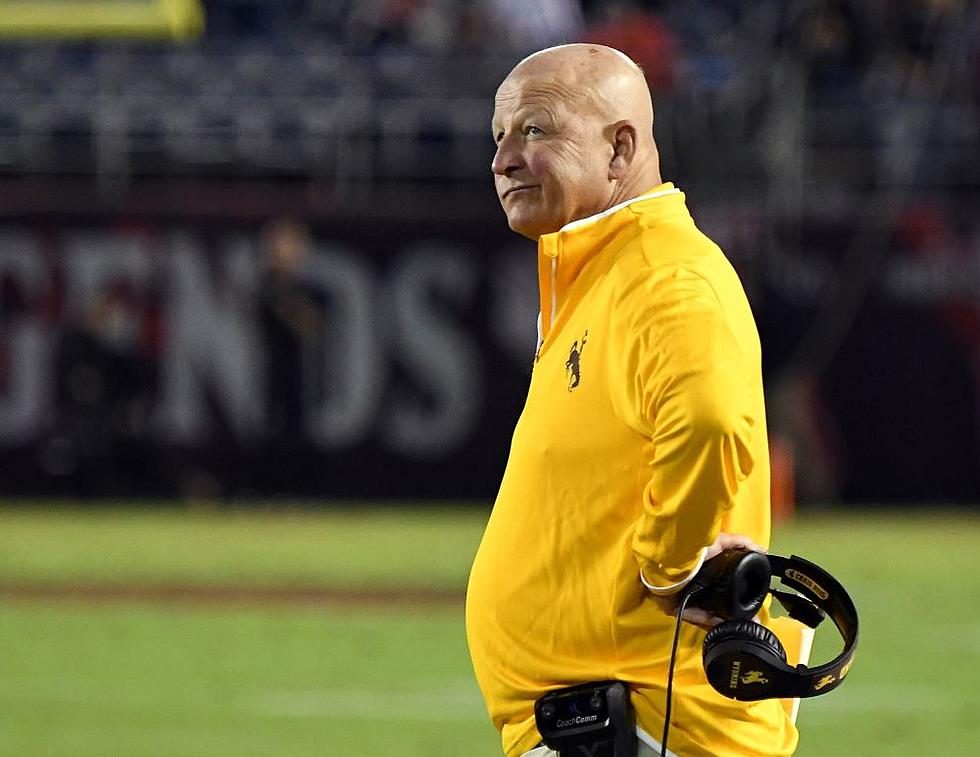 3 Quick takes: This passing thing is an issue. A big one.
USECROPaDJP_0149_bohl
SAN DIEGO -- This lack-of-throwing thing reared its ugly head Saturday night in San Diego.
Sean Chambers completed just 5-of-14 passes in the 26-22 loss to the Aztecs. For those of you keeping track at home, that's a 35.7 percent completion percentage.
That is not getting it done.
When the Cowboys trailed late and needed a big drive with just two minutes remaining in the game and 75 long, seemingly never-ending yards in front of them, most predicted the outcome.
Why? Because it's beyond predictable at this point. This offense that is.
This horse has been beaten bloody. Week after week, Wyoming's inability to create anything remotely resembling a passing attack has been at the forefront.
When they win, it becomes an afterthought. Well, at least until the following week when the moans and groans reign down from the crowd, on social media and local sports radio shows. When they lose, like they did for the second time this season, once again, it becomes the elephant in the room.
This beastly creature is outgrowing it's living quarters. It might have cost Wyoming any legitimate shot at competing for a Mountain West title this season, if there ever was one.
Craig Bohl acknowledges the issue. So does offensive coordinator, Brent Vigen. Every week these two tell the media -- you -- that things are going to be different. Balance in the offense is coming.
When?
SDSU head coach Rocky Long certainly didn't seem surprised that the Cowboys pounded the ball again. And according to Long, a few missed tackles led to the Pokes ground success in the first half anyway.
"We missed two tackles that added up to over 100 yards rushing," Long said postgame. "OK, so you miss tackles, you give up rushing yards. In the second half, we didn't miss tackles ... The two big plays they had running the ball in the first half, we had a guy sitting in the hole that missed him, OK?
... So, it's totally missing tackles."
Balance certainly didn't come Saturday night inside a sparsely filled SDCCU Stadium. Wyoming amassed just 109 yards through the air. Gunner Gentry is responsible for 45 of those on one catch in the second quarter.
Chambers completed some good balls, just not enough of them. Raghib Ismail snagged a 19-yard contested catch for a touchdown in the fourth quarter. That was the good.
The bad -- more drops, more missed receivers and more of the same issues that have hampered this team from the word go.
This issue doesn't fall on a redshirt freshman quarterback, a young offensive line or a senior-laden receiving corps. It has been a collective effort, and it starts at the top with Vigen, and ultimately Bohl.
In San Diego, Bohl and Co. expected the rushing game to carry the load and relied on takeaways to sway the momentum and eventually lead the Cowboys to 2-0 in league play.
Instead, SDSU flexed its muscles in the second half, holding the Cowboys to just seven rushing yards in the third quarter. The Aztecs never gave the ball away. All they did was pounce on an Austin Conway fumble and put the cherry on top with Luq Barcoo interception.
This game plan isn't a viable option.
Heart, yeah, the Cowboys have that in spades
Wyoming never gives up. Despite a hideous offensive showing and a defense that was run ragged in a forgettable third quarter, Chambers and the gang kept on swinging.
It could've got out of hand after that Conway mishap. The Pokes were on their collective heels. The defense spent nearly 10 minutes on the field in the third quarter. San Diego State ran up and down the field, scoring back-to-back touchdowns to take a 19-14 lead.
Things were looking bleak. The 28,000-plus on hand were actually making noise for the first time all night. Aztec players were dancing on the sideline and the smoke from the fireworks that exploded over the 1979-model scoreboard hadn't even cleared yet.
Conway fumbled. That's not good.
But in reality, the senior was trying to create a spark. He was trying to do too much. He wanted to help his team.
Titus Swen, instead, sparked the offense in the fourth, carrying the ball four times for 18 hard-earned yards. The true freshman even caught a rare 24-yard pass out of the backfield. A late hit out of bounds extended the drive and Chambers hit Ismail in the end zone to put the Pokes in the lead, 22-19, with just 4:55 remaining.
This game resembled the Cowboys other loss of the season in Tulsa. The Pokes fought to the end only to come up short in that one. They gave it another go in Southern California, but it wasn't meant to be.
No Big E
Eric Abojei has been a human snow plow through five games this season. He was again until late in the second quarter when he was injured on a Cooper Rothe point-after attempt.
The sophomore from suburban Minneapolis needed assistance to get to his feet. A trainer actually grasped his left leg brace to keep his 354 pounds off that area as he gingerly left the field.
Abojei was taken off the field on a cart. He later returned with a new brace, street clothes and a pair of crutches. You know what didn't return? The Cowboys potent rushing attack. The one that rushed for 129 yards on 25 attempts in the first half.
Bohl didn't want to get into specifics about what changed in the second half when it came to the ground game, but he didn't need to. It was obvious.
"It was kind of the next-man-up mentality," Bohl said postgame. "When we saw Big E go down, we lost a big presence, but I applaud the other guys who came in -- they scrapped and played hard. We had a whole lot of different guys in there, and they'll gain some valuable game experience from that."
In other words, losing the big left guard hurt -- bad.
UW didn't give any specifics on the injury. We will find that out probably Monday. But if Abojei is out for an extended amount of time, that passing thing mentioned above becomes that much more crucial.
Logan Harris, who was injured three weeks ago in Tulsa, wasn't in the lineup again Saturday night. That also hurt the cause. Abojei's absence was glaring. He's just that good.