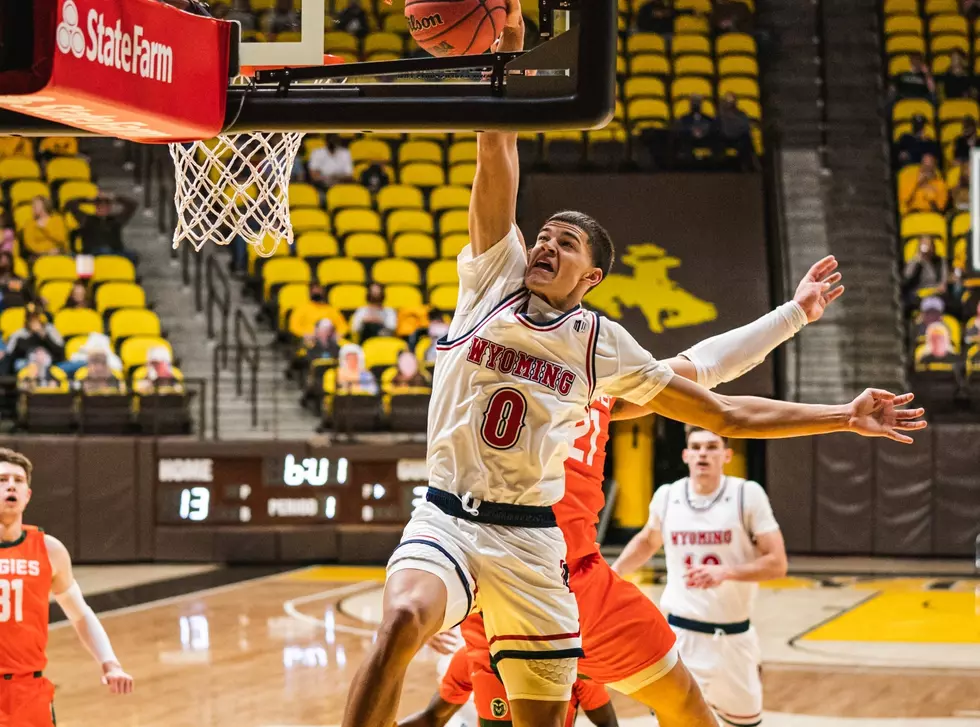 3 Quick takes: This team has its faults, quitting isn't one
Wyoming's Drake Jeffries skies for a hoop during a loss to CSU Saturday afternoon in Laramie./ UW courtesy photo
LARAMIE -- Wyoming has been masterful at blowing big leads this season.
Texas Southern and Air Force erased second-half, double-digit deficits. So did Nevada. The Cowboys actually hung on to win that one.
We've never seen this fresh-faced group of youngsters successfully climb out of a hole though. San Diego State and Boise State come to mind. Those two squads mashed the gas and found an extra gear in all four of those blowouts.
It wasn't pretty.
That all changed tonight though.
Sure, the Cowboys lost, 68-59. It's their fourth straight setback.
For all the warts this team has, one of them will never be giving in. They proved that in a big way after Colorado State raced to a 26-8 lead in this one, aided by a 14-0 run. The visitors were clicking, dunking and making all the pretty plays. Their fans were doing plenty of chirping, too. Less than 48 hours ago, this same Rams team escaped this same building with a last-second victory.
It was the worst possible start for the Pokes, who were playing in front of a sold-out crowd (2,000) inside the Arena-Auditorium and sporting their new "One Wyoming" threads.
Would it snowball?
Nope.
"You have to give them credit," Wyoming head coach Jeff Linder said. "My guys are giving themselves a chance."
Slowly the Cowboys started chipping away at that big lead late in the first.
Drake Jeffries hit a triple. So did Kwane Marble. Hunter Maldonado had one of his trademark gritty efforts in this one. At the half, a contest that just minutes prior was a laugher, it was just a 10-point lead on the scoreboard for the Rams.
Wyoming's leading scorer Marcus Williams was a non-factor during the first 20 minutes. He netted just one bucket.
Surely that wouldn't last, right?
It didn't.
Williams, who Linder said was battling a stomach ailment, wasn't in the starting lineup in the second half, but it took just minutes for him to trot onto the court and turn into the guy we have come accustomed to watching around here.
He finished with just eight points, but once again did his part in making the guys around him better. He dished out passes, hit from deep and even connected on a couple of those up-and-under plays at the rim he likes so much.
Here's visual proof:
He was the catalyst, to the amazement of absolutely no one.
While the scoring stats in the second half might have belonged to big man, Graham Ike (we'll get to him in a minute), it was the Cowboys' defense that gave them a fighting chance in this one. Hunter Thompson took a charge at a critical time. Maldonado did, too. Ike cleaned up the glass while Xavier DuSell, Marble and Williams were opportunistic, tallying five steals.
CSU didn't hit a bucket for the better part of eight minutes.
"The last 25 minutes of the game, I mean, the defensive intensity and defensive effort was right," Linder said.
Then, he dropped the reality of this one on us.
"You can't can't spot a team like that -- and give them credit for coming out with a strong start -- an 18-point lead," he continued. "Then you're starting to try to dig yourself out of a hole.
"... We did take a step in the right direction defensively. Now, it's a matter of you got to do it against good teams for 40 minutes."
That's the truth. This roster that is littered with true freshmen can't get behind in games. Their three-point shooting can get them back into some of them, but that's where this program took the biggest step tonight.
It wasn't raining threes, it was defensive stops.
That's how it needs to be for this team to get in the win column a few more times before the Mountain West Tournament in March.
"Just the collective grit and toughness we had during that time was just unreal," Jeffries said of that eight-minute stretch. "We harp on defense every day and when you come together and get stops, it feels good because you invest a lot."
Wyoming turned this into a one-point affair with just a few minutes remaining on the game clock. In fact, it was a one-possession game for long stretches.
This young team just couldn't get over the hump.
If they keep the focus and effort on the defensive end of the floor, that hump will turn into an ant hill before you know it.
Big man, big results
There was a span late in this game where Ike appeared to be unstoppable, unmovable and unflappable.
The 6-foot-9 true freshman from Aurora, Colo., who was playing in just his sixth-career game, netted nine consecutive points for the Pokes as they attempted to make an improbable comeback.
It was Ike's first college start, too.
Why did he get the nod?
"It's because it's his time," Linder said. "When you watch him play, especially from a defensive standpoint, it just allows us to be so much better defensively. Then you have the ability to get the ball inside and then the ability to force teams to either double or rotate."
Ike hadn't played a basketball game in 14 months after sustaining an ACL tear during his senior year of high school.
If he impressing his coach? You bet.
"Now we're sitting here thinking that he needs to come out every game and get a double-double when he just got clear three weeks ago," Linder said. "So, for him to do what he's doing now at this level against -- it's not like he came out and he got it easy -- Nevada, he faced San Diego State and now he's faced Colorado State. He cut his teeth against that type of competition and to do what he's doing, he's only he's only going to get better."
Ike finished this one with 13 points and nine rebounds.
"I'm grateful that I get to play this year because it wasn't looking like I was going to be able to play this year," Ike said. "So, it just feels great to get on the floor each time. You know, this is a learning experience, win or lose. So I'm just learning every single day."
Building block
Jeffries missed a big shot late in Thursday's 74-72 loss to the Rams.
It came off a set play and the junior was wide open. It's no mystery why his number was called. He nailed 80-plus triples last season in junior college.
This was going to be his moment.
Then, he did the thing all shooters dread the most -- he chucked up an air ball.
Jeffries was substituted out moments later. He shook his head in disgust the entire way to the bench.
After the loss, when the arena was empty aside from a few local reporters, Jeffries went to work on his game. He set up a machine under the basket and began to shoot ... and shoot ... and shoot. It went on for more than an hour.
Today, he tied a team-high with 13 points. He splashed a trio of triples. He was 4-for-4 at the free-throw line.
"It's nice to see some shots finally go back in," said Jeffries, who hadn't scored more than six points in any of the Cowboys' prior five games and was shutout twice. "... It was embarrassing to shoot that type of shot. That's a big moment and, to not touch anything after all the work I know I put in."
Linder said that is the winning culture he attempting to build here in Laramie. It starts with accountability.
"That's who he is -- he cares," Linder said. "He cares enough to where it hurts. Even though he didn't let the team down, he felt like he did. He didn't feel sorry for himself. He just got back in the gym.
"Those are the type of guys you want in your program ... he took it upon himself to look in the mirror and say 'I have to do more.' That's what our program can be built around."
Extra point
Did you know Wyoming has a young team? If you didn't, there you go.
All kidding aside, the Rams are pretty green themselves.
CSU's roster, like the Cowboys, doesn't have a single senior on it. They have three juniors, five sophomores, and the rest ... you guessed it. And, of course, no one loses any eligibility this year.
That program is in Year 3 under Niko Medved. They're on the rise.
Remember all the times you had to sit back and hear about how Utah and BYU was the premiere rivalry in the league? Or how about New Mexico and UNLV? San Diego State versus everyone.
That could all change real soon.
For the first time in a long time, the Border War could start deciding championships. It could be the biggest game on the conference schedule every year. It could be the next big thing.
"Oh, man, I can't wait," Ike said when asked about the future matchups between these two rivals. "You know, it's bringing excitement to the fans and excitement for us. We know what this means to the state -- and to us. So, I just can't wait. I look forward to it. And I'll be ready."
Enter your number to get our free mobile app
Super Bowl Champions From Wyoming