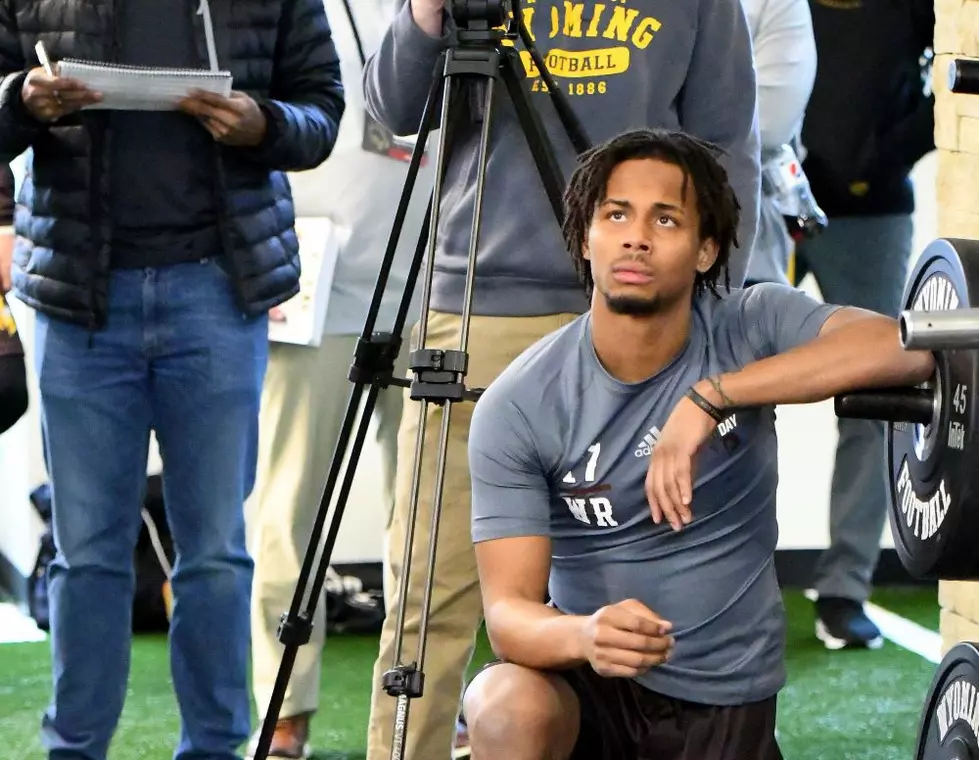 aDJP_6796crop2USE
LARAMIE -- It was roughly midnight.
Qadry Ismail found himself standing on the desolate, dusty plains outside of the Laramie Regional Airport. To his surprise, there were no shuttles to the hotel. No cabs. No buses.
"I thought, oh my God, I am going to be stuck at the airport," the former NFL wide receiver laughed when describing his first experience in Wyoming.
Suddenly a car pulled up. It was a woman picking up two other people. She offered Ismail a ride. He couldn't refuse -- literally.
"People here aren't pretty nice, they are very nice," he emphasized.
Ismail, a Wilkes-Barre, Pennsylvania, native, has a couple of ties to the Cowboy State. For one, he said, the state itself was named after the Wyoming Valley in his home state. Secondly, his nephew, Raghib "Rocket" Ismail Jr., just wrapped up his senior season for the Cowboys football team.
Today, the duo is hoping to show that months of hard word are about to pay major dividends in front of 23 NFL scouts at Wyoming's annual Pro Day.
Rocket Jr., who has been training at his uncle's facility in Maryland since his final collegiate game, snagged 47 passes in his two-year career in Laramie. He racked up 622 receiving yards and four touchdowns through the air. He even carried the ball six times on end-arounds. He scored one time.
His strength is in route running and catching passes, he said. Standing just 6-feet tall and weighing in at 190 pounds, Rocket's goal was to prove to scouts that he can be more than a slot guy at the next level.
He has higher expectations than that.
"I feel like I can do it all," Rocket said after his final drill of the afternoon. "I don't pass everyone's eye test, but I know with time I can do anything."
Time has played a major role in Rocket's journey to this point.
After a successful high school career at Ranchview High School in his native Texas, Rocket enrolled at TCU. The three-star recruit never found his footing in Ft. Worth. He went the JUCO route, Cisco College, where he established himself as a formidable receiver and an electric return man.
Sound familiar?
Well, it should.
Rocket's father, Raghib Ismail Sr., is still regarded as one of the best college football players of all time. He starred at Notre Dame, winning a national title in 1988. The following season, Ismail returned a kick 91 yards for what he thought was the game-winning touchdown in the Orange Bowl. A "clipping" penalty negated that and stripped the Irish of their second straight championship.
In 1990, Ismail finished second in the Heisman voting.
The name "Rocket" became a household one.
Qadry Ismail knows there's certain pressure that comes with a name.
"That's like being Barry Sander's kid or Michael Jordan's kid, people who have had that rarefied talent," he said of the historic career his brother had and the act his nephew has had to follow. "My brother was zero to 10. You could put him against any world-class sprinter and he would win.
"I don't want to put that on my nephew. He plays well and he's fast."
The pressure is already there, Rocket Jr. said.
"I remember I lost a race in middle school," he said. "I finished eighth in the 100 (meter dash). The dude shooting the (starting) gun said, 'how are you going to be Rocket if you aren't fast?' I went to the stands and started crying, saying, 'I'm slow.'"
That's when his uncle stepped up.
The duo started training together. Rocket Jr. said he went through rigorous five-minute wall squats, sprints and lunges. The results were almost immediate.
"I won districts," he said with his joyous, trademark smile. "Everyone wants to be like my daddy."
Qadry, who played 10 seasons in the NFL and won a Super Bowl with the Baltimore Ravens in 1999, said he sees himself and his brother when he watches his nephew's tape. He has the size and build of his dad, the take off and route running of himself.
They both hope that equates in a chance at the pro level.
Rocket Jr. said he doesn't really know what his 40 time was. He thinks somewhere around 4.4 or 4.5. He reached 31 inches in the vertical jump. Though the nerves kicked in early Tuesday, Rocket Jr. said he came to show scouts one thing -- he can catch the ball.
"I felt good, though I could've had some better numbers," he said. "Aside from that, I felt like I did really good in the field work, running routes and catching the balls.
"You can run as fast as you want, but if you can't catch it, I don't know what to tell you."
Truth is, Rocket Jr. still pinches himself. He never thought he would find himself in this position. The small things aren't lost on the kid with the Texas-sized personality. He questioned whether he would even play football once he graduated from junior college.
A little push from his biggest supporters, and here's No. 17 with his ultimate dream on his doorstep.
"There was a point when I didn't think I had it in me anymore," Rocket Jr. said about playing football. "The journey, up to this point, has been long one. My family has been there every step of the way. Regardless of numbers, the fact I made it this far is a testament to my family to be able to keep me going."