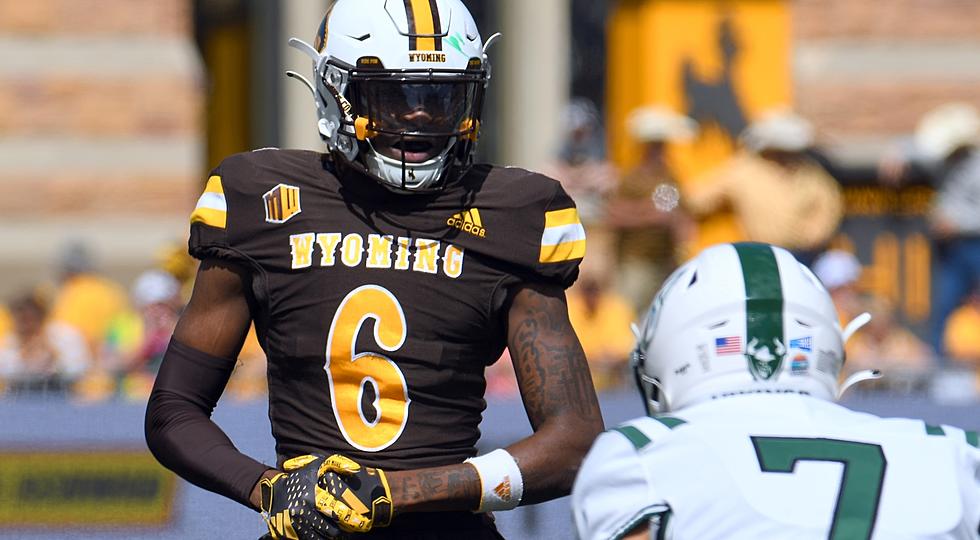 A Work in Progress, Kolbey Taylor Says He's Been Own Worst Enemy
Wyoming cornerback Kolbey Taylor eyes a Portland State receiver before the snap during a Week 2 meeting with the Vikings./ DJ Johnson photo
LARAMIE -- A quick smile was followed by an emphatic nod.
"I needed it," Kolbey Taylor said after an extended pause, staring straight ahead. "Needed it."
Wyoming's sophomore cornerback failed to divulge why he was suspended during a Week 3 meeting with Texas. He didn't say which team rules he violated to earn that unwanted night off.
The focus now is instead geared toward the why and how it gets fixed, a process, he admitted, is under construction.
"It showed me a lot," the Houston product said last Monday in Laramie. "I needed it so I could reflect on, you know, things where I was in the wrong, you know what I'm saying? It was a good thing for me, I think, because it made me the person I am right now."
Who is that?
"Kolbey Taylor," he said, flashing that bright grin again.
Wyoming head coach Craig Bohl raved about Taylor's athleticism and play-making ability throughout the offseason. That was no revelation. The 6-foot-4, 190-pound defensive back was listed as a three-star recruit out of Pasadena Memorial High School, where he played both safety and wide receiver. He was named Second Team All-District 22-6A after his junior season.
Bruce Feldman tabbed Taylor a "Freak" last August, listing him No. 22 out of 101 players on his annual Freaks List, an honor given to the most physically-gifted athletes in college football.
None of that was ever in question. Maturity and consistency were.
Past tense has once again become present.
"I've talked to him about that," Bohl said. "He does play with a great deal of intensity. We need to make sure that he stays focused. We need to make sure that he stays focused. He does have really good ability. He's a young player -- know that he's not a sixth-year guy. So there are certain things that are a work in progress for him.
"We're supportive of him."
Taylor has 14 tackles out of the Cowboys' secondary this fall, a dozen of which have been solo stops. He has added five pass breakups, including a pair in wins over Portland State and New Mexico.
He is mild-mannered, even soft-spoken. Taylor is friendly, inviting and polite.
That's his off-the-field demeanor.
MORE UW FOOTBALL NEWS VIA 7220SPORTS:
* Pokes, Falcons meet Saturday in Front Range showdown
* Wyoming Football: News and notes ahead of Air Force
* Peasley named MW Offensive Player of the Week, O'Brien Great 8
* Around the MTN: Rollin' Rebels now 4-1
* Wyoming Cowboys in the NFL: Week 5
* Tuck's Takes: Bohl's 'Boys keep finding ways
* Turning point, unsung hero and what's next for UW football 
* Three stars of the game: Pokes vs. Bulldogs
* Bohl: UW running back Harrison Waylee's injury not 'season ending'
On?
Taylor's intensity is on full display, sometimes even landing him in hot water with officials, his head coach and even his own teammates. The head starts adamantly bobbing, his multi-colored dreadlocks bouncing off the back of his shoulder pads. The muscles flex, followed by a violent fist pump. There's the finger wag and the vehement incomplete signals.
All the while Taylor is telling his opponents - and their bench -- all about it.
His aggressive style of play landed him three straight 15-yard penalties -- a personal foul, pass interference and unsportsmanlike conduct -- all in the fourth quarter of a 35-26 victory over New Mexico.
Bohl was spotted giving Taylor an earful moments after the Cowboys' pulled off an improbable 22-19 win over visiting Appalachian State. He downplayed the situation, citing youth and saying Taylor apologized.
"It's going to be a learning experience,"Bohl added. "So, no blood, no foul."
Taylor was also warned by officials to knock off the antics in the dying minutes of a Week 2 meeting with Portland State. He taunted the fans in the southwest corner of War Memorial Stadium. He chirped at any wide receiver within ear shot.
That all changed last Saturday night.
He told you it would.
On "X", formerly known as Twitter, Taylor penned a quick note that got straight to the point: "Cut the talking ... No extra stuff ... Straight war ... 60 minutes"
Why?
"I had a talk with my coach, you know, and we felt like change was needed. I felt like change was needed," he said. "That was probably one of my best games I've played. You take out a couple of plays or two, that's probably the best game I've played. No talking, you know? I felt better like that. It feels better when I go out there and just play ball."
"... Talking, and being out there with emotion and stuff, what it will do is it will have a team get one on you, you know, because you're playing with so much tightness and you just want to talk so much. So, what I had to do -- cut the talking and let's go. You beat me, it's because it's me."
Taylor finished with a season-high five tackles in the upset over No. 24 Fresno State.
They couldn't have pulled that off without Taylor, Treyton Welch added.
"He's been growing so much," said Welch, who is one of the team's six captains. "You know, we've just been focusing on him not playing with so much emotion to the point where it's highs and lows ... So, it's very encouraging to see him continue to put one foot in front of the other and continue to strive for perfection. You know, nobody's going to be perfect, but it's just awesome to see him put forth the effort."
Taylor said he still considers himself that underdog story. A guy who was lightly recruited, drawing interest from just Wyoming and FCS Central Arkansas.
His teammates, he says, serve as inspiration. Not a day goes by that he isn't greeted by each and every one of them in the locker room, Taylor added.
"They make sure I'm in a good spot," he said. "I love them for that. Without them then I don't know if I'd be here, because, man, they do a lot for me. This team is so special just because of the bond we have in there. We've got a firm, firm relationship in that locker room.
"I love that about us."
Watching his team go toe-to-toe with the No. 2 team in the nation wasn't easy. Taylor sat in his living room, watching the Cowboys -- his defense -- holding Quinn Ewers and the high-powered Longhorns to just 10 points after three quarters.
Was there anger? You bet. But the finger, he said, was pointed directly at the guy in the mirror.
"You know, I was upset I couldn't be there with my team, but I had to think of it as, I put myself in this position," Taylor added. "I was just thinking, 'dang, I can't help the team right now.'
"I just had to reflect and just take it. I Know that my team needs me out there."
University of Wyoming's Top 50 Football Players
The rules are simple: What was the player's impact while in Laramie? That means NFL stats, draft status or any other accolade earned outside of UW is irrelevant when it comes to this list.
This isn't a one-man job. This task called for a panel of experts. Joining 7220's Cody Tucker are Robert Gagliardi, Jared Newland, Ryan Thorburn, and Kevin McKinney.
We all compiled our own list of 50 and let computer averages do the work. Think BCS -- only we hope this catalog is fairer.
Don't agree with a selection? Feel free to sound off on our Twitter:
@7220sports
- #Top50UWFB
Gallery Credit: 7220Sports.com
- University of Wyoming's Top 50 Football Players