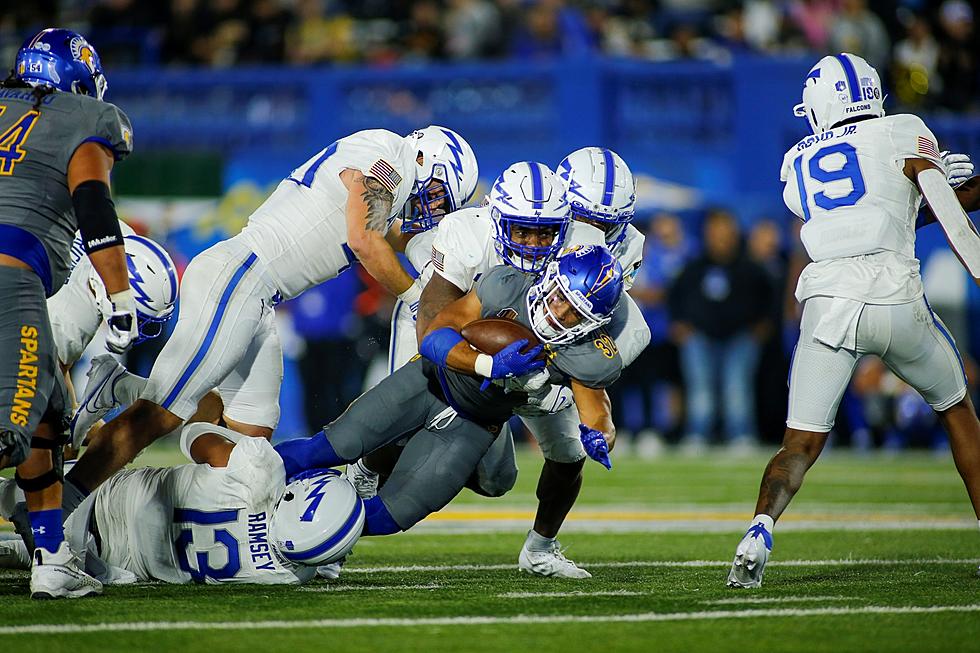 Around The MTN: Air Force Defense Taking Center Stage
SAN JOSE, CA - SEPTEMBER 22: San Jose State Spartans RB Kairee Robinson (32) gets stopped on a 4th down attempt late in the game between the Air Force Falcons and the San Jose State Spartans on September 22, 2023, at CEFCU Stadium in San Jose, CA. (Photo by Larry Placido/Icon Sportswire via Getty Images)
* Mountain West press release contributed to this report
LARAMIE -- No one is shocked to see that Air Force features the top rushing attack in the nation through four games, but it's the Falcons defense that has been stealing the headlines.
Check out some of these numbers:
* No. 2 overall defense, allowing just 223 yards per game
* 4.31 yards per play
* Allowed 62 yards rushing per game, just 2.51 per attempt
* Seven touchdowns, field goal allowed
* 161 passing yards per outing
Dominant? You bet. Troy Calhoun's squad is already 2-0 in Mountain West play after back-to-back wins over Utah State and San Jose State. In early non-conference action -- the Falcons will still play Army and Navy late this season -- Air Force gave up just 10 points in victories over Robert Morris and Sam Houston State.
Air Force is already a 10-poinf favorite Saturday night at home against San Diego State.
Here are some other notes and tidbits from around the conference:
Four Mountain West league games highlight the Week 5 schedule, with defending MW champion and No. 25 Fresno State putting its new national ranking to the test when it opens conference play by hosting Nevada on Saturday at 7:30 p.m. PT.
The Bulldogs jumped into the Associated Press poll this week after throttling Kent State 53-10 in Week 4 to push their winning streak to 13 games, the second-longest active streak in the FBS behind Georgia's 21-game run. Quarterback Mikey Keene was an efficient 24-for-31 for 325 yards and four touchdowns to lead the aerial charge, with Jalen Moss on the receiving end of seven of those passes for a career-best 120 yards and a score. Malik Sherrod paced the ground game with 71 yards, while Elijah Gilliam carried seven times for 25 yards and two TDs. The offensive explosion marked a season-high in points for Fresno State, which has eclipsed 50 points in a game three times in the last four seasons. The Bulldogs, who went 4-0 in nonconference play, open their MW title defense looking to win their league opener for the fifth time in the last seven years.
Fresno State's 13-game winning streak is the longest of any MW team since San Diego State won 13 straight between 2015 and 2016. No Mountain West team has had a longer streak since TCU saw a 14-game run end in November 2009.
Nevada closed its nonconference slate with a 35-24 setback at Texas State. The Wolf Pack got a 30-yard field goal from Brandon Talton to open the scoring, which extended Talton's MW record to 72 career makes. KK Meier added a 98-yard interception return in the first quarter before Zac Welch recovered a Nevada fumble in the end zone in the second to make it a 17-0 Wolf Pack lead. Texas State would then score 35 straight points before AJ Blanco's 2-yard TD run with less than a minute to play in the fourth capped the scoring. Nevada is seeking its fourth league-opening win in the last six seasons.
In addition to joining the AP rankings this week, Fresno State is the de facto No. 26 in the AFCA Coaches Poll, sitting just outside the rankings with 93 points. Air Force picked up 24 points and Wyoming garnered eight in the AFCA poll, while the Falcons also received six points in the AP poll.
Air Force ran its winning streak to nine games with its 45-20 victory at San José State in Week 4. The Falcons, who own the fifth-longest active winning streak in the FBS, rushed for a season-best 400 yards in the win over the Spartans, with senior fullback Emmanuel Michel logging 33 carries for 148 yards and three touchdowns, all three of which were career-highs, and senior running back John Lee Eldridge III adding 102 yards and a TD on 10 carries. Air Force, which overcame a 20-10 deficit with 35 straight points to end the contest, moved to 2-0 in MW play and is the only FBS team averaging more than 300 yards rushing per game (340.5). The Falcons have won each of their last eight games by double digits, the second-longest active streak behind Penn State (nine), and return home to host San Diego State in Week 5.
After a 2-0 start to the season, San Diego State dropped its third straight game with its 34-31 loss to Boise State in Week 4. The Aztecs saw quarterback Jalen Mayden throw for 241 yards and a score while also running for 85 yards and another TD in their league opener, while Jonah Dalmas converted both of his field goal tries on the day to move his career percentage to a MW-record .900 (61-for-68). Despite a season-high 439 yards of total offense, SDSU dropped its league opener for just the third time in the last 11 seasons.
Wyoming earned a dramatic 22-19 win over App State in Week 4, with defensive end DeVonne Harris blocking a field goal and Cowboy cornerback Jakorey Hawkins scooping the ball and racing 63 yards for the go-ahead score with just 1:52 to play, for what was the first blocked field goal returned for a touchdown in program history. Nickel back Wrook Brown then sealed the win on the other end of the field, intercepting a Mountaineer pass on the Wyoming 6-yard line with 12 seconds to go. For their efforts, Hawkins and Brown were named the MW Special Teams and Defensive Player of the Week, respectively. The Cowboys, who host New Mexico to open their league slate Saturday, are 4-4 in their last eight MW openers but won last year's lid-lifter en route to a 5-3 MW record.
New Mexico evened its seasonal record at 2-2 with a 34-31 overtime win at UMass in Week 4, with Jacory Croskey-Merritt's 2-yard TD plunge in the first overtime period proving the difference. Croskey-Merritt scored twice on the day to push his season total to seven rushing touchdowns, tied for the MW lead and for third in the FBS. The Lobos got a game-high 14 tackles (five solo) from Tavion Combs, who ranks seventh in the FBS in tackles per game (11.0) and solo tackles per contest (6.7). New Mexico will be trying to win its MW opener for the first time since 2018.
UNLV rolled to a 45-28 win at UTEP in Week 4, with true freshman Jai'Den Thomas rushing for exactly 100 yards and matching the school record with four TDs en route to earning MW Freshman of the Week honors. Senior defensive back Jaxen Turner picked up a pair of fourth-quarter interceptions and made seven tackles to pace the Rebels on defense. Redshirt freshman quarterback Jayden Maiava made his first career start in place of the injured Doug Brumfield. UNLV, which won three nonconference games for the first time since 2008, hosts Hawai'i to open MW play Saturday. A victory over the Rainbow Warriors would give UNLV wins in consecutive MW openers for the first time since the squad won three straight from 2015-17.
Hawai'i earned a walk-off win over New Mexico State in Week 4, with senior Matthew Shipley drilling a 24-yard field goal as time expired to give the Rainbow Warriors a 20-17 victory. Shipley's second successful kick capped a run of 17 straight points for Hawai'i, which trailed 17-3 at the half and posted a shutout after intermission. Junior quarterback Brayden Schager accounted for both of the Rainbow Warriors' touchdowns on the evening, as he picked up their first on a 4-yard run in the third quarter before finding Koali Nishigaya with a 3-yard scoring pass in the fourth to tie the game at 17. Hawai'i has dropped consecutive MW openers after winning three straight from 2018-20.
Preseason MW favorite Boise State opened its league slate with a 34-31 win at San Diego State in Week 4. The Broncos got a career-high 205 rushing yards and two touchdowns on 23 carries from Ashton Jeanty, who also added four catches for 49 yards to total 254 all-purpose yards and earn MW Offensive Player of the Week distinction. The sophomore running back leads the FBS with 173.0 all-purpose yards per game and is tied for eighth with six rushing touchdowns. He joins Penn State's Saquon Barkley in 2017 as the only FBS players in the last 25 years with 400-plus rushing yards and 275-plus receiving yards through his team's first four games of the season. The Broncos step back out of conference play to visit Memphis for their final nonconference game of the season.
Colorado State earned its first win of the season with its 31-23 win at Middle Tennessee in Week 4. The Rams trailed 17-10 in the third quarter before redshirt freshman quarterback Brayden Fowler-Nicolosi and wide receiver Tory Horton connected for 7-yard touchdowns on consecutive possessions to go ahead to stay. CSU also scored on special teams and defense, with Giles Pooler finding tight end Dallin Holker for a 24-yard touchdown on a fake field goal in the first quarter and defensive lineman Mohamed Kamara returning a fumble 5 yards for a score just 15 seconds of game time after Horton's second TD catch of the game. The Rams wrap up their nonconference slate by hosting Utah Tech on Saturday.
CSU's Horton leads the FBS with 11.7 catches per game and his 35 total catches are the most ever by a Mountain West player through his team's first three games of the season.
Utah State rallied all the way back from a 24-0 deficit to tie the game at 38 in the fourth quarter before ultimately succumbing to James Madison, 45-38, in Week 4. The Aggies saw freshman quarterback McCae Hillstead throw for a program freshman-record 399 yards and four touchdowns in his first career start. Terrell Vaughn had 10 catches for 124 yards and two scores and shares the FBS lead with six TD grabs this season. With 38 catches on the year, Vaughn is second in the FBS in total catches and third in catches per game (9.5). Utah State visits UConn on Saturday.
Boise State sophomore running back Ashton Jeanty has been tabbed the Mountain West Offensive Player of the Week, while Wyoming sophomore nickel back Wrook Brown has been named MW Defensive Player of the Week and Cowboy senior cornerback Jakorey Hawkins earned MW Special Teams Player of the Week honors. UNLV running back Jai'Den Thomas was selected as the MW Freshman of the Week.
The weekly honor is the second of Jeanty's career and the first in the careers of Brown, Hawkins and Thomas.
OFFENSIVE PLAYER OF THE WEEK
ASHTON JEANTY, BOISE STATE
Sophomore, Running Back, Jacksonville, Fla. / Lone Star HS
• Had 23 carries for a career-high 205 yards (8.9 yards per carry) and two touchdowns in the Broncos' 34-31 win at San Diego State.
• Also added four catches for 49 yards to total 254 all-purpose yards on the day.
• Became the first MW player to eclipse 200 yards rushing since 2018.
• Ran for touchdowns of 58 and 6 yards.
DEFENSIVE PLAYER OF THE WEEK
WROOK BROWN, WYOMING
Sophomore, Nickel Back, Salado, Texas / Salado HS
• Celebrated his birthday by sealing Wyoming's 22-19 win over App State with an interception on the Cowboys' 6-yard line in the waning seconds of the game.
• Also recovered a fumble in App State territory in the second quarter, leading to a Wyoming touchdown.
• Had seven tackles on the day, including four solo stops.
SPECIAL TEAMS PLAYER OF THE WEEK
JAKOREY HAWKINS, WYOMING
Senior, Cornerback, Montgomery, Ala. / Lee HS / Ole Miss
• With Wyoming trailing 19-14 inside the last two minutes of the game, collected a blocked field goal and raced 63 yards for the go-ahead touchdown.
• The score was the first of his career and the first special teams score for the Cowboys this season.
• The play was the first blocked field goal returned for a touchdown in program history.
• Hawkins had five solo tackles and a pair of pass-breakups on the day.
FRESHMAN OF THE WEEK
JAI'DEN THOMAS, UNLV
Freshman, Running Back, Atlanta, Ga. / Westlake HS
• Tied the program record with four touchdowns scored in UNLV's 45-28 win at UTEP.
• Rushed for exactly 100 yards and the four TDs on 13 carries.
• Had scoring runs of 12, 17, 5 and 1 yards.
• Added two catches for 14 yards.
• Has seven rushing TDs this season, one shy of the program's freshman record.
UW: University of Wyoming Cowboys' Greatest Games From the First Decade of the 2000's