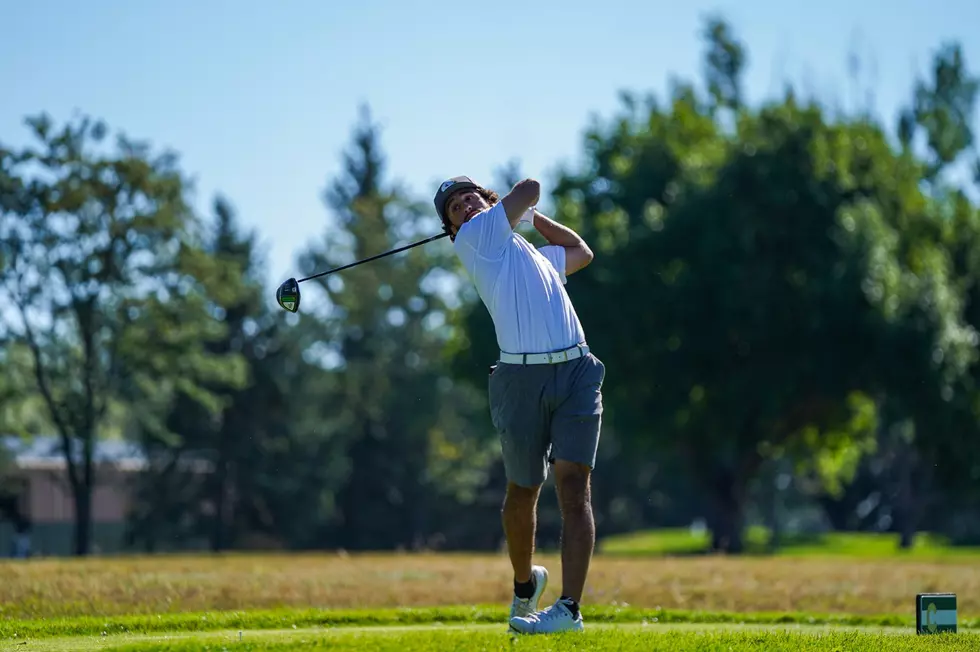 Azevedo Finishes Second, Calkins Fifth at the Ram Masters
Sophomore Patrick Azevedo fired a 65 (-5) to move up from 13th place entering the final round to tie for second place out of 84 collegiate golfers competing in the tournament./ UW courtesy photo
* University of Wyoming press release
LARAMIE -- It was a fantastic finish for the Wyoming Cowboy golf team on Tuesday in the final round of the Ram Masters Invitational in Fort Collins, Colo. Sophomore Patrick Azevedo fired a 65 (-5) to move up from 13th place entering the final round to tie for second place out of 84 collegiate golfers competing in the tournament.
Another Cowboy sophomore, Jaren Calkins, entered the final round in first place and shot a round of 73 (+3) on Tuesday to tie for fifth. Azevedo and Calkins helped lead the Cowboy team to a fourth-place finish in the 15-team field.
Azevedo's final round score of 65 (-5) was the third lowest round of the tournament. His final round included seven birdies, nine pars and two bogeys. He concluded the tournament with a 54-hole total of 205 (-5) to tie for second with Davis Bryant of Colorado State and Howard Yoon of Cal State Fullerton.
Individual tournament champion Brady McKinlay of Utah Valley fired a 64 (-6) on Tuesday and ended the tournament with a three-round total of 201 (-9) to win by four shots. Calkins completed the tournament with a total score of 206 (-4), just one shot back of Azevedo, to tie with four other individuals for fifth place.
Wyoming had two other sophomores -- playing as individuals -- who also placed in the Top 20.  Kristof Panke tied for 11th with a tournament score of 209 (-1), and Cade McLaughlin shot a 211 (+1) to tie for 19th.
Cowboy senior Tyler Severin shot a 216 (+6) to tie for 34th.  Jimmy Dales, a junior, tied for 46th with a final score of 219 (+9), and senior Kirby Coe-Kirkham finished 83rd at 236 (+26)
Host Colorado State won the team title, with a 54-hole score of 823 (-17). Cal State Fullerton finished second at 834 (-6) followed by Utah Valley at 837 (-3) and Wyoming at 845 (+5). Wyoming played consistent golf throughout, posting rounds of 283 (+3), 279 (-1) and 283 (+3).
The 54-hole event was played on the Fort Collins Country Club course, which measured 7,218 yards and played to a par of 70.
Team Standings
1.   Colorado State                                283-271-269=823 (-17)
2.   Cal State Fullerton                           275-283-276=834 (-6)
3.   Utah Valley                                     279-280-278=837 (-3)
4.   Wyoming                                       283-279-283=845 (+5)
5.   UC San Diego                                  282-284-286=852 (+12)
6.   Denver                                           280-290-285=855 (+15)
7.   Pacific                                             290-282-284=856 (+16)
8.   Wichita State                                  289-280-288=857 (+17)
9.   Texas A&M - Commerce                   283-290-287=860 (+20)
10. Northern Colorado                          307-276-289=872 (+32)
11. Sacramento State                            292-293-288=873 (+33)
12. South Dakota State                         292-289-295=876 (+36)
13. Gonzaga                                         289-294-294=877 (+37)
14. Creighton                                       302-293-287=882 (+42)
15. Air Force                                         302-298-296=896 (+56)
Wyoming Team Members
T2               Patrick Azevedo                  68-72-65=205 (-5)
T5               Jaren Calkins                       67-66-73=206 (-4)
T34             Tyler Severin                       74-68-74=216 (+6)
T46             Jimmy Dales                        75-73-71=219 (+9)
83              Kirby Coe-Kirkham              74-75-87=236 (+26)
Wyoming Cowboys Playing as Individuals
T11             Kristof Panke                      71-70-68=209 (-1)
T19             Cade McLaughlin                71-68-72=211 (+1)
MEET: The Four Richest People in Wyoming