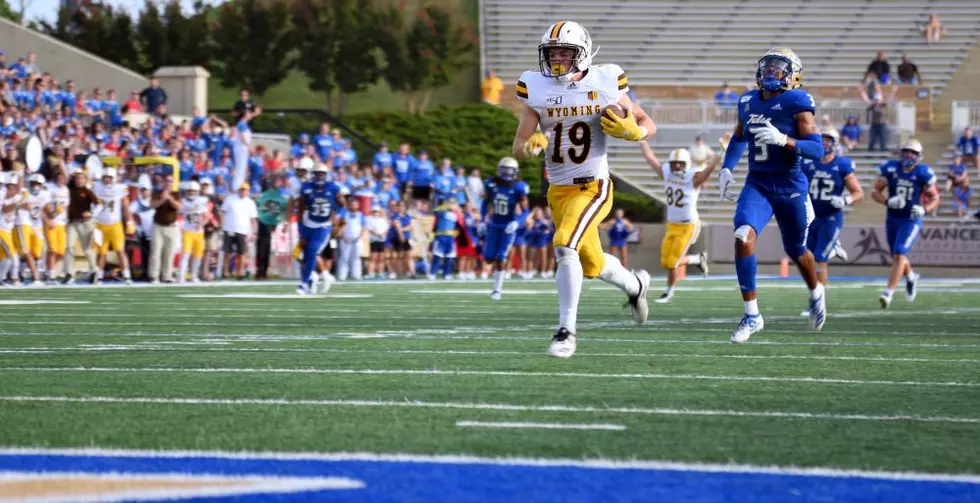 aWYO_8167_eberhardtUSE
TULSA, Okla., -- In this new series we will examine a few numbers that stand out from the game we just witnessed. That was a 24-21 Tulsa win over Wyoming today at H.A. Chapman Stadium.
Sometimes they won't be fun ones. Other times, you will be downright giddy.
7
The Cowboys seven-game win streak is no more. That was the fourth-longest in the nation heading into week four.
6
Another streak came to an end in Oklahoma -- Sean Chamber's win streak as the Cowboys starting quarterback. He knocked off Colorado State, San Jose State and Air Force last season, and started 2019 with wins over Mizzou, Texas State and Idaho. All good things must come to an end, right?
214
For the first time this season, Wyoming eclipsed the 200-yard mark in passing. I know, I know ... hold your applause. Chambers was 9-of-25 for 193 yards and Tyler Vander Waal threw one completion for 21 yards.
1
It took 15 quarters to do it, but the Cowboys finally have a touchdown through the air. That came in the fourth when Chambers floated in a perfect strike to Ayden Eberhardt for a 53-yard score.
3
Wyoming was just 3-of-15 on third down in Tulsa. In comparison, the Golden Hurricane converted on 9-of-22, but was also 3-of-5 on fourth down.
4
In every game this season, Tulsa has given up a touchdown on the opening drive. That trend continued Saturday when Chambers dashed into the end zone from 33 yards out. That was also the Cowboys first points in the opening quarter this season. They were being outscored 24-0.
354
That's how many yards Tulsa quarterback Zach Smith threw for in the win over the Pokes. Wyoming is 128th out of 130 teams in the nation in pass defense, allowing 342.3 yards per game in that department.
17
"Again?" That's what Alijah Halliburton said when he found out post game that he had made 17 tackles on the day. That matches his career best, which was against Mizzou in the season opener. He was named National and Mountain West Defensive Player of the Week then. He might just get the nod again tomorrow. "My back is sore," he said. I bet it is.
18
The team leading the country in sacks has 18 through four games. That team is Wyoming.
7
Those seven sacks Saturday created the number above. Solomon Byrd had a big day, recording 2.5 of those. Halliburton, Javaree Jackson, Tegan Liufau and Chad Muma each had one sack. Logan Wilson finished with half a sack.
2
That's the number of field-goal attempts Cooper Rothe has had blocked in his four-year career in Laramie. Today, he had a 38-yarder batted down in the first quarter. The last time that happened was his freshman season at Eastern Michigan. Boy, what a difference those three points would've made today.
3
Walk-on Brett Brenton was called into action today when fellow running backs, Trey Smith and Titus Swen went down with injuries. The Casper product carried the ball three times for nine yards.