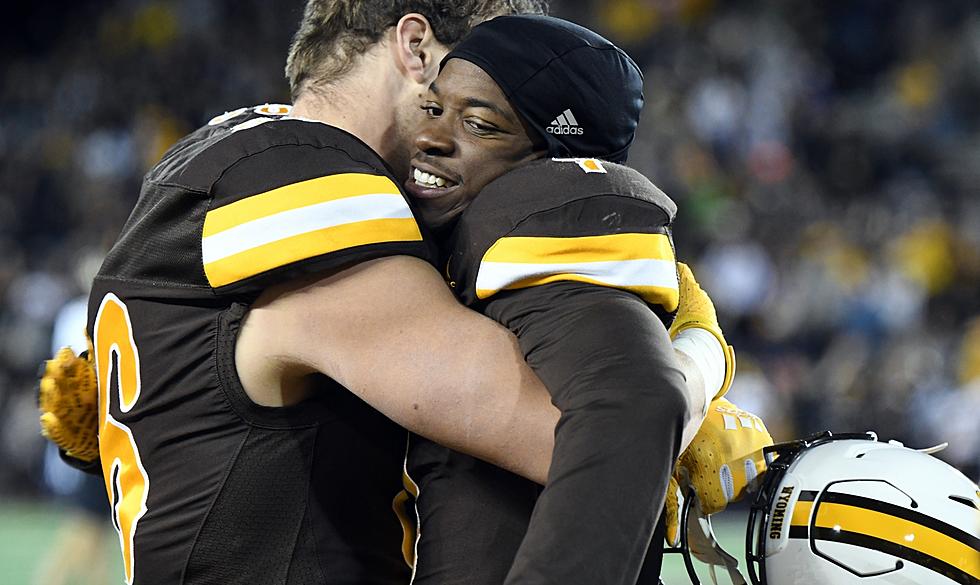 Behind the numbers: Wyoming vs. App State
Jakorey Hawkins (right) hugs a teammate after returning a blocked field goal 62 yards for the go-ahead touchdown with 1:52 remaining in the fourth quarter of a 22-19 victory over visiting App State./ DJ Johnson photo
LARAMIE -- Frank Crum said earlier in the week he was hanging out with Wyoming's defensive tackles in Oscar Giles' office.
On the screen above, field-goal defense.
"He goes, 'I think we got one for them this week,"' the Cowboys' 6-foot-8, 315-pound left tackle recalled, followed by a mischievous grin. "I just look back on that and it actually happened. I thought that was really cool."
It was a blocked field-goal with roughly two minutes left in regulation Saturday night and the home team trailing, 19-14.
That 47-yard attempt would've likely sealed the deal. Instead, defensive end DeVonne Harris got a mitt on the ball and cornerback Jakorey Hawkins took care of the rest, racing 62 yards to put the Cowboys up by one with 1:52 to go.
John Michael Gyllenborg took a sweep around the edge on the next snap. The Pokes' tight end appeared to be stopped short, but eventually received a boost from his friends, crossing the goal line to secure the 2-point conversion.
Boy, did that come in handy, too.
"Guys believe in coach Giles and they execute," Crum added. "So, that was a great play."
App State, per its sports information director, had never had a kick blocked for a touchdown in its history. Wyoming has never returned a blocked field goal for a score, either.
Here are some other stats from a wild one inside War Memorial Stadium.
3-1
That's Wyoming's record after knocking off Appalachian State 22-19 Saturday night in Laramie. Did you really see that happening, especially with Texas Tech, Texas and this feisty Mountaineer squad on the non-conference slate? Craig Bohl asked that very question to the media from behind the podium.
75
Harrison Waylee, the newly crowned starting running back, busted a 75-yard touchdown run early in the fourth quarter to breath life into a Cowboys' offense that to that point rolled up just 135 yards of total offense. That was the longest run in the Mountain West this fall and the longest of Waylee's career.
4
That's how many field goals Michael Hughes connected on for the visitors in this one. Harris claimed after the game "They weren't getting five on us." He made sure of that. Hughes was true from 25, 28, 20 and 50 yards.
1
That's how many trips into the red zone this Wyoming offense finished with against App State. That was mainly due to a lateral that Wrook Brown picked up before it rolled out of bounds, landing the Cowboys at the visiting 26-yard line. UW quarterback Andrew Peasley would make them pay for that miscue, diving into the end zone after a nine-yard scramble in the second quarter.
7
Wyoming managed to pick up just seven first downs in this game. App State finished with 27.
40:25
That's App State's time of possession in this one compared to just 19:35 for the Cowboys. The Mountaineers also converted 10-of-19 third-down attempts.
31
That's the number of passing yards Peasley finished with after completing just 5-of-15 throws. The super senior also threw a pick-six in the fourth. Tyrek Funderburk snagged that after the swing pass bounced off the hands of running back DQ James.
3
That's the number of turnovers the Cowboys finished with in this one, two of those courtesy of Brown. With App State driving late, the Cowboys' nickelback leapt and hauled in a Joey Aguilar throw over the middle to put this game to bed. Today is also Brown's birthday. The team was heard singing to him in the postgame locker room. The third turnover was not technically a giveaway on the final stat sheet, but Harris was once again Johnny on the spot, hammering Nate Noel on a 4th-and-1 attempt in the first half and forcing the turnover on downs.
4
That's the number of times App State's offense took 12 or more snaps on a single drive, including an 18-play, 55-yard drive late in the fourth quarter that ended with that blocked field goal.
22
That's the number of offensive yards Wyoming amassed in the third quarter. Twelve of those came on two pass completions.
11
Linebacker Easton Gibbs tallied that many tackles in this one, which led the team. Nose tackle Cole Godbout also racked up a double-digit night, finishing with 10. Linebacker Shae Suiaunoa and Harris both capped their nights with nine.
2
Wyatt Wieland snagged that many catches in this one, which led the team. The super senior finished with 18 yards receiving.
156
That's the amount of rushing yards Waylee picked up, including that 75-yard burst. The junior transfer from Northern Illinois averaged 9.2 yards per carry.
107
Nate Noel finished with that many rushing yards in the loss, averaging just 3.6 yards per carry on 30 attempts. Noel entered this game the second-leading rusher in the nation with 450 yards through three games.
200
That's the number of yards Aguilar threw for on a 22-of-40 night. He also tossed a pick to Brown to put a bow on this one.
417
That's the amount of yards the Mountaineers rolled up on offense against UW, 200 through the air and 217 on the ground. The Cowboys managed just 208.
45
That's how many plays App State ran in the first half, aided by drives of 12, 12 and 14 plays. Wyoming's offense, which was only on the field for 10:02, managed just 21.
7
The Cowboys entered this game one of the least-penalized teams in the country with just 11. They racked up seven in the first half alone -- four of which were false starts on the offensive line -- for 50 yards.
256
That's the number of yards the Mountaineers rolled up over the first 30 minutes Saturday night in Laramie. Wyoming finished with 97, 18 of which came through the air. The Cowboys picked up four first downs in that time frame. App State, 15.
3-of-3
App State was batting .1000 in the red zone through the first 30 minutes. Luckily for the Cowboys, that amounted to just three field goals. Wyoming was 1-of-1 after Peasley dove into the end zone after a nine-yard scramble.
2-of-5
Peasley, who made the start tonight after missing the Texas game with an AC sprain in his throwing shoulder, only completed two passes in the first half for 18 yards.
21,169
That's the announced crowd on hand in Laramie Saturday night.
76
That's the number of times Wyoming and its next opponent, New Mexico, have met on the football field. The Cowboys hold a slim 39-36 advantage in the series and have won four of the last six meetings. Kickoff for this homecoming tilt is slated for 2 p.m. next Saturday in Laramie.
University of Wyoming's Top 50 Football Players
The rules are simple: What was the player's impact while in Laramie? That means NFL stats, draft status or any other accolade earned outside of UW is irrelevant when it comes to this list.
This isn't a one-man job. This task called for a panel of experts. Joining 7220's Cody Tucker are Robert Gagliardi, Jared Newland, Ryan Thorburn, and Kevin McKinney.
We all compiled our own list of 50 and let computer averages do the work. Think BCS -- only we hope this catalog is fairer.
Don't agree with a selection? Feel free to sound off on our Twitter:
@7220sports
- #Top50UWFB
- University of Wyoming's Top 50 Football Players