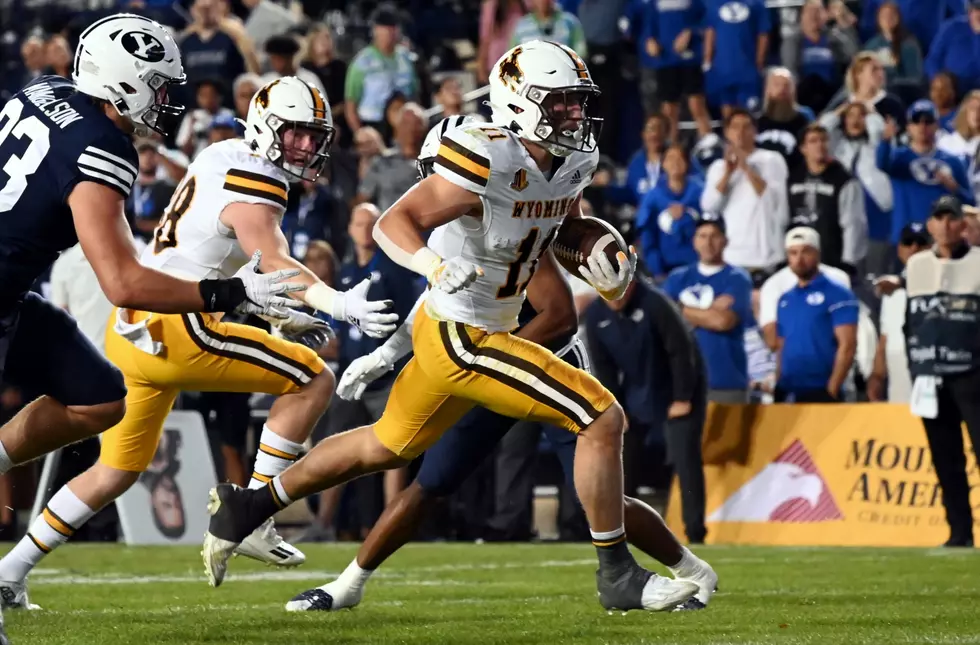 Behind the numbers: Wyoming vs. BYU
Wyoming wide receiver Wyatt Wieland blows past a BYU defender on his way to the end zone during the second quarter of Saturday night's 38-24 loss at BYU./ DJ Johnson photo
PROVO, Utah -- Wyoming very much looked like it belonged Saturday night in Provo.
A double-digit underdog, it was the visitors that controlled the line of scrimmage -- on both sides of the ball -- and chewed up clock throughout the first 30 minutes of play. The Cowboys even took an early 10-7 lead thanks to a 28-yard field goal off the right foot of John Hoyland and a six-yard dash to the end zone from wideout Wyatt Wieland.
It was fun while it lasted.
BYU quarterback Jaren Hall, who capped his night with 337 yards and four touchdowns, led the Cougars on a 13-play, 76-yard drive just before the half. The junior connected with Brayden Cosper on a three-yard scoring strike that gave the home team the 14-10 lead with just four ticks remaining.
They never looked back: BYU 38, Wyoming 24.
Here are some stats that stood out in this one:
79
That's how many times the Cowboys and Cougars have met on a football field. BYU now holds a 46-30-3 advantage in the series, which dates back to 1922.
13-28
That's now the Pokes record in games played in Provo. UW hasn't won in this stadium since 1987.
3
The Cowboys have now scored on the opening possession in three straight games. Hoyland capped a 10-play, 57-yard drive with a 28-yard field goal to give the visitors an early 3-0 lead.
2
UW quarterback tied a career-high with two touchdown passes in the loss. He hit tight end Treyton Welch from 19 yards out on the first play of the fourth quarter and later connected with Josh Cobbs on a four-yard slant. That was also the second touchdown reception of the season for Welch and Cobbs.
14-of-27
Wyoming QB Andrew Peasley completed that many balls on that many attempts in this one. The junior finished his night with 154 yards through the air and a pair of touchdown passes. He completed passes to six different receivers in the loss.
7
That's the number of tackles made Saturday night by safety Isaac White and defensive tackles Jordan Bertagnole and Cole Godbout. Godbout also added 2.5 tackles for loss.
27
The Cowboys rolled up this many yards in the third quarter. It took a pair of four-yard gains from Titus Swen, an eight-yard grab from Will Pelissier and a 15-yard unsportsmanlike conduct penalty with time ticking off the clock for UW to finish the frame with positive yardage.
7-of-13
That's BYU's third-down conversion rate in this one. UW was just 3-of-11 in this category.
8.3
That's how many yards per play the Cougars racked up in this one compared to just 4.6 for the Pokes.
36
That's how many rushing yards Wyoming allowed in the first half on 12 carries. That's an average of just three yards per attempt.
18:03
The visitors held the ball for that long over the first two quarters compared to just 11:57 for BYU.
4.4
Swen and Co. averaged this many yards per carry in the first half on 22 attempts. Wyoming eclipsed the 100-yard mark on the ground early in the second quarter, but a sack cost them 11 yards, knocking the Pokes back to 97.
13-17
BYU quarterback Jaren Hall didn't miss many throws in the first two quarters Saturday night. Those numbers above equate to a 76% completion percentage. The junior also led the Cougars in rushing with 13 yards on four carries.
100%
Both teams were perfect in the red zone on Saturday. UW went 4-for-4 while BYU scored on all five trips inside the 20-yard line.
15
That's how many Wyoming defenders registered at least one tackle during the first half, led by Casper product Bertagnole, who tallied four stops, including three of the solo variety.
7
Hall hit that many different receivers in the first two quarters, led by Keanu Hill, who caught just two balls but rolled up 70 yards, including one catch for 47. He finished with a game-high 160 yards and two touchdowns on just five receptions.
109
That's how many yards the Cougars were docked thanks to 11 penalties. Wyoming was flagged twice for 20 yards.
60,092
That's how many fans crammed inside of LaVell Edwards Stadium Saturday night to watch these two old rivals duke it out.
University of Wyoming's Top 50 Football Players
The rules are simple: What was the player's impact while in Laramie? That means NFL stats, draft status or any other accolade earned outside of UW is irrelevant when it comes to this list.
This isn't a one-man job. This task called for a panel of experts. Joining 7220's Cody Tucker are Robert Gagliardi, Jared Newland, Ryan Thorburn, and Kevin McKinney.
We all compiled our own list of 50 and let computer averages do the work. Think BCS -- only we hope this catalog is fairer.
Don't agree with a selection? Feel free to sound off on our Twitter:
@7220sports
- #Top50UWFB
- University of Wyoming's Top 50 Football Players