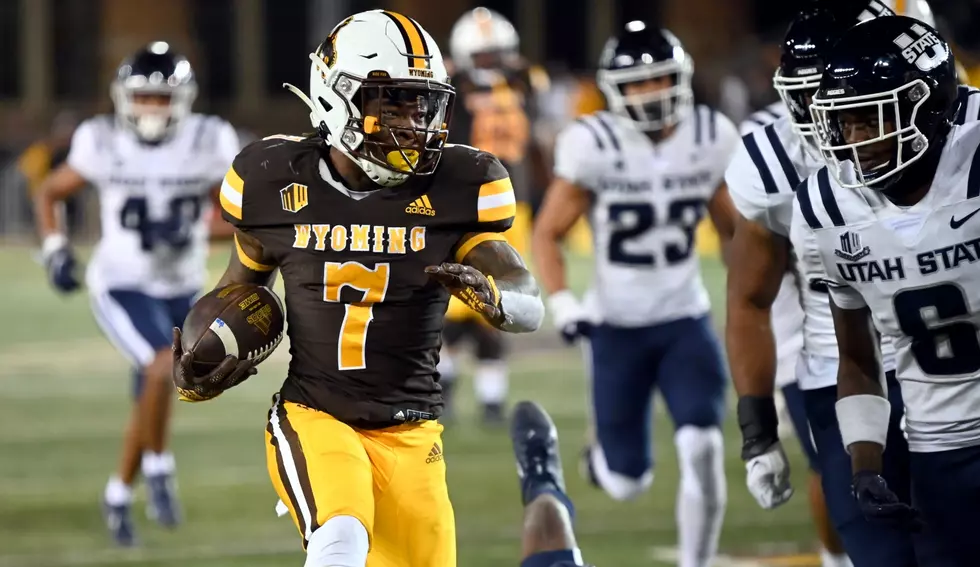 Behind the numbers: Wyoming vs. Utah State
DQ James had a career night in Saturday's 28-14 win over Utah State, rushing for 120 yards on just 10 carries./ DJ Johnson photo
LARAMIE -- Craig Bohl said during the Cowboys' bye week that he wanted to "recalibrate" some things.
What does that mean? That's still not exactly clear, but it's apparent Wyoming's head coach wanted to get No. 7 involved in the offensive game plan.
He did.
DQ James, a redshirt freshman from Lancaster, Texas, had a breakout performance in Saturday night's 28-14 win over visiting Utah State, rushing for 120 yards on just 10 carries. That's an average of an eye-popping 12 yards per carry.
James lined up in the I-formation, took pitches on the outside and showed off his speed around the edge. The 5-foot-7, 172-pounder also showcased some thump, lowering his shoulder into anyone who dared get in the way.
"He added a different element tonight," Bohl said. "He's got an extra gear and certainly made some big, big plays"
He certainly did. And he wasn't even the Cowboys' top rusher in this one.
Let's take a look at some stats from UW's third Mountain West victory:
28-40-4
That is now the all-time record between these two schools. Utah State is still in the lead, but the Cowboys have now won two straight. UW is now 16-13-3 against the Aggies in Laramie and is 4-2 since the Jim Bridger Rifle was introduced as a traveling trophy.
330
That's how many yards the Cowboys rushed for Saturday night. That is the highest output on the ground since UW rolled up 404 last December against Kent State in the Famous Idaho Potato Bowl. Levi Williams, who transferred to Utah State in the offseason, accounted for 200 of those and was named the game's Offensive MVP.
160
Does Titus Swen love playing the Aggies or what? Last season, the then sophomore gashed Utah State for a career-high 169 yards and two scores. Saturday, the Fort Worth, Texas native finished with 160 and three touchdowns. Swen has now rushed for 100-plus yards five times in his career.
6
That's how many sacks the Pokes tallied against Utah State quarterback Bishop Davenport. DeVonne Harris was responsible for three of those. Oluwaseyi Omotosho and Jordan Bertagnole both landed one and Isaac White and Braden Siders combined for another. UW now has 12 sacks in its last two outings and 25 for the season, most in the Mountain West.
11
Wyoming totaled that many tackles for loss in this one, a season best. Harris' three sacks accounted for three of those takedowns behind the line of scrimmage. Six other UW defenders added to this category.
75
That's Utah State's total offensive yardage in the first half, including just 10 on the ground. That is the second-fewest the Pokes have allowed this season. Northern Colorado managed just 63 first-half yards earlier this fall.
94
That's how many receiving yards Wyatt Wieland finished with -- a career high -- against Utah State on six catches.
289
That's how many yards Wyoming's offense racked up in the first half. Andrew Peasley completed 8-of-16 for 159 yards over the first two quarters. The last time the Cowboys racked up that many yards in the first half, surprisingly, was last November in a win over Colorado State.
99
That's the number of rushing yards Swen rolled up in the first half on just 18 carries. The junior also scored on a 30-yard jaunt in the first quarter and added a five-yarder in the second.
7.2
That's how many yards per play Wyoming averaged on its 40 snaps in the first half. For Utah State: 2.3 yards per play on 33 snaps.
199
Peasley connected on 13-of-26 throws Saturday for that many yards against his former team. He also added 29 rushing yards in the win.
46
Colin O'Brien loves to block downfield. Saturday, the tight end from California added a catch, and it was the longest one of his career.
9
Both Easton Gibbs and Bertagnole finished with that many tackles against the Aggies. Harris added seven and White landed six. For Bertagnole, that is a career high.
1
Both teams turned the ball over one time Saturday. Wieland muffed a punt return in the second quarter and UW safety Wyett Ekeler picked off a Davenport pass on the Aggie's first drive of the third.
5-for-15
That was the Aggies' third-down conversion rate Saturday night. The visitors were 1-of-2 on fourth down. Wyoming was successful on seven of its 14 tries on third.
5-25
Wyoming was penalized five times in this one. The Pokes are the second-least penalized team (34) in the Mountain West. Utah State drew just one yellow hanky. That's rare. Blake Anderson's team earns the most flags in the league with 66.
35:09
That's how long the Cowboys' offense had the ball in this one. Utah State, owners of the worst time of possession in the conference, finished with 24:51. UW ran 76 plays. The Aggies, 62.
21,420
All week long social media was filled with " I have tickets for sale." This crowd was not likely to be a great one because of the 7:45 p.m. kick time, which was actually bumped back past 8. Still, this many fans showed up and showed out on a beautiful night on the high plains.
5-3
That's Wyoming's overall record after the win over Utah State. The Cowboys are just one win away from bowl eligibility. That would be the fifth time in the last six seasons. More importantly, Bohl's bunch is 3-1 in Mountain West play, just a game behind Boise State in the standings.
14-7
That's the combined record of the three teams -- Illinois, BYU and San Jose State -- Wyoming has lost to this season. The Fighting Illini are currently 6-1 and in the Top 25. The Cougars were also ranked when the Cowboys fell in Provo. The Spartans are currently leading the West Division at 4-2.
UW vs. NIU September 11, 2021