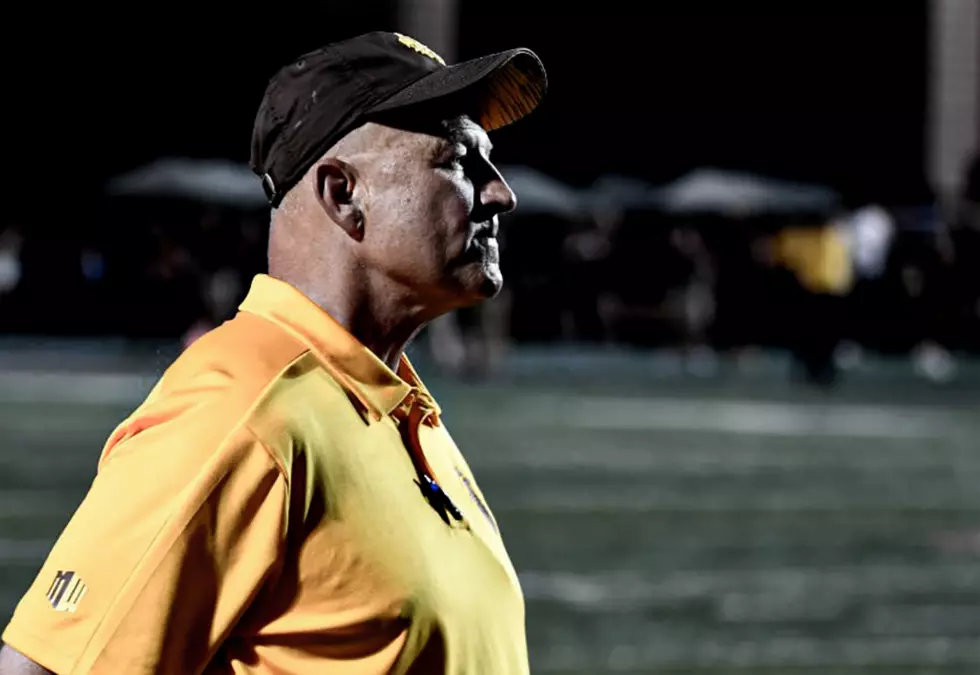 Bohl on postponement: 'I didn't handle it very well'
Bohl-dramatic
LARAMIE -- If you were at Craig Bohl's house last night around 10, you would've seen a very happy man.
To say Wyoming's seventh-year head coach had a tough time with the Mountain West's decision to postpone the season in early August would be nothing short of an understatement.
"It was extremely hard for me," Bohl said Friday over a scheduled Zoom meeting with media. "I didn't handle it very well."
He wasn't the only one.
Sean Chambers spent his summer alone in a deserted Laramie rehabbing a knee injury he sustained midseason. The painstaking workouts are nothing new to the sophomore, the quarantine and isolation was.
Still, he plugged away.
That is until he was called into Bohl's office Aug. 10.
"That was a tough moment for me. One of the tougher moments in my life," Wyoming's quarterback said Friday. "He told us the presidents were meeting and that it didn't look good for a season. He asked me and Garrett (Crall) to tell the team ... You could hear a pin drop in the indoor practice facility. It was very sad. It was a sad moment for us and the program."
Chad Muma, Wyoming's junior linebacker, expressed his frustration with the decision, too. He pointed to the fact that the team remained free of the virus from early June to August. That showed restraint and dedication, he said.
"There was some 'team policing,'" Muma said of holding each other accountable and steering clear of the pandemic. "It was very difficult hearing that news, mainly because we had no positive cases over the summer. We were all committed to a purpose greater than ourselves.
"Seeing other conferences play has been very difficult. It's extremely upsetting."
Fast forward 46 long, grueling days of unknown.
The Mountain West reversed course Thursday night, announcing that the league will play an eight-game season beginning Oct. 24.
For 43 straight seasons, since Bohl was a walk-on player at the University of Nebraska, he has had college football every fall of his life. Was he worried that was all coming to an end?
You bet, but he remained hopeful.
Plus, he received a little help from a friend.
"It was very, very difficult," Bohl said of hearing the news that the season was axed. "We felt there was a pathway to play. I was optimistic, but Tom helps me temper down from getting too high or too low."
That Tom is Wyoming Athletic Director Tom Burman, who has been at the forefront of these challenging times from the beginning.
"It's been a crazy seven months. Heck, a crazy 48 hours," Burman said. "To get to where we are today, I'm thrilled. It's been hard, and I know I speak for Craig when I say it's been a hard few weeks since we told those football players, 'no.' I'm glad we were able to change direction and give them an opportunity to compete."
The coach and AD bantered back and forth about different possibilities. Would a spring season really work? What new information on COVID-19 is out there? Can we get testing?
The latter two questions were answered last night. The conference has partnered with Quest Diagnostics. Players, coaches and staff will be tested three times per week for the coronavirus. University of Nevada's Dr. Tony Islas confirmed this protocol would be safe and efficient. Quest will be on site Fridays to test players from both teams at home games. UW personnel will take care of the other two.
So, what about spring?
Well, at this point there wouldn't be many options when it comes to opponents. As of Thursday, 115 of 130 FBS teams are planning to play in 2020. The Mid-American Conference is still ironing out a return-to-play plan.
For Bohl, it wasn't about that as much as it was what he was hearing from his own players.
"Playing in spring had some merit, but it also had a lot of drawbacks," he said. "Plus, a lot of student-athletes weren't crazy about it. I was optimistic we were going to do something. I kept hopes alive, but it was very encouraging when we got the call we were moving forward."
Muma's phone buzzed last night when he was watching the Nuggets play in Game 4 of the Western Conference Finals. All of a sudden, that game didn't seem so important.
"I jumped right up," Muma said of a group text message he received. "I got excited to hear the news that it's finally official."
Chambers was honest and candid about his rollercoaster of an offseason. Yes, there were times he said that the hard work didn't seem worth it. Watching other college teams compete on television was just another slug in the gut.
"I had a plan and a goal," he said. "To have the season ripped away was a terrible feeling."
How about when he got the news late Thursday night?
"My first thought was, 'It's about time,'" a grin creased Chambers' face. "Another emotion that ran through my body is, 'I'm ready to go. The team is ready to go.
"We are ready to play.'"