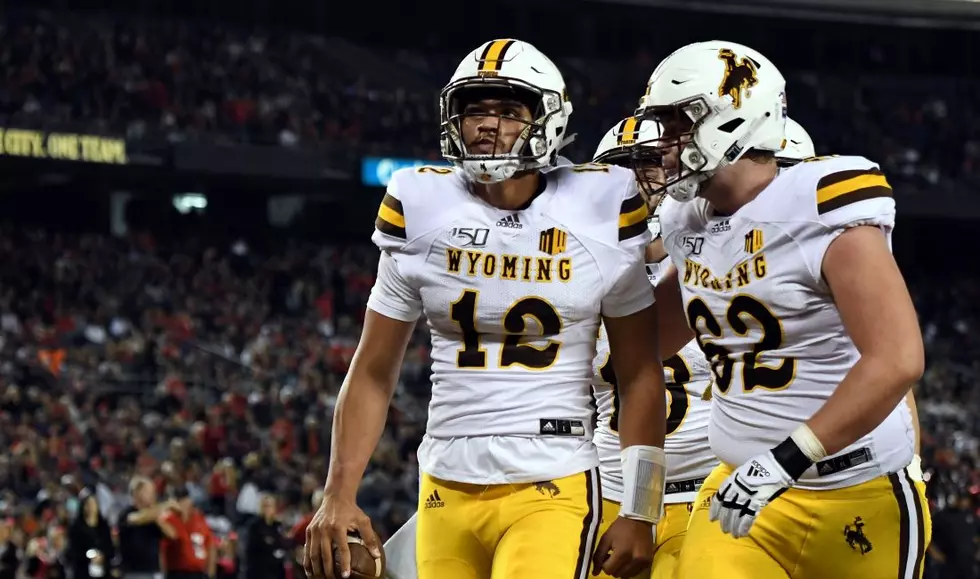 Both QBs will play, but who starts under center in Reno remains a mystery
SChamberscropUSE
LARAMIE -- Craig Bohl will have his eyes peeled on a few different position groups when the Cowboys scrimmage Saturday inside War Memorial Stadium.
First, there's the defensive ends. No big secret why that is spot will be under the head coach's microscope. Solomon Byrd, Wyoming's leader in sacks in 2019 with 6.5, has opted out this season. So has reserve player, Davon Well-Ross.
Bohl will also keep a watchful eye out for his new crop of linebackers. Chad Muma is entrenched in the middle, the other spots are up for grabs.
The tight ends will also receive a good look. That spot is loaded with talent, size and physicality.
But, probably like most of you, Bohl's focus will be on the two-horse race under center between Sean Chambers and Levi Williams.
Bohl said both quarterbacks will play.
The only mystery remaining about these two is -- who gets the start on opening day in Reno?
"I think that is where we're at unless something changes," Bohl said during a Zoom meeting with reporters Wednesday night. "They've both shown the ability to make plays. I do know, leading up to a game when you know you are going to enter the game, that has an impact on your mentality during practice and your preparation. When you go to bed on a Friday night you know you are probably going to get in the game. So, as opposed to the situation where the backup is walking around with a ball cap on, they both know that they're going to be playing."
MORE POKES COVERAGE
* Who is this Victor Jones we keep hearing so much about?
* Velazquez could return to lineup in late December
* Valladay getting 'comfortable being uncomfortable' in fall camp
* Blankenbaker ready to 'ball out' no matter where he lands in lineup
Chambers is the veteran of the group, starting 11 games over the past two seasons. His most impressive stat -- he's 9-2 overall.
His most impressive weapon -- his legs.
The sophomore rushed for 567 yards in 2019. He reached the end zone 10 times and carried an average of 6.3 yards per attempt.
Impressive? You bet.
Sustainable? Not yet.
The past two years have ended with a leg surgery for the Kerman, Calif., product, causing some to wonder if he can hold up physically for an entire season.
Bohl isn't one of those.
"Sean is probably running as good as he has," he said. "We were concerned about how he would respond to that so we are pleased with the surgery and his movement there."
When it comes to Williams, there are still plenty of questions surrounding his overall game. He only appeared in three games, including one start. That was a big one, you might recall. The Texas native completed 11 of 26 passes for 234 yards and three touchdowns in a 38-17 rout of Georgia State in the Arizona Bowl. He also rushed for 53 yards and a score.
Bohl said Williams added roughly 20 pounds of lean muscle mass to his frame in the offseason and now weighs in around 241 pounds. Last season, he weighed 215, according to UW's media guide.
"That's had an impact. He's able to throw ball with little more velocity," Bohl said. "He's certainly a big, strong guy. He's a good size guy who has a good stature."
Experience is the one thing Williams doesn't have, that's why Saturday, Bohl said he will try to make the Cowboys' scrimmage as realistic to a game situation as possible.
"Decision making, taking care of the football, operating the offense like it should and making plays," Bohl said of what he hopes to see out of both QBs in the team's first scrimmage. "We run a pretty complicated offense, so it will be fun to see those two guys really go out there and compete.
"... We will put them under some duress. Really make sure they can handle different situations."
Bohl hasn't been the only one impressed with the early showing of both signal callers. You can add the guy who snaps the ball to them, Keegan Cryder.
"It's so awesome to have two quarterbacks who are that talented," Cryder said. "Both are great at running and throwing the ball. I think to have the dual threat of both of them is going to be awesome."
Unlike some quarterback battles of the past, Bohl said this one is loaded with respect and a team-first attitude. The ones that don't, the coach said, only "complicate the situation."
While Bohl isn't ready to name a starter for Oct. 24 at Nevada quite yet, Saturday will go a long way in determining who is quarterback "A or A1."
"I think a lot of it comes down to the type of people they are -- they're both competitive, they're team players," Bohl said. "I know they both want to do anything to help the football team win. I can tell you that I've been around some guys before who were more about themselves as opposed to being about the team.
"Both of our guys have been ultimate team players and we don't anticipate anything other than that."