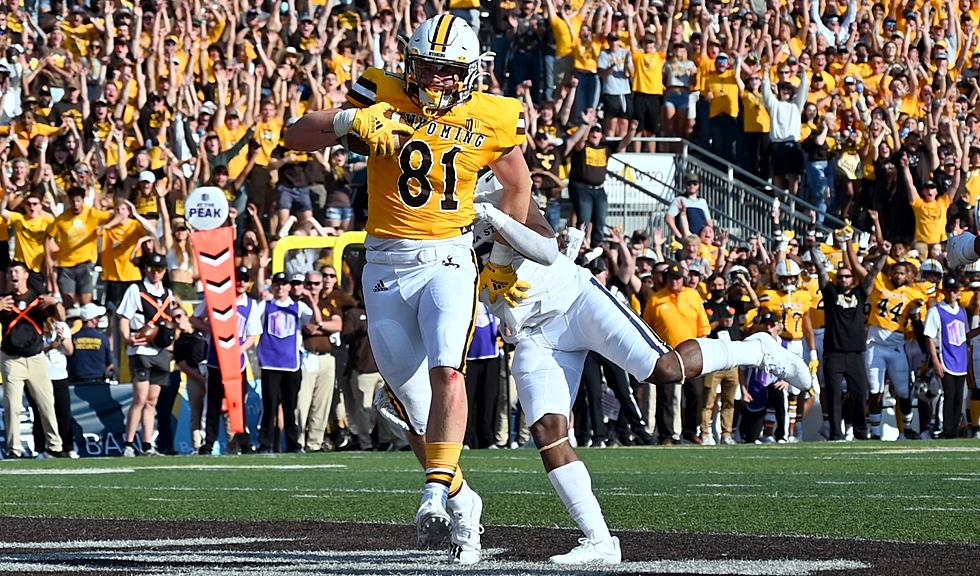 Breaking down the 'Boys: Tight ends/ Fullbacks
Wyoming tight end Treyton Welch hauls in a 21-yard game-winning touchdown against Montana State in the 2021 season opener./ DJ Johnson photo
LARAMIE -- The early offseason around here has been, shall we say, eventful, for Craig Bohl and his Wyoming football program.
First, there was the 52-38 victory over Kent State in the Famous Idaho Potato Bowl in Boise. Less than 24 hours later, the floodgates opened, spilling the first of 10 players -- seven of which still have multiple years of eligibility -- into the already overflowing NCAA Transfer Portal.
Has that caused a bit of worry among the faithful? You bet.
In what was billed as a year with championship aspirations, Wyoming won just six games in the regular season after starting the year 4-0. Underperformance, along with the exit of so many critical pieces to this roster, will do that to a fanbase.
We're not sure if the dust is completely settled from a wild first two weeks of the offseason, but here's a position-by-position breakdown and analysis of who we think will suit up for the Cowboys when the 2022 season opens next August in Champaign, Ill.
We've already looked at the quarterbacks, wide receivers and running backs. Today, it's all about the tight ends and fullbacks.
Who are they:
Tight ends
Parker Christensen (Soph. 6-2, 229, Sheridan, Wyo.), Treyton Welch (Jr. 6-3, 233, Buffalo, Minn.), Jackson Marcotte (Jr. 6-7, 250, Mt. Carmel, Ill.), John Michael Gyllenborg (Fr. 6-5, 225, Leawood, Kan.), Ryland Swarthout (Fr. 6-3, 225, San Clemente, Calif.), Nick Miles (R-Fr. 6-5, 253, Parker, Colo.), Colin O'Brien (Jr. 6-6, 238, Mission Viejo, Calif.), Isaac Schoenfeld (Fr. 6-5, 220, Rock Springs, Wyo.)
Fullbacks
Dalton Strouss (R-Fr. 5-8, 213, San Luis Obispo, Calif.), Kimball Madsen (Fr. 6-1, 210, Mountain View, Wyo.), Caleb Driskill (R-Fr. 6-2, 235, Gillette, Wyo.),
How they fared in 2021:
Treyton Welch led all Wyoming tight ends with 163 receiving yards on just 19 catches. The Minnesota product also hauled in two touchdown passes, none bigger than a 21-yard scoring strike from Sean Chambers in the dying minute of a home-opening victory over Montana State.
Sheridan native Parker Christensen finished with 13 catches for 127 yards, and Colin O'Brien snagged two balls for 27 yards. Jackson Marcotte was the only other UW tight end to land a catch in 2021.
Of course, this unit -- along with the fullbacks -- did most of its damage in the running game, helping pave the way for 2,752 yards on the ground from Cowboy backs. Wyoming finished the season ranked No. 20 in the country in rushing, averaging 211.7 yards per game. Only Air Force featured a more potent rushing attack in the Mountain West Conference.
Gillette's Caleb Driskill was a big reason for that success, serving as the lead blocker for Xazavian Valladay, Titus Swen and others.
Tucker's take: 
Facing a 3rd and 2 at midfield midway through the second quarter of the Potato Bowl, quarterback Levi Williams took the shotgun snap, faked the inside handoff and sprinted to his right.
Waiting for him on the edge, Kent State cornerback Elvis Hines appeared to have a beat on the Pokes speedy signal caller.
He didn't.
Instead, Christensen entered the frame at the last second, interfering just enough with Hines' angle to launch Williams into the wild blue yonder.
MORE UW TIGHT END/ FULLBACK NEWS:
* Wyoming didn't go too far to find its latest fullback
* Could Treyton Welch be Wyoming's missing piece on offense?
* Return of Treyton Welch a welcome one for Wyoming
* Talent, speed litter Wyoming's young tight end group
Williams added an 80-yard touchdown run in the second half, sparked by a key block on the outside from O'Brien. The Junior college transfer from California was also a critical piece in Swen's 169-yard rushing night late in the season in Logan, Utah.
One thing is certain -- these guys got the blocking aspect on lockdown.
What about the other element? You know, getting open and hauling in passes?
Throughout the preseason Bohl raved about the pass-catching abilities of Welch. UW's eighth-year head coach said he would be a major player in the newly re-engineered offense. O'Brien, yeah he is a nice piece, too. Christensen has also shown what type of explosive player he can be with the ball in his hands.
The problem, the ball isn't in their hands nearly enough.
It's no secret Wyoming's quarterbacks of late haven't exactly been lighting it up in the completion-percentage department. You'd think a simple outlet pass to a tight end -- or anyone out of the backfield -- would be just what the doctor ordered, right?
How many times did you watch a play on television and think, "the tight end was wide open over the middle?" Your eyes weren't deceiving you. They were -- often.
It's clear this group has the speed and size to beat opposing linebackers and safeties more times than not. It's just not happening.
In this offense, blocking is obviously the priority. These guys can fulfill both duties. Let's see it.
Questions:
If you're an aspiring fullback, Laramie is the one of the last remaining holy sites in college football. You have plenty of job security and, if you've got the goods, you will see the field.
Those guys have it made.
Tight ends, as we've seen, is a different story all together.
Will things change? Will Welch really become a primary target in the Cowboys passing game? Can he become a Jacob Hollister type of player? As we know, plenty of that rides on who the next guy under center will be.
This group returns plenty of talent and experience. Will it be put to use?
That really is the lone question heading into 2022.
PRESS PASS: Roaming The War
Wyoming Cowboys vs. Montana State Bobcats
-LOOK: Pokes vs. Bobcats