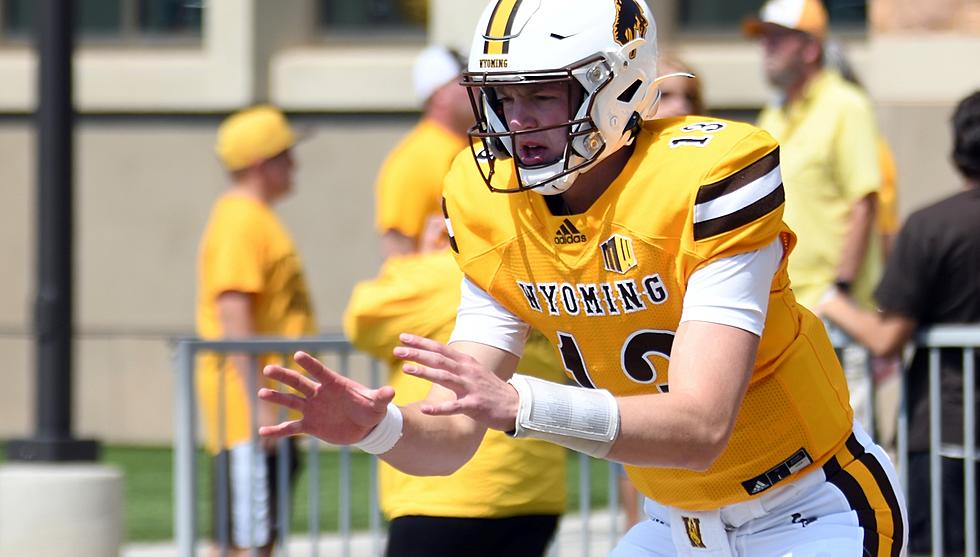 Breaking down the 'Boys: Quarterbacks
Redshirt freshman Hank Gibbs, along with Jayden Clemons and Gavin Beerup, are the three QBs still on campus after the postseason departure of Levi Williams and Sean Chambers./ DJ Johnson photo
LARAMIE -- The early offseason around here has been, shall we say, eventful, for Craig Bohl and his Wyoming football program.
First, there was the 52-38 victory over Kent State in the Famous Idaho Potato Bowl in Boise. Less than 24 hours later, the floodgates opened, spilling the first of 10 players -- seven of which still have multiple years of eligibility -- into the already overflowing NCAA Transfer Portal.
Has that caused a bit of worry among the faithful? You bet.
In what was billed as a year with championship aspirations, Wyoming won just six games in the regular season after starting the year 4-0. Underperformance, along with the exit of so many critical pieces to this roster, will do that to a fanbase.
We're not sure if the dust is completely settled from a wild first two weeks of the offseason, but here's a position-by-position breakdown and analysis of who we think will suit up for the Cowboys when the 2022 season opens next August in Champaign, Ill.
Today, let's take a look at the quarterbacks:
Who are they:
Gavin Beerup (Redshirt Fr. 6-5, 201, Camarillo, Calif.), Jayden Clemons (Soph. 6-1, 208, Lehi, Utah), Hank Gibbs (Redshirt Fr. 6-5, 226, Fayetteville, Ark.), Caden Becker (Fr. 6-4, 220, Omaha, Neb.)
How they fared in 2021:
None of those four guys listed above took a single snap last year.
Well, Becker did, but that was at Omaha Skutt Catholic. The other three never saw the field, instead serving in other roles like scout-team QB and relaying signals from the sideline.
In fact, only Beerup has any collegiate experience under center. His stat line reads like this: 2-for-13, 37 yards and two interceptions. That came in an emergency role back in the fall of 2019 when injuries forced him into the final two games against New Mexico and Boise State.
Wyoming's two quarterbacks in 2021 -- Sean Chambers and Levi Williams -- accounted for 2,115 passing yards and 15 touchdowns. Chambers, a three-time captain who started the Cowboys first seven games, accounted for 1,125 of those to go along with six scoring strikes. He also added three more on the ground.
MORE UW QUARTERBACK NEWS:
* Hank Gibbs making case for third-string QB role
* QB Jayden Clemons has found a home on the high plains
* New Wyoming QB Caden Becker drawing impressive comparison
* COLUMN: Pokes finally dipping into transfer portal ... congrats?
Williams completed 60% of his passes while accounting for 14 touchdowns, nine of which came through the air. The Texas native broke a college football bowl record in Boise, rushing for 200 yards and scoring four touchdowns in what we would soon find out was the last game of his UW career.
Yes, both of these guys have moved on.
To the chagrin of most UW fans, Williams jumped ship to Mountain Division rival, Utah State.
Bohl, along with the school's media team, posted a "help wanted" ad to the program's official social media accounts before Christmas. The graphic made it crystal clear the Cowboys are in the market for a new signal caller from the very transfer portal that just claimed two of its own.
What we know so far is UW has made an offer to Kyle Vantrease, a 6-foot-3, 220-pound graduate transfer from the University of Buffalo, who has completed nearly 60% of his passes and tossed 25 touchdowns during his four-year career in Western New York.
Tucker's take: 
A flurry of mid-season turnovers led to a QB switch after the Cowboys dropped four straight to begin conference play. It was a warranted move to go from Chambers to Williams. Wyoming, on offense, was simply not good enough to overcome 11 giveaways during that time frame.
The record proved that.
So did the whole three-points-through-10-quarters disaster.
Was the move made too late? The answer seems obvious. The distraction was an unwelcome one for this team, too.
In spurts, both of those signal callers did some nice things.
Chambers led the Cowboys from behind in three of the first four games with fourth-quarter, game-winning drives. He was completing passes, the offense was putting up points -- 34.5 of them per game to be exact.
Then, the bottom fell out. Turnovers the main culprit.
Chambers threw seven interceptions last season and fumbled the ball eight times, four of which ended up in the arms of the opponent.
Williams wasn't immune to the turnover bug, either. He was picked off five times and fumbled once.
However, he also made big plays with his feet, gashing Colorado State and Kent State to the tune of a combined 316 rushing yards on just 28 attempts. He found the end zone five times.
We saw flashes of greatness that offered plenty of encouragement for the future, especially from Williams, who started the Cowboys final six games. The lack of consistency was a troubling aspect. With this team, it certainly wasn't just due to the guy under center, either.
The game plan still looks all too familiar -- to us and opposing defensive coordinators. The completion percentage isn't good enough. The mid-range passing game disappears far too often. The third-and-long situations, once again, haunted this program more times than not.
No matter who steps under center next fall, these issues must be addressed.
Questions:
Who's the next man up?
Your guess is as good as mine.
What we do know is a wealth of experience just waltzed out the door, leaving behind plenty of youth at the most important position. Beerup and Gibbs are on scholarship. I'm assuming that means this staff sees some future promise.
That doesn't mean Clemons can't enter the fray. We saw a brief glimpse of what he could do in the spring game, completing 3-of-4 passes, including a 34-yard touchdown strike to Will Pelissier. The Utah transfer also rolled up 56 yards on just four rushes, including one scamper of 34. He ran the Cowboys scout team for a majority of the fall.
Becker, the incoming freshman, appears to have the body to play right away, but it takes more than that. None of the true freshmen, including Becker, will be in Laramie for spring ball, either.
Wyoming will bring in a transfer. Will it be Vantrease? Time will tell.
He has played in 35 games at the FBS level. He has also thrown for more than 4,700 yards. It certainly won't hurt to add some experience to a very youthful QB room.
LOOK: Pokes' unis through the years