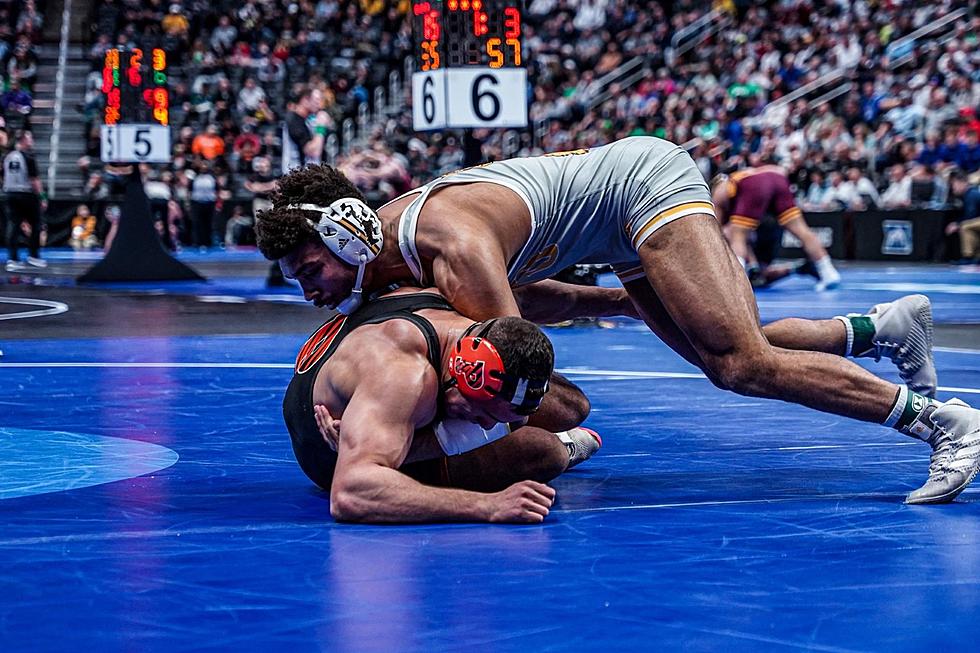 Buchanan advances to NCAA Quarterfinals
The Wyoming Cowboy Wrestling squad kicked off the NCAA championships on Thursday with the first two sessions of wrestling inside the Little Caesars Arena in Detroit, Michigan. For the second season in a row Stephen Buchanan booked a spot in the 197 pound quarterfinals after going 2-0 on the day./ UW courtesy photo
* University of Wyoming Athletics media relations release
DETROIT -- The Wyoming Cowboy Wrestling squad kicked off the NCAA championships on Thursday with the first two sessions of wrestling inside the Little Caesars Arena in Detroit, Michigan.
For the second season in a row Stephen Buchanan booked a spot in the 197 pound quarterfinals after going 2-0 on the day.
"It was a pretty important goal of ours to have all four guys wrestling tomorrow. Pushing them all through to the second day makes you feel pretty good about the day and I think our best wrestling is still in front of us," UW head wrestling coach Mark Branch said. "There's no easy match in this tournament so we got to be ready but I feel like our training will allow us to be better tomorrow."
No. 2 Buchanan got his day started with a controlling performance against No. 31 JT Brown (ARMY). It was a low scoring affair which saw Buchanan leading 1-0 heading into the third and final period. In the third Buchanan recorded a full period ride out, picking up the 2-0 shutout win.
In the second round Buchanan drew No. 18 Luke Stout (PRIN) with a quarterfinal spot on the line. Buchanan put together a solid performance building up a 4-0 lead midway through the second period. After Stout made it 4-3 heading into the third period, Buchanan put the clamps on shutting down Stouts offense to seal the 6-3 victory.
With the win Buchanan now pushes his win streak to 12 straight matches and makes his second straight NCAA Quarterfinal.
At 157 pounds No. 12 Jacob Wright got his tournament off to a good start picking up a win against No. 21 Chase Saldate (MSU). Wright put together a strong technical performance shutting down Saldate and cruising to a 6-1 victory. In the second round Wright dropped a tough 2-3 loss to No. 5 Quincy Monday (PRIN)
Tate Samuelson provided a big highlight for Wyoming springing a first round upset over returning All-American No. 12 Brit Wilson (NIU). After being shutout in the first two periods, Samuelson began his upset bid in the third. He scored three straight points to tie it up at 3-3 and send the match to overtime.
In sudden victory Samuelson hit a counterattack on Wilson on the edge of the mat scoring an emphatic take down and sending himself top the second round. In the second round Samuelson fell to No. 5 Bernie Truax (CALP) in a hard-fought match, 2-6.
After dropping his first match of the day, No. 20 Hayden Hastings finished the day strong against No. 29 Jay Nivison (BUFF). Hastings took control early in the match with a takedown and it wasn't long before he had a 4-0 lead and over three minutes of riding time. In the third period Hastings added a take down and the riding time point top earn the only bonus point win of the day for the Pokes.
In the team standings Wyoming finished the day with 5.5 points putting them in a tie for 28th with App. State and putting them just behind Cal Poly and Oklahoma. Penn State currently leads the team race with 27.5 points.
All four Cowboy grapplers will be back in action tomorrow at 9 a.m. MT for session three which will be live on ESPNU and feature the quarterfinals as well as rounds two and three of the consolation brackets.
COWBOY RESULTS 
157 – No. 12 Jacob Wright  
First Round - No. 12 Wright (WYO) dec. Chase Saldate (MSU) 6-1
Second Round – No. 5 Quincy Monday (PRIN) dec. No.12 Wright (WYO) 3-2
174 – No. 20 Hayden Hastings 
First Round - No. 13 Matt Finesilver (DUKE) dec. No. 20 Hastings (WYO) 5-3
Cons. First Round – No. 20 Hastings (WYO) major dec. No. 29 Jay Nivison (BUFF) 8-0
184 – No. 21 Tate Samuelson  
First Round - No. 21 Samuelson (WYO) dec. No. 12 Brit Wilson (NIU) 5-3 (SV-1)
Second Round – No. 5 Bernie Truax (CALP) dec. No. 21 Samuelson (WYO) 6-2
197 – No. 2 Stephen Buchanan  
First Round - No. 2  Buchanan (WYO) dec. No. 31 JT Brown (ARMY) 2-0
Second Round - No. 2 Buchanan (WYO) dec. No. 18 Luke Stout (PRIN) 6-3
15 Questions You Should Never Ask Someone From Wyoming
- 15 Questions You Should Never Ask Someone From Wyoming