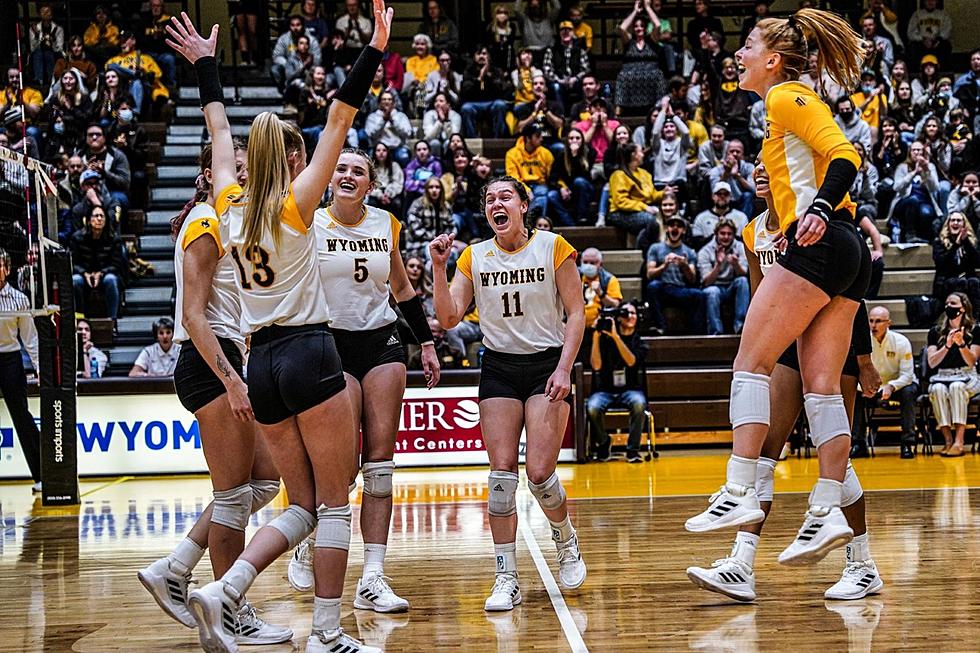 Callihan earns 100th Mountain West win in sweep of SDSU
Wyoming weathered the storm early from the Aztecs as UW faced set point in the opening set at 25-24./ UW courtesy photo
* University of Wyoming media relations release
LARAMIE -- The Wyoming volleyball team hit a season-best .411 and head coach Chad Callihan earned his 100th career Mountain West victory Saturday night in Laramie as the Cowgirls swept past San Diego State, 28-26, 25-19 and 25-14.
The Cowgirls (13-9, 5-5 MW) weathered the storm early from the Aztecs (6-16, 3-7 MW) as UW faced set point in the opening set at 25-24. However, the Cowgirls would respond with four of the next five points to survive the first and from there on out, really controlled the rest of the match. Wyoming especially asserted its will in the third set, ending the frame on a 14-6 run.
Wyoming held San Diego State to just a .194 hitting percentage in the sweep, while also holding an 8-3 edge in team blocks in the match. The Cowgirls also got it done at the service line, recording five aces to SDSU's one. Erika Jones and Jackie McBride each led the Brown & Gold with two aces.
On offense, it was a balanced and efficient attack from the Cowgirls, who were led by Hailey Zuroske's 11 kills on the night. Zuroske hit .360, while Naya Shimé posted a .318 attack percentage, while recording 10 kills of her own.
McBride and KC McMahon notched nine and eight kills, respectively in the win, while both hit a stellar .429 in the victory. Lydeke King chipped in with six kills of her own, on just eight swings. McBride, along with setter Abby Olsen, led the UW defense at the net with three blocks apiece.
Olsen tallied a match-high 37 assists in the win, while also posting a trio of kills and four digs to go along with those three blocks. In the back row, Jones once again led the way for the Cowgirl defense, posting a match-best 12 digs.
Wyoming looks to maintain its hot stretch here of late, with a pair of trips next week before four consecutive at home. UW travels to face New Mexico at 6:30 p.m., Thursday, before facing Air Force at 1 p.m., Saturday in Colorado Springs. The Cowgirls swept both the Lobs and the Falcons in Laramie last week.
10 Reasons Why You're Lucky to Be Living in Wyoming
Here Are the Top 10 Reasons Why You're Lucky to Be Living in Wyoming
- 10 Reasons Why You're Lucky to Be Living in Wyoming,