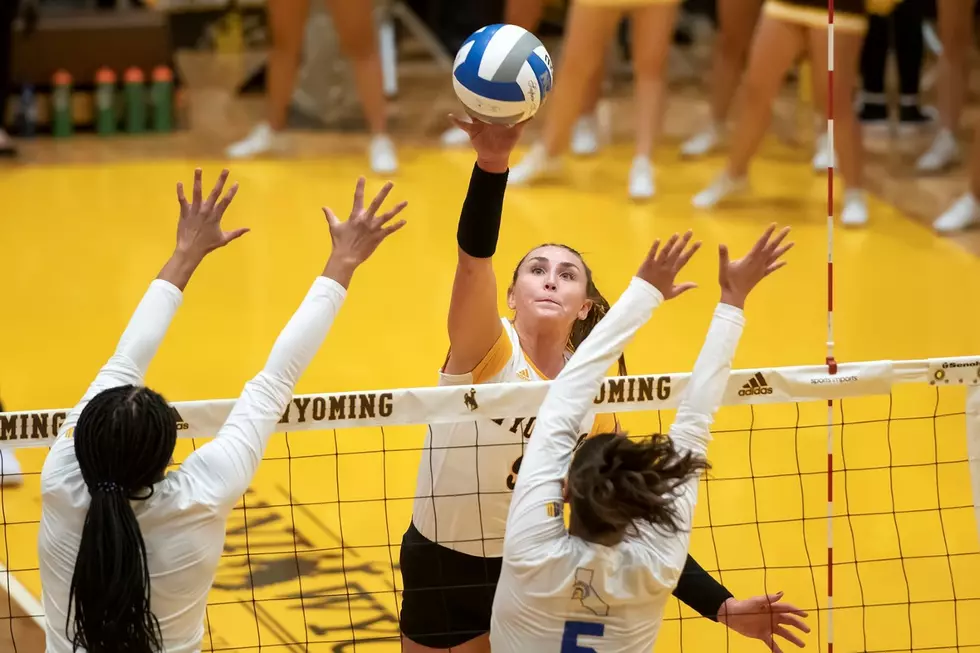 Comeback Bid Comes Up Short for Cowgirls Against SJSU
The Wyoming volleyball team's comeback bid came up short Thursday night in Laramie, as the Cowgirls fell to conference-leading San Jose State in four sets. Set scores went 22-25, 20-25, 25-21 and 24-26./ UW courtesy photo
* University of Wyoming press release
LARAMIE -- The Wyoming volleyball team's comeback bid came up short Thursday night in Laramie, as the Cowgirls fell to conference-leading San Jose State in four sets. Set scores went 22-25, 20-25, 25-21 and 24-26.
After dropping the first two sets on the night, the Cowgirls (6-11, 2-3 MW) wouldn't go away quietly, controlling the second half of the third set. After it was tied at 11-1, UW went on a 5-1 run in the set to gain some breathing room and from there, wouldn't let the lead slip below two points, eventually closing the frame on a 3-1 spurt.
The fourth, was a wild affair, as the Spartans (11-4, 5-0 MW) looked like they would put away the match with ease, jumping out to a 12-4 lead. However, the Cowgirls would once again respond, going on an impressive 18-8 run and grabbing a 22-20 lead.
Later, Wyoming had set point at 24-22 and looked to be forcing a decisive fifth, but SJSU would close the match with four consecutive points to escape with the four-set victory.
KC McMahon led the Cowgirl offense in the loss with 14 kills and hit .333. Naya Shimé, was also in double figures with 10 kills while Tierney Barlow and Teresa Garza added eight and six, respectively. On the night, Wyoming hit .150 in the loss while the Spartans hit .181.
Defensively, Wyoming had a 12-10 edge in team blocks and was led by Barlow and Kayla Mazzocca with five total, each. The Cowgirls also held a slight advantage at the service line, recording three aces to SJSU's two. The Spartans, however, would commit three fewer serving errors on the night.
In the back row, Hailey Zuroske paced Wyoming with 14 digs while Kasia Partyka once again notched a double-double as she had 10 digs to go along with a match-high 41 assists. Partyka also had a trio of kills and two total blocks.
Wyoming will look to rebound next Saturday, as it closes its home week with a noon first serve Oct. 8 as Nevada comes to the UniWyo Sports Complex.
15 Questions You Should Never Ask Someone From Wyoming
- 15 Questions You Should Never Ask Someone From Wyoming