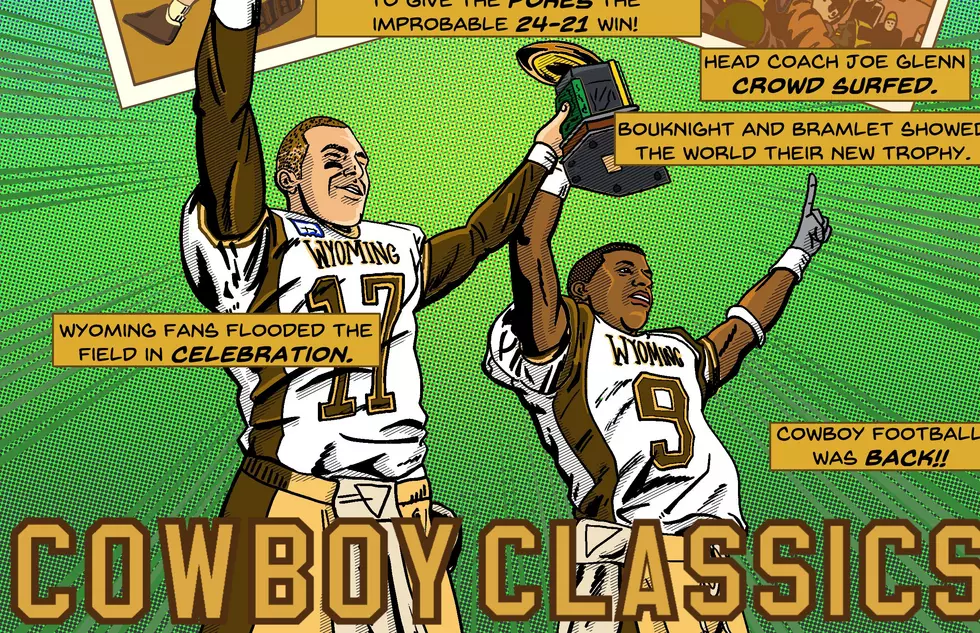 Cowboy Classics: Sin City Stunner
CowboyClassicVegascrop
LARAMIE -- Eleven years.
That's how long it had been since the Cowboys found themselves in a bowl game. The last time was in 1993 -- and it wasn't pretty. Kansas State ran all over the Pokes in the Copper Bowl, 52-17, en route to the Wildcats' first bowl victory in school history.
To make matters worse for Wyoming, it was the sixth straight postseason loss, dating back to a win over Florida State in the Sun Bowl in 1966.
Names like Barry Sanders, Merton Hanks, Barry Switzer, Mike Pawlawski and Kevin Lockett went down in bowl lore after their performances against the Pokes.
In 2004, Wyoming was back. Joe Glenn led his scrappy, upstart Cowboys to a 6-5 record in the regular season. The Las Vegas Bowl came calling that December.
UCLA would be the opponent.
The host city was kind enough to strap a 14-point underdog label on the Cowboys the week of the game. The team and its fans paid no mind, flooding into a frigid Sam Boyd Stadium on the outskirts of Las Vegas.
Wyoming jumped out to an early 10-0 lead. The Bruins added 14 unanswered in the second and added seven more in the third.
The Cowboys took care of the rest.
With 57 seconds remaining on the game clock, UW quarterback Corey Bramlet zipped a 12-yard pass over the middle and into the back of the end zone. Tight end John Wadkowski was cradled it. The celebration was on.
The Wyoming faithful flooded the field, surrounding the team and its popular head coach. A stage was wheeled on to the field. Players stood on it, lifting the trophy high above their heads.
At that moment, most felt like Cowboy football was on the map. That point was really solidified when Glenn appeared on the front of Sporting News a few weeks later with the headline: "Here's the man who could fix ..."
They were referring to Glenn leaving UW to help build up a high-profile program. Sound familiar?
Yes, all was right in the world again ...