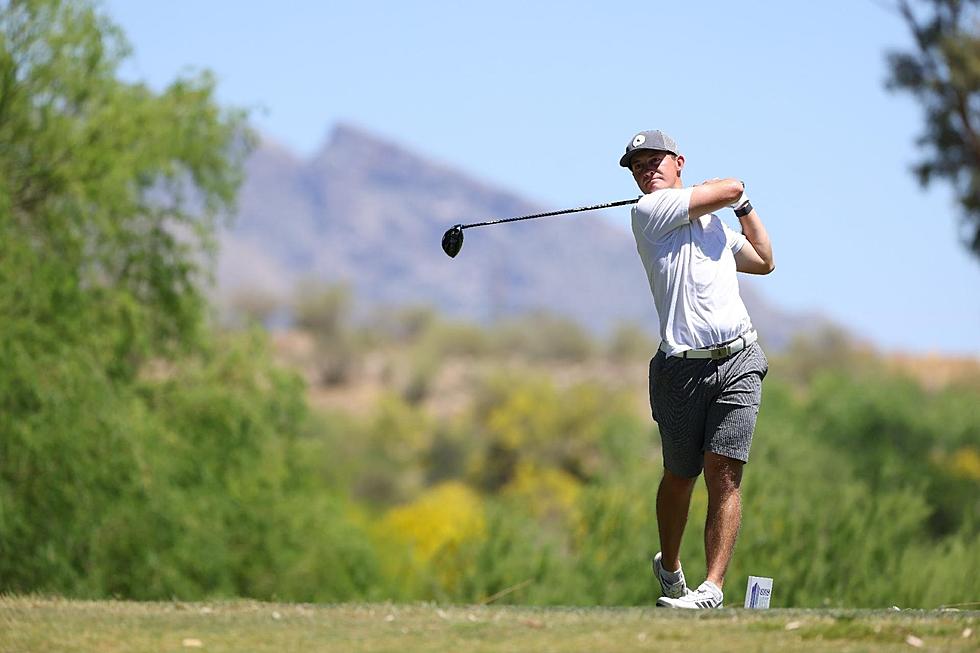 Cowboy Golf Team Posts Best Finish Ever at MW Championship
Sunday saw the Wyoming Cowboy golf team enjoy its best-ever finish at the Mountain West Conference Championship, capturing sole possession of fifth place in the 11-team field. The Cowboys also shot the lowest tournament total in school history at any MW Championship, posting a 54-hole total of 839 (-25)./ UW courtesy photo
* University of Wyoming press release
TUCSON, Ariz., -- Sunday saw the Wyoming Cowboy golf team enjoy its best-ever finish at the Mountain West Conference Championship, capturing sole possession of fifth place in the 11-team field.
The Cowboys also shot the lowest tournament total in school history at any MW Championship, posting a 54-hole total of 839 (-25).
UW had tied for fifth place in two previous MW Championships in 2018, in an 11-team field, and 2002, in an eight-team field, but the Cowboys had never finished in sole possession of fifth. Wyoming fired a final round of 277 (-11) on Sunday, which was its lowest single round score in the 23-year history of the MW Championship.
It's previous lowest single-round score was 280 (-8), which it shot on Friday in the first round of this year's championship.
Wyoming's three-round total of 839 (-25) was also its lowest tournament total in an MW Championship. UW's previous best MW Championship score was 847 (-17) in 2019 on the same Catalina Course it played this week. The Pokes placed seventh in that 2019 MW Championship.
Wyoming secured its fifth-place finish this week with an amazingly balanced attack as all five Cowboys finished under par for the tournament.
Senior Kirby Coe-Kirkham and junior Jimmy Dales tied for 13th at 209 (-7).  Sophomore Patrick Azevedo finished in 17th at 212 (-4). Senior Tyler Severin was one shot back of Azevedo at 213 (-3) to tie for 18th. Sophomore Jaren Calkins rounded out the scoring for the Cowboys, tying for 27th as he also finished under par for the tournament at 215 (-1).
"I'm so proud of this team," said head coach Joe Jensen. "We played hard in all three rounds and we competed against excellent teams in a very good college golf conference. I'm so happy for our guys. Kirby (Coe-Kirkham) and Jimmy (Dales) played great all week. I couldn't be more proud of how Pat (Azevedo) responded today. He had a difficult 18th hole to end Saturday's round and then he came back today and shot a 67 (-5) for the lowest round of any of our players this week. We played toe-to-toe with some very good teams this week, and we improved our position in each round."
The Cowboys were in sixth place after the first round on Friday, moved into a tie for fifth in round two on Saturday and then broke a tie for fifth with San Jose State in Sunday's final round to capture sole possession of fifth.
In the final two rounds, Wyoming played with Colorado State, which entered the tournament as the highest-ranked team in the field at No. 23 in the country. The Pokes outplayed the Rams on Sunday, posting its 277 (-11) round vs. CSU's 278 (-10), but UW finished four strokes back of the fourth-place Rams, who finished at 835 (-29).
Wyoming entered the tournament ranked No. 104 by Golfstat out of 305 Division I men's golf teams.
The Cowboys defeated two teams ranked ahead of them in the national rankings. Those two teams that Wyoming defeated were No. 83 ranked Fresno State and No. 89 ranked San Jose State.
San Diego State, ranked No. 30 in the country entering the tournament, ran away with the team title, posting a final score of 804 (-60) to win by 25 strokes over second-place and No. 51 ranked New Mexico. The Lobos finished at 829 (-35) to hold off third-place and No. 87 ranked UNLV, which posted a final score of 830 (-34).
Dylan Oyama of San Diego State and Christoph Bleier of Colorado State tied for medalist honors after 54-holes, with identical 197 (-19) tournament totals. Oyama then defeated Bleier on the first playoff hole to take home individual honors.
The 2023 Mountain West Championship was played on the Catalina Course at the OMNI Tucson National Resort in Tucson, Ariz. The course measured 7,194 yards and played to a par of 72.
Team Standings
1.   San Diego State                   272-272-260=804 (-60)
2.   New Mexico                        278-275-276=829 (-35)
3.   UNLV                                  274-281-275=830 (-34)
4.   Colorado State                    284-273-278=835 (-29)
5.   Wyoming                           280-282-277=839 (-25)
6.   San Jose State                     279-283-280=842 (-22)
7.   Fresno State                        278-290-280=848 (-16)
8.   Boise State                          288-290-286=864 (Even)
9.   Nevada 292-292-289=873 (+9)
10. Utah State                          302-294-285=881 (+17)
11. Air Force                             290-294-300=884 (+20)
Wyoming Cowboys' Standings
T13 Kirby Coe-Kirkham              69-72-68=209 (-7)
T13 Jimmy Dales                        69-71-69=209 (-7)
17 Patrick Azevedo                    73-72-67=212 (-4)
T18 Tyler Severin                       71-68-74=213 (-3)
T27 Jaren Calkins                      71-71-73=215 (-1)
15 Questions You Should Never Ask Someone From Wyoming
- 15 Questions You Should Never Ask Someone From Wyoming