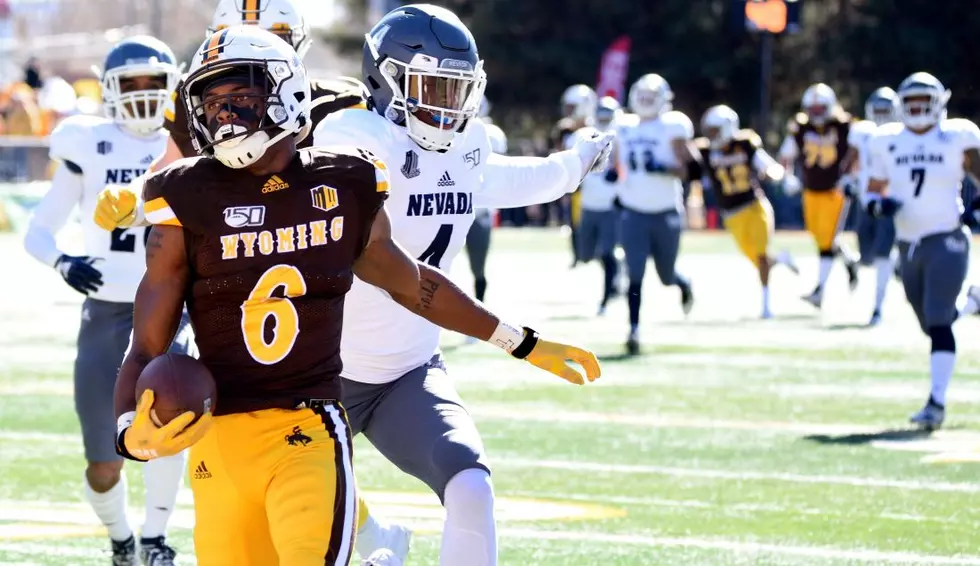 Cowboys vs. Wolf Pack: How we see this shaking out
NEVxcropuse
LARAMIE -- Today we break down this Mountain West opener between Wyoming and Nevada. Kickoff is scheduled for Saturday at 5 p.m. MST at Mackay Stadium in Reno.
Logan Harris (from left) and Jackson Marcotte



When the Pokes have the pigskin: Will the Cowboys' offense really change that much? Whether Sean Chambers throws the ball 20 times or not in Reno, the Wolf Pack are sure to get a heavy dose of No. 12 on the ground. Wyoming also possesses the league's top running back in junior Xazavian Valladay, who gashed opponents to the tune of 1,265 yards in 2019. The guys that make this whole thing go -- the "Dirt Dogs" -- are returning five players who have started on the offensive line for the Cowboys before, including former Freshman All-American center, Keegan Cryder, and the guys on his hips, Eric Abojei and Logan Harris. Nevada gave up nearly 150 yards per game on the ground last season, including 258 in a lopsided 31-3 loss in Laramie. This isn't last year. And as UW's offensive coordinator Brent Vigen pointed out Monday, the Wolf Pack didn't have three of their best defenders inside War Memorial Stadium. Who are those guys: Dom Peterson (DE), Jaden Lewis (DE) and Tristan Nichols (DT). Nevada did lose four linebackers from a season ago. The defensive line and secondary, however, as loaded with vets. Will Wyoming throw the ball more this fall ... I mean, winter? Craig Bohl has sure made it sound like balance is on the way. If so, watch for names like Treyton Welch (TE), Ayden Eberhardt (WR), Isaiah Neyor (WR) and Jackson Marcotte (TE). They could make a big difference in this one.
Carson Strong



When Nevada is on offense: Carson Strong threw the ball 40 times in Laramie last October. Sound like a lot? It wasn't. The freshman attempted 347 passes in 2019, connecting on 63.4 of those and adding 11 touchdowns through the air. Twice he torched teams for three scores in a game. One was on the road against Fresno State, the other -- his first career start against Purdue. It was an up-and-down campaign for Strong, who stood behind a shaky line that allowed 23 sacks. When he does have time, chances are he will be looking in the direction of two of the best receivers in the conference in Elijah Cooks (76 catches, 926 yards, 8 touchdowns) and Romeo Doubs (44 catches, 649 yards, 4 touchdowns). As mentioned above, Nevada's offense wasn't exactly a strength a season ago. The front five gave up 29 sacks and were one of the worst run-blocking teams in the nation, ranking 11th out of 12 MW teams. Aside from at left tackle Miles Beach, who abruptly retired, those guys are all back. So is the team's leading running back, Tua Taua. The former league Freshman of the Year gained 807 yards on 196 carries in 2019. Nevada, not surprising, was one of the worst rushing offenses in the country. Wyoming's defense was the opposite when it came to stopping the run. They allowed just 107 yards per game on the ground. Can they repeat that performance without the services of Logan Wilson and Alijah Halliburton, who were lost to graduation? And what about the Cowboys' opt outs Solomon Byrd, Devon Wells-Ross, Mario Mora and Rome Weber? The biggest test will likely come on the boundary. Corners Azizi Hearn and CJ Coldon have to bring their "A-game" to the yard. So does nickel Keyon Blankenbaker, as well as a pair of new safeties in Esaias Gandy and Braden Smith. Wyoming's defense is young. This is a good test right off the bat.
Special teams edge: Remember that cool story about the kicker getting a scholarship after nailing a 56-yard game-winning field goal against Purdue? That was Brandon Talton. And he's back. Talton nailed 21-of-25 attempts, including a 51-yarder in Nevada's bowl game. Wyoming, well, they just said goodbye to the program's all-time leading scorer, Cooper Rothe. Redshirt freshman Luke Glassock has been tasked with filling those gigantic, weird little soccer cleats. The Buffalo native has never attempted a college kick. If he falters, Nick Null, a senior graduate transfer from Cornell is the back-up. Doubs is a dynamic punt returner and Wyoming speedster Dontae Crow will handle all kickoffs for the Pokes.
Historically speaking: These teams have met just eight times. Wyoming holds the 5-3 advantage, including that beatdown in Laramie last fall. When the Wolf Pack moved up to Division-I in 1992, their first game was at War Memorial Stadium. Joe Tiller's Cowboys rolled to a 25-6 victory. This game has taken place in Reno three times. A couple of guys named Josh Allen and Brian Hill led the visitors to a 42-34 win in 2016. You might recall that one. Hill had the second-best day for a Cowboy running back in program history, gutting the Wolf Pack for 289 yards and three scores. Allen rushed for a pair of touchdowns and even caught one from Austin Conway. Nevada handed Wyoming one of its worst losses that you probably don't even remember. In 2000, the first season under Vic Koenning, the Wolf Pack came into Laramie and erased a 21-10 first-half deficit, scoring 22 points in the fourth quarter to run away with a 35-28 victory on a wintery late September evening. The Cowboys would lose their next seven in a three-year span that saw the program win just five games.
The score. Oh, the score: This game is going to feature some touchdowns. Quite a few, actually. Bohl said last week he'd be "disappointed" if Wyoming doesn't score more this year, considering its plethora of offensive weapons. Agreed. Look for Valladay to have a big day on the ground. Chambers, along with his new footwork and mechanics, will throw for at least 150 yards, and the Pokes will pull away late thanks to that big, mean offensive line.
Wyoming 38
Nevada 24