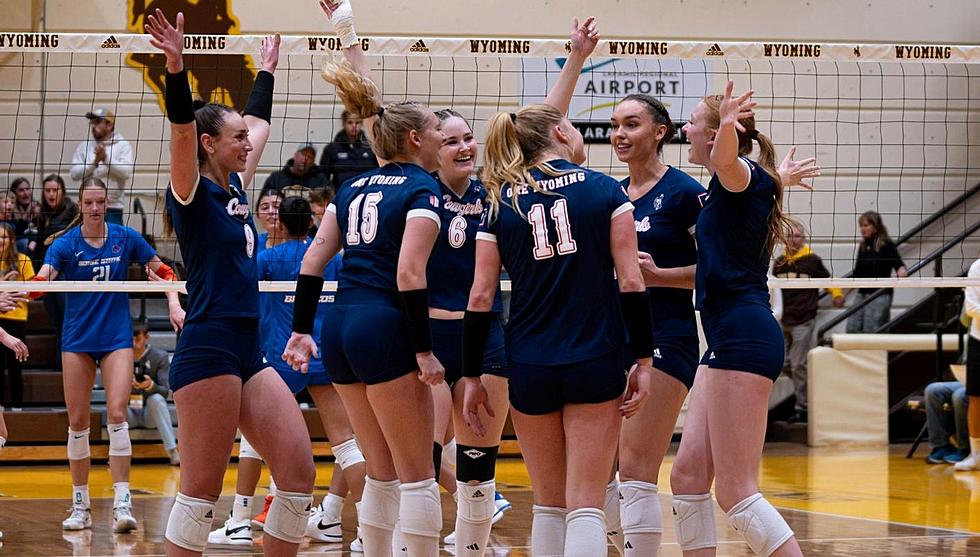 Cowgirl Volleyball Travels to CSU for Border War
The Wyoming Cowgirl volleyball team opens its four-match road trip Halloween night at Colorado State in a 7 p.m., contest. Tuesday's match is a part of the Mountain West's Tuesday Night Block Party. UW won the first edition of the 2023 Border War, defeating CSU in four sets October 3 in Laramie./ UW courtesy photo
* University of Wyoming press release
LARAMIE -- The Wyoming Cowgirl volleyball team opens its four-match road trip Halloween night at Colorado State in a 7 p.m., contest. Tuesday's match is a part of the Mountain West's Tuesday Night Block Party.
UW won the first edition of the 2023 Border War, defeating CSU in four sets Oct. 3 in Laramie.
Wyoming (16-7, 5-7 MW) is coming off a split last week in a pair of home contests. The Cowgirls made quick work of Boise State in a 3-0 sweep, playing arguably their best match of the season. UW hit .373 in the win and held the Broncos, who were then in second place in the league, to just an .043 clip. Saturday, the Cowgirls lost in four sets to conference-leading Utah State.
Tierney Barlow led the Cowgirl offense last week with 25 kills (3.57 a set) and hit .500. Barlow also recorded 10 total blocks for the week. Rylee Schulz added 22 kills (3.14) for the week. The duo ranks fifth and eighth, respectively in the league in points per set while Schulz's 3.29 kills per set ranks sixth and Barlow's 3.11 are ninth-best in the Mountain West.
Kasia Partyka tallied 79 (11.29 per set) assists for the week and continues to lead the league and ranks 11th in the nation averaging 10.74 assists per set. In league play, Partyka ranks second averaging 10.20 assists per set. Defensively, Sarah Holcomb leads the league in conference action averaging 1.41 blocks per set while Sierra Grizzle's 3.02 digs a set ranks ninth.
In league action this season, Colorado State has the No. 1 offense in the Mountain West. CSU is first in the league in hitting percentage (.289), kills (13.47) and assists per set (12.55). Setter Emery Herman leads the conference in MW matches averaging 10.89 assists per set. Malaya Jones ranks third in kills per set with 3.55 and points a set with 4.26. Naeemah Weathers ranks second in the league with a .420 hitting percentage in 2023. The Rams are 7-5 at home this season overall and are 4-2 in Fort Collins in conference action.
10 Reasons Why You're Lucky to Be Living in Wyoming
Here Are the Top 10 Reasons Why You're Lucky to Be Living in Wyoming
- 10 Reasons Why You're Lucky to Be Living in Wyoming,