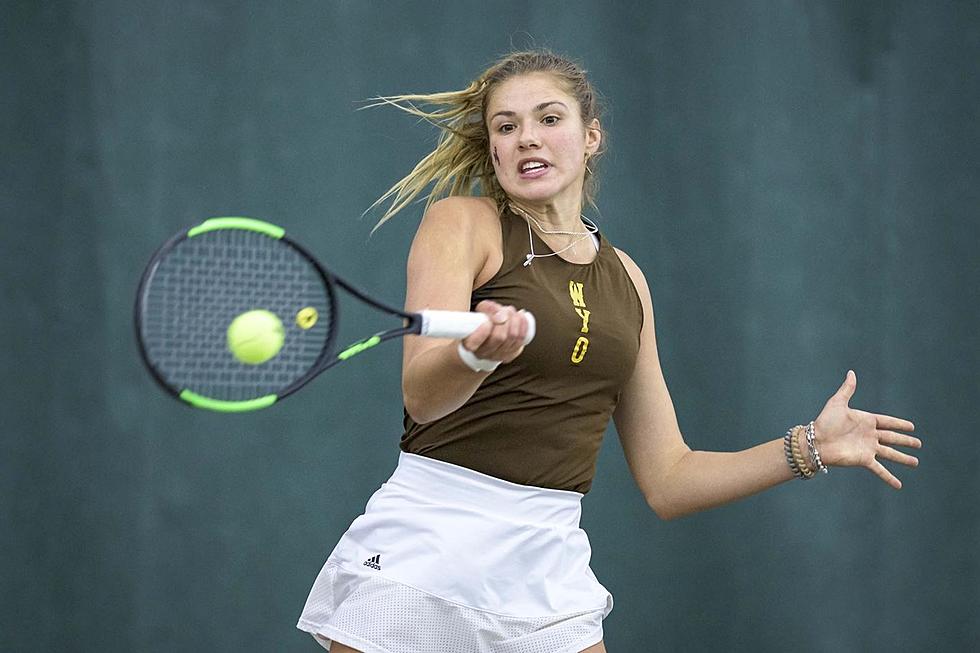 Cowgirls blank Southeastern Louisiana
The Wyoming Cowgirl tennis team opened its weekend in Mississippi with an impressive 7-0 victory Saturday afternoon over Southeastern Louisiana./ UW courtesy photo
* University of Wyoming Athletics media relations release
MCCOMB, Miss. (Feb. 5, 2022) – The Wyoming Cowgirl tennis team opened its weekend in Mississippi with an impressive 7-0 victory Saturday afternoon over Southeastern Louisiana. The Cowgirls improved to 3-4 with the victory, their second consecutive.
UW swept all three doubles matches to secure the doubles' point on the day and won 4-of-6 singles' matches outright. SLU had an injury default at No. 4 singles and didn't play anyone at the No. 6 spot.
In doubles play, Noesjka Brink and Mihaela Kaftanova got things going with a 6-3 win at the No. 3 position. Following that, Ana Fernandez and Sophie Zehender, playing for the first time together this spring, picked up a 6-3 win of their own. Rounding things out was Ida Krause and Maria Oreshkina at the first position, winning 6-4 as the Cowgirls took an early 1-0 lead in the match.
Brink opened singles play with a quick 6-3 and 6-0 win at the No. 3 singles' spot. Then at the fifth spot, Fernandez was able to pick up a 6-2, 6-1 win. Oreshkina and Zehender closed things out for Wyoming at the second and first spots, respectively. Oreshkina won in straight-sets 6-4, 6-0 while Zehender was victorious 6-4 and 6-1 in her first spring action.
"I can't thank Fit Life and the community of McComb enough for the incredible atmosphere here today," said head coach Dean Clower following the win. "The team came out in doubles and played our style the whole match. In singles, the first sets were very disciplined from the girls, and they fought hard. In the second set of every match, we really hit our stride and took off."
The Cowgirls return to action Sunday and conclude their weekend in Mississippi in a noon matchup with West Alabama.
Wyoming vs. Southeastern Louisiana
2/5/2022 in McComb, Miss.
Wyoming 7, SELA 0
Doubles competition
1. Ida Krause/Maria Oreshkina (WYO) def. Insani/Bierma (SELA) 6-4
2. Ana Fernandez/Sophie Zehender (WYO) def. Stepstova/Ranarsuaya (SELA) 6-3
3. Noesjka Brink/Mihaela Kaftanova (WYO) def. Paunova/Csardas (SELA) 6-3
Singles competition
1. Zehender (WYO) def. Insani (SELA) 6-4, 6-1
2. Oreshkina (WYO) def. Stepstova (SELA) 6-4, 6-0
3. Brink (WYO) def. Paunova (SELA) 6-3, 6-0
4. Lucia Malinak (WYO) def. Bierma (SELA) injury default
5. Fernandez (WYO) def. Csardas (SELA) 6-2, 6-1
6. Krause (WYO) vs. Default (SELA)
10 Reasons Why You're Lucky to Be Living in Wyoming
Here Are the Top 10 Reasons Why You're Lucky to Be Living in Wyoming
- 10 Reasons Why You're Lucky to Be Living in Wyoming,