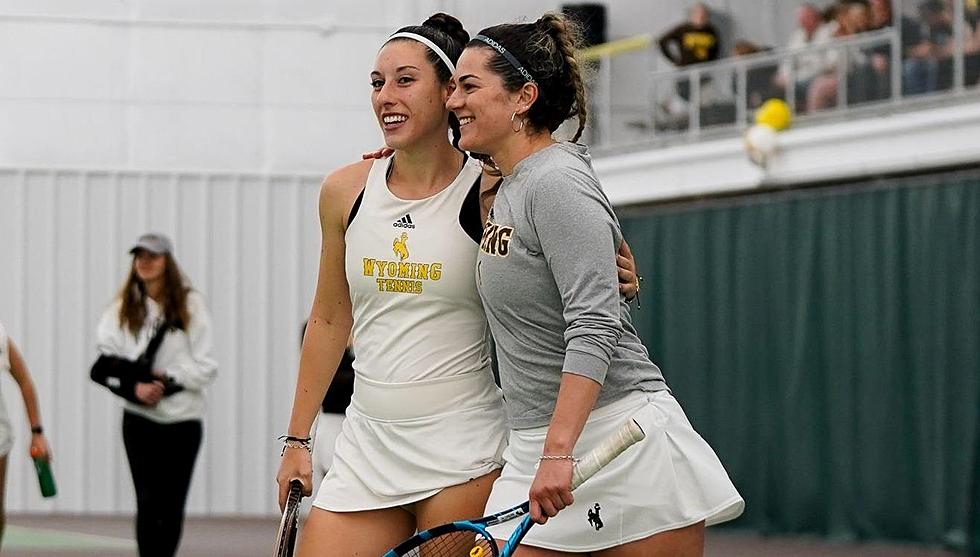 Cowgirls Close Regular Season with a Chance at History
The Wyoming Cowgirl tennis team enters the last two matches of regular-season play with a chance at history on the line. Wyoming will play a pair of neutral-site matches down in Fort Collins as it faces Air Force Friday and New Mexico, Saturday. Both matches begin at 10 a.m./ UW courtesy photo
* University of Wyoming press release
LARAMIE -- The Wyoming Cowgirl tennis team enters the last two matches of regular-season play with a chance at history on the line. Wyoming will play a pair of neutral-site matches down in Fort Collins as it faces Air Force Friday and New Mexico, Saturday. Both matches begin at 10 a.m.
The Cowgirls (12-9, 7-1 MW) control their own destiny to secure an outright Mountain West title this weekend. A pair of UW wins would give it the outright league crown at 9-1 in MW action.
A Cowgirl split would possibly mean a share of the conference title, with seeding to be determined. It would be the first conference championship in program history, either way. Wyoming has gone 5-0, twice, in conference play before but the league didn't recognize a regular season champion those seasons, because there wasn't a true round-robin schedule played back then.
Wyoming is coming off a couple of 4-1 victories last weekend in Boise. The Cowgirls defeated Boise State on the road before dispatching of Utah State in a neutral contest. Violetta Borodina won both of her matchups in singles play over the weekend and was named the league's Freshman of the Week for the second time this season, for her efforts.
Borodina now has a team-high 13 dual wins this spring and, along with Noesjka Brink, is tied for the team lead with six conference victories. In doubles play, all three Cowgirl doubles teams now have double-digit victories during dual action.
The tandem of Borodina and Maria Oreshkina lead the way with 11 wins and are 5-2 in MW play. Brink and her partner, Nikol Dobrilova, have also won five times in league action.
Air Force enters play with a 10-9 record overall and a 6-2 mark in Mountain West play. The Falcons are 3-3 this season in neutral matchups. New Mexico is 10-7 overall and 3-5 in conference. Four of UNM's wins this season have come in neutral contests.
10 Reasons Why You're Lucky to Be Living in Wyoming
Here Are the Top 10 Reasons Why You're Lucky to Be Living in Wyoming
- 10 Reasons Why You're Lucky to Be Living in Wyoming,