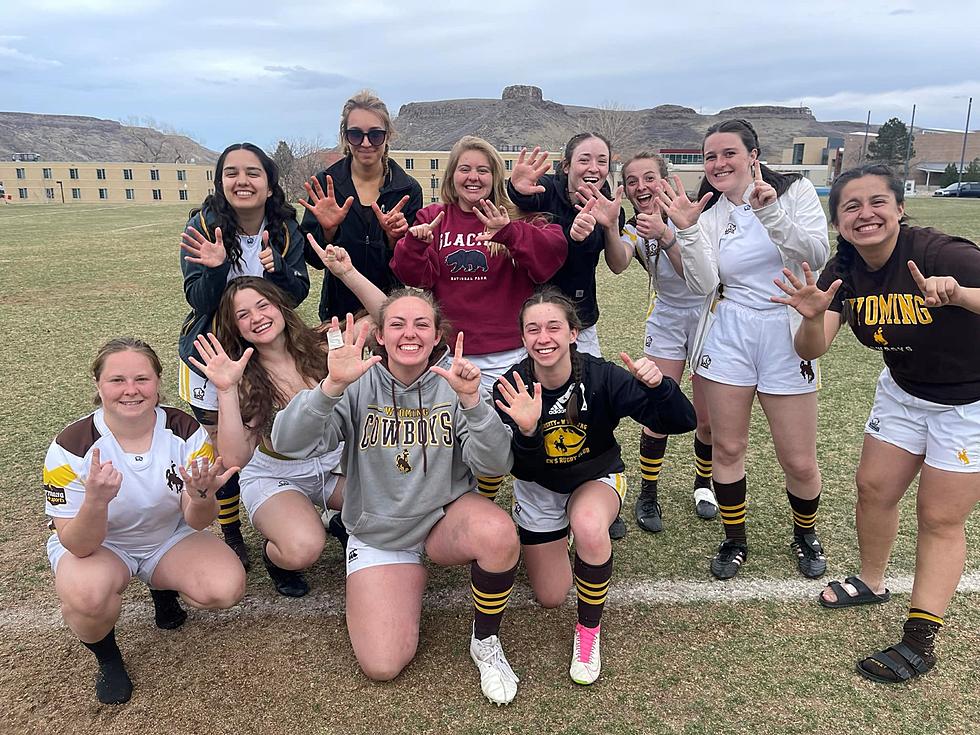 Cowgirls Drop Four Games at Rugby National Championships
The University of Wyoming women's rugby club team competed in the College Rugby Association of America Sevens National Championships in Dallas, Texas, Saturday and Sunday, May 13 and 14./ UW Rugby courtesy photo
* University of Wyoming press release
LARAMIE -- The University of Wyoming women's rugby club team competed in the College Rugby Association of America Sevens National Championships in Dallas, Texas, Saturday and Sunday, May 13 and 14.
The Cowgirls dropped all four games of the tournament, falling to Northeastern (24-0), UConn (20-5), UMass-Amherst (32-0) and Boston University (12-5).
UW represented the Rocky Mountain Conference at the event, which features top Division I and II teams from across the nation. Air Force Academy (DI), Colorado Mesa (DII) and University of Denver (DII) also will represent the Rocky Mountain Conference.
"These athletes have worked hard for this honor," UW head Coach John Pope says. "We're pleased to see them receive it, and we're looking forward to seeing them play Wyoming rugby on a national stage again."
The team will be honored during a halftime ceremony during the professional Major League Rugby Dallas Jackals' game against the Utah Warriors Saturday evening.
UW was promoted to Division I in 2018 and finished 2019 at No. 6 in the country before COVID-19 shutdowns disrupted the program. The team competes in the Rocky Mountain Conference against Colorado State University, University of Colorado, University of New Mexico, Montana State University, Utah Valley University, Utah State University, University of Utah and Air Force Academy.
Founded in 1991, UW's women's rugby club Division I team provides a strong community to its members. With a focus on safety, scholarship and team culture, UW has built a platform for long-term program success. The team has had extensive success at the national level, reaching Elite 8 and Sweet 16 levels in prior years and placing multiple players on the All-American and USA Eagles national teams.
The club is fundraising to offset travel and other expenses. Donors can contribute through the UW portal at www.givecampus.com/campaigns/28741/donations/new?designation=womensrugbyclub&.
Members of the team competing this weekend, listed by hometown, are:
Alliance, Neb. -- Shaylee Messersmith.
Calhan, Colo. -- Natalie Hlatki.
Casper -- Julia Burrows.
Gillette -- Megan Green.
Green River -- Shelbee McFadden.
Pine Bluffs -- Natalie Christofferson.
Rock Springs -- Kelsey Crockett and Yesenia Vicencio-Delgadillo.
Sesser, Ill. -- Adrianna Fedderke.
Vacaville, Calif. -- Madeline Lehman.
Ventura, Calif. -- Emilie Brookshire.
Wasilla, Alaska -- Kimberly Quincy.
30 Ways To Say You're From Wyoming Without Saying You're From Wyoming
These are the most mentioned ways to say you're from Wyoming, without actually saying you're from Wyoming.
- 30 Ways To Say You're From Wyoming Without Saying You're From Wyoming