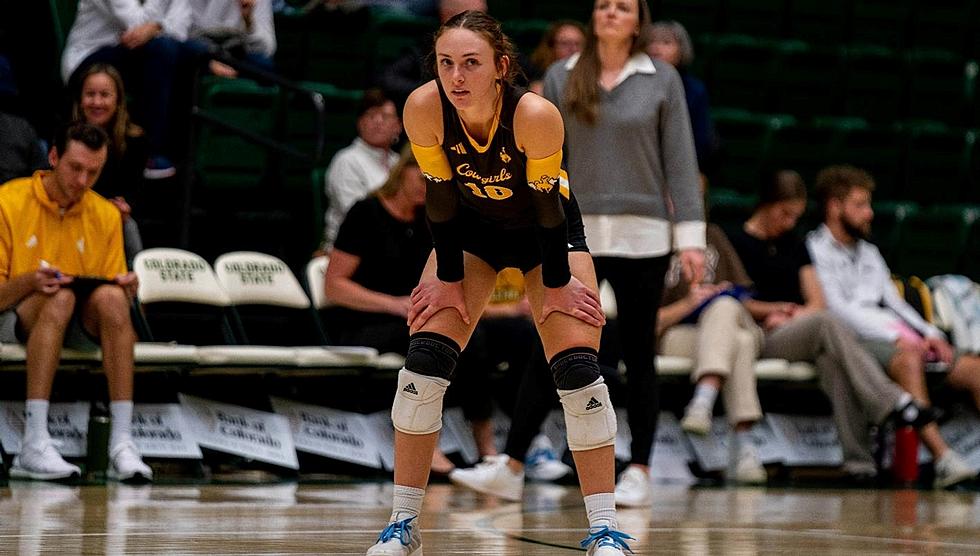 Cowgirls Embark on Final Road Trip
The Wyoming Cowgirl volleyball team plays its final two road contests of the season this week as they travel to face San Diego State at 7 p.m., Thursday and UNLV in a 2 p.m., contest Saturday. These matches close UW's four-match road trip./ UW courtesy photo
* University of Wyoming press release
LARAMIE -- The Wyoming Cowgirl volleyball team plays its final two road contests of the season this week as they travel to face San Diego State at 7 p.m., Thursday and UNLV in a 2 p.m., contest Saturday.
These matches close UW's four-match road trip.
The Cowgirls (17-8, 6-8 MW) are coming off another split last week in conference play, having lost in four sets at Colorado State and defeating San Jose State in four. Wyoming hit .328 in the win over the Spartans while holding them to just a .160 hitting clip. Paige Lauterwasser led the Cowgirls with 13 kills and hit .550 in the victory while Corin Carruth added 10 kills and hit .348. Kasia Partyka tallied seven total blocks against SJSU and had 13 blocks for the week in total.
In conference action, Partyka ranks second averaging 10.17 assists per set. Other Cowgirls rank in the top-10 in the league in statistical categories. Sarah Holcomb leads the Mountain West averaging 1.38 blocks per set. Rylee Schulz, meanwhile, is averaging 3.28 kills per set in league play, a mark that ranks eighth. Tierney Barlow is seventh in the MW hitting .328 and is fifth averaging 1.15 blocks per set. As a team, the Cowgirls lead the conference in blocks with 2.81 per set as a squad.
These last four matches are pivotal for the Cowgirls in their quest to reach the top six in the league standings and qualify for the Mountain West Tournament. UW is currently a game back of Air Force and UNLV, who are in fifth and sixth place, respectively. The Cowgirls are in search of just their fourth win in program history at San Diego State but have won each of the last two meetings in San Diego. UW is looking to break a five-match losing streak to UNLV.
San Diego State is led by Taylor Underwood's 287 kills and 3.12 kills per set in 2023. Julia Haynie is hitting .345 on the season and is second on the team with 43 total blocks. Elly Schraeder leads the squad with 46 blocks. The Aztecs deploy a two-setter offense with Fatimah Hall leading the way with 546 assists. Sarena Gonzalez has 439 assists on the year. As a team, SDSU is hitting .203 while opponents are hitting at a .231 clip.
UNLV is second in the Mountain West with a team hitting percentage of .266. The Lady Rebels lead the league averaging 1.86 service aces per set while individually, Caleigh King and Livvy Setla rank third with .36 aces per set each. The Lady Rebels are led by reigning Mountain West Player of the Year, Isabel Martin, who ranks second in the conference averaging 4.21 kills and 4.77 points per set. Arien Fafard's 8.02 assists per set ranks sixth-best in the league.
From Bison to Triceratops - All of Wyoming's Official Things
Every state in our nation has chosen things that represent the state in one way or another to be official state things. Like a flower, or animal.
Wyoming
is no different.
The Equality State, or the Cowboy State, depending on which state slogan you want to go with, has a state flower. But did you know we also have a state tree and a state fish? Yes, we even have a state code.
To be an official thing, a member of the state legislature must write and submit a bill to the legislature declaring that a thing will be the official state thing. Then the legislature votes to pass the bill, or not, if it passes, the governor signs the bill into law and we have a new official state thing.
Here is what we have so far, all of Wyoming's official things. Now you can win big on Wyo Trivia Night if that's a thing that exists.
Gallery Credit: Ben Kuhns
- From Bison to Triceratops - All of Wyoming's Official Things