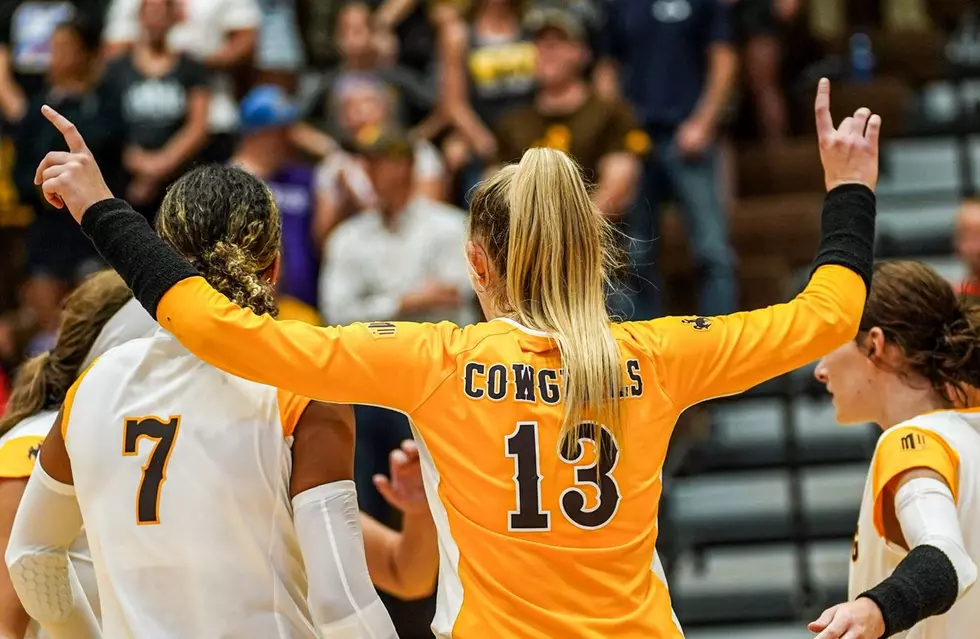 Cowgirls Prepare to Host UniWyo Invite
The Wyoming Cowgirl volleyball team closes its non-conference slate this week in hosting their second tournament of 2022. The Cowgirls welcome Idaho, Morehead State and Nicholls State for Thursday and Friday contests./ UW courtesy photo
* University of Wyoming press release
LARAMIE -- The Wyoming Cowgirl volleyball team closes its non-conference slate this week in hosting their second tournament of 2022. The Cowgirls welcome Idaho, Morehead State and Nicholls State for Thursday and Friday contests.
UW hosts Nicholls State at noon September 15 and Morehead State in the nightcap at 6 p.m., Thursday. The Cowgirls close the tournament with a 3 p.m., contest Sept. 16 against Idaho.
Wyoming (2-7) is coming off a 1-2 weekend at the Winthrop Tournament where it defeated Davidson in four sets. Corin Carruth and KC McMahon led the Cowgirls with 12 kills each in the win over the Wildcats with McMahon hitting .393 and adding three total blocks. Kayla Mazzocca recorded a career-best five service aces in the contest while Carruth and Hailey Zuroske led the way with 13 digs each.
Zuroske ended up being named to the all-tournament team after averaging 3.73 digs per set over the weekend.
McMahon enters the tournament just 21 kills shy of 1,000 for her career with the Brown & Gold. If McMahon reaches the milestone, she will become the 13th member of the exclusive club in program history. For her career, McMahon is averaging 2.68 kills per set.
Carruth currently ranks 10th in the Mountain West in points per set, averaging 3.65. Other Cowgirls toward the top of the league rankings include Zuroske, who is currently fourth in the conference averaging 3.86 digs per set. Kasia Partyka, meanwhile, is averaging 8.51 assists per set, a mark that ranks sixth in the MW.
Nicholls is 3-6 this season and is 0-2 on the road and 2-2 in neutral-site contests. Devon Bright leads the Colonels with 94 kills while S'mara Riley is second on the team with 72 kills and has a team-best 36 total blocks in 2022. Nicholls deploys a two-setter rotation with Lilly Bivens leading the team with 172 assists, while Kendall Battistella has 138. In the back row, Kadie Becnel has a team-best 130 digs. The Colonels are averaging 1.83 blocks per set as a team. Head Coach Kallie Noble is in her fourth season leading Nicholls.
Morehead State, who is a perennial power in the Ohio Valley Conference, comes into the tournament at 3-5 on the season. Abby Hulsman leads the Eagles with 88 kills while M.E. Hargan and Maycie Welborn have 73 and 72 kills, respectively. Welborn is hitting a team-best .297 thus far. Setter Bridget Bessler is averaging 9.85 assists per set while in the back row defensively, Morehead has five student-athletes averaging better than two digs per set. At the net, Irene Wogenstahl has a team-high 23 blocks with Welborn at 22. Longtime Head Coach Dr. Jaime Gordon is in his 20th season leading MSU.
Idaho, who the Cowgirls swept earlier this season, is led by first-year head coach Chris Gonzalez. The Vandals are led offensively by Taryn Vrieling's 74 kills while three others have 40-plus kills in 2022. Hailey Pelton is averaging a team-high 5.23 assists per set while Kate Doorn is at 4.92 per and has a team-high 123 helpers. Defensively, Madison Wilson leads Idaho with 25 total blocks on the year. The Vandals are 0-3 on the road in 2022.
30 Ways To Say You're From Wyoming Without Saying You're From Wyoming
These are the most mentioned ways to say you're from Wyoming, without actually saying you're from Wyoming.
- 30 Ways To Say You're From Wyoming Without Saying You're From Wyoming