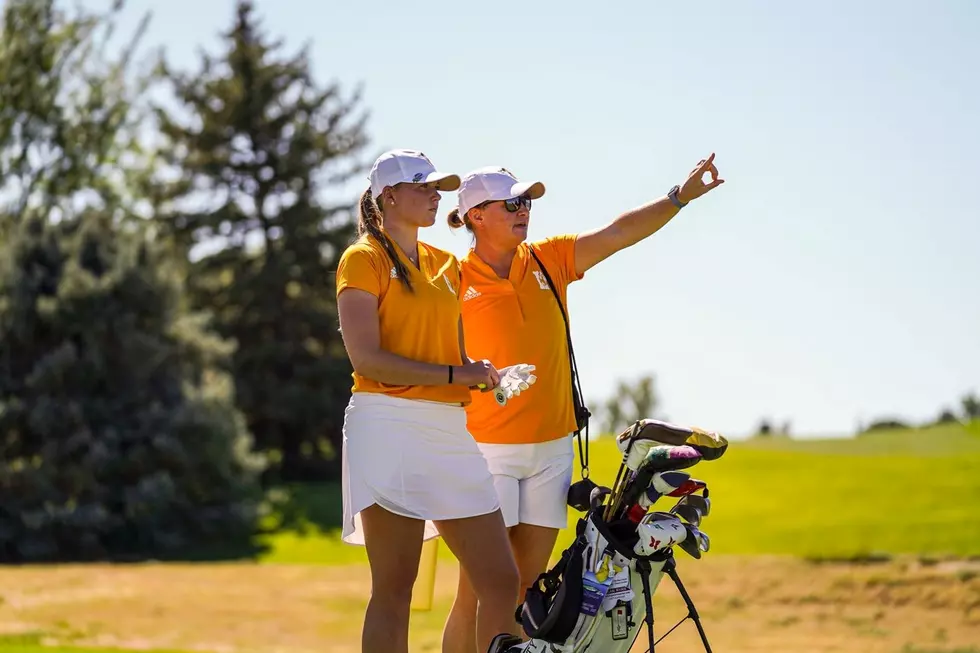 Cowgirls to Compete at Denver Ron Moore Intercollegiate
The Wyoming Cowgirl golf squad keeps their season rolling this week as they head to Denver, Colorado to compete in the Denver Ron Moore Intercollegiate October 7-9./ UW courtesy photo
* University of Wyoming press release
LARAMIE --The Wyoming Cowgirl golf squad keeps their season rolling this week as they head to Denver, Colorado to compete in the Denver Ron Moore Intercollegiate Oct. 7-9.
"The Ron Moore Intercollegiate has been a staple on our schedule for years, always featuring a nationally ranked field and this year is no exception," head women's golf coach Josey Stender said. "The course will play long with fast greens but I think we have the ability to continue making birdies especially coming off our confident and record-breaking performance at Ptarmigan."
The Cowgirls will enter the weekend coming off of a record setting outing at the CSU Colonel Wollenberg Ptarmigan Ram Classic where they had back-to-back school record rounds as a team. In the first two rounds of play, the Cowgirls posted teams scores of 289 and 285 breaking the old school record of 290 that was set in 2019 at the UVU Hobble Creek Classic.
Leading Wyoming in their record-breaking effort was Samantha Hui who tied the school record for lowest individual round score shooting a 68 (-4) on her way to recording her third straight top 25 finish.
Kyla Wilde will join Hui in the lineup this week as the only other member of the team to have three top 25 finishes in the first three tournaments of the year after finishing tied for 14th in Fort Collins. Rounding out the lineup will be the trio of Rachel Stoisnki, Jadan Gonzalez and Morgan Ryan.  Sophie Spiva will also be in action as the lone Cowgirl playing as an individual this weekend.
The Cowgirls are set for a challenging outing at the Denver Ron Moore Intercollegiate this weekend going up against a 16-team field that features multiple conference champions and regional qualifiers from a season ago. In total, three conference champions and four regional qualifier teams from last season are set to play against the Cowgirls. The field is headlined by SEC standout Vanderbilt who were regional champions a year ago and finished tied for 22nd at the NCAA Championships. The three reigning conference champions in the field will be Tulane (AAC), Xavier (Big East) and Denver (Summit). The Cowgirls will also be facing a trio of Mountain West opponents going up against San Diego State, Fresno State and New Mexico.
The first 18 holes of play are set to off on Friday at 8:30 a.m. MT with rounds two and three set to be played on Saturday and Sunday.
From Bison to Triceratops - All of Wyoming's Official Things
Every state in our nation has chosen things that represent the state in one way or another to be official state things. Like a flower, or animal.
Wyoming
is no different.
The Equality State, or the Cowboy State, depending on which state slogan you want to go with, has a state flower. But did you know we also have a state tree and a state fish? Yes, we even have a state code.
To be an official thing, a member of the state legislature must write and submit a bill to the legislature declaring that a thing will be the official state thing. Then the legislature votes to pass the bill, or not, if it passes, the governor signs the bill into law and we have a new official state thing.
Here is what we have so far, all of Wyoming's official things. Now you can win big on Wyo Trivia Night if that's a thing that exists.
- From Bison to Triceratops - All of Wyoming's Official Things