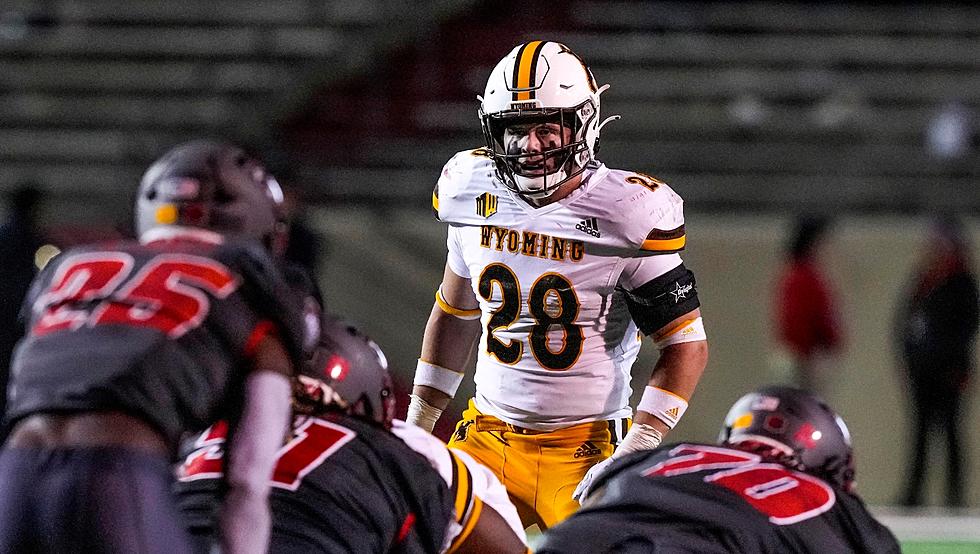 Easton Gibbs Named to 2023 Chuck Bednarik Watch List
The Maxwell Football Club announced on Monday the watch list for the 29th Chuck Bednarik Award. University of Wyoming linebacker Easton Gibbs was among the top defensive players in the nation named to the watch list./ UW courtesy photo
* University of Wyoming press release
LARAMIE -- The Maxwell Football Club announced on Monday the watch list for the 29th Chuck Bednarik Award. University of Wyoming linebacker Easton Gibbs was among the top defensive players in the nation named to the watch list.
The Bednarik Award has been presented to the College Defensive Player of the Year since 1994 and is named in honor of Chuck "Concrete Charlie" Bednarik who was an All-American player at the University of Pennsylvania and later a multiple year All Pro linebacker and center for the Philadelphia Eagles.
He is a member of both the College and Pro Football Halls of Fame and was the last NFL player to be a full-time player on both offense and defense.
Gibbs was selected as the 2023 Mountain West Preseason Defensive Player of the Year in voting by MW media at Mountain West Media Days in July. He has also been named a '23 Preseason First Team All-Mountain selection by MW media, Athlon Sports and Phil Steele.
As a sophomore in 2022, Gibbs was named First Team All-Mountain West in voting by Mountain West head coaches and media at the conclusion of the season.
MORE UW FOOTBALL NEWS VIA 7220SPORTS:
* Wyoming in search of additional depth at defensive end spot
* Wyoming's Dawaiian McNeely to miss season with ACL tear
* Despite injuries, Buck Coors says he won't "pull up'
* Throwback Thursday: My Brother's Keeper
* DQ James' trademark smile, speed has returned
* Pokes Practice Report: Trial by fire in the trenches
* Wyoming fans better get to know the name Luke Sandy
* Mountain West unified, exploring options of adding programs
* Wyoming's Dawaiian McNeely suffers knee injury, status unknown
* Naz Hill confident he can immediately contribute in UW secondary
* Pokes Practice Report: Monsters in the Middle
* Q&A with Wyoming wide receivers coach Mike Grant
* Wyoming's Jamari Ferrell: 'I can't thank God enough for this'
A Temecula, Calif. native, Gibbs ranked No. 3 in the conference and 22nd nationally in tackles for the 2022 season, averaging 9.3 tackles per game. He recorded the first 100-tackle season of his career, with 121. He became only the 61st Cowboy in the 126-year history of Cowboy Football to record 100 tackles in a single season.
Gibbs' 121 tackles tied him with former UW linebackers Bruce Mowry (1983) and Jim Talich (1997) for the 18th best single-season tackle total in school history.
Gibbs posted double figures in tackles in six games during the 2022 season. In 2022, he became the third Wyoming linebacker to earn First Team All-Mountain West honors in the last four consecutive seasons, following current Cincinnati Bengal Logan Wilson (2019) and current Jacksonville Jaguar Chad Muma (2020 and '21).
The Chuck Bednarik Award has once again partnered with Pro Football Focus (PFF) and Phil Steele Publications as selection committee partners. PFF provides detailed metrics and performance-based assessments to selection committee staff, with several senior PFF analysts are members of our selection committee.
Phil Steele's College Football Preview is generally recognized as the most complete preseason magazine.
Semifinalists for the Chuck Bednarik Award will be announced Nov. 13, 2023, while the three finalists for the Bednarik Award will be unveiled Nov. 28, 2023.
The winners of the 29th Chuck Bednarik Award will be announced as part of the ESPN Home Depot College Football Awards Show held on Dec. 7, 2023. The formal presentations of the Chuck Bednarik Award will be made at the Maxwell Football Club Awards in March 2024.
Just The Facts: Size Doesn't Matter For Wyoming's War Memorial Stadium
Did you know it would take the populations of
Gillette
(32,857),
Laramie
(32,381),
Rock Springs
(23,319),
Sheridan
(17,844) and Wright (1,200) to create a sellout inside Michigan's famed 107,601-seat
Big House
, the largest college football stadium in the nation?
For those of you not familiar with the
Cowboy State
, those are Wyoming's third through sixth most inhabited cities, along with the small mining town in Campbell County.
- Just The Facts: Size Doesn't Matter For Wyoming's War Memorial Stadium