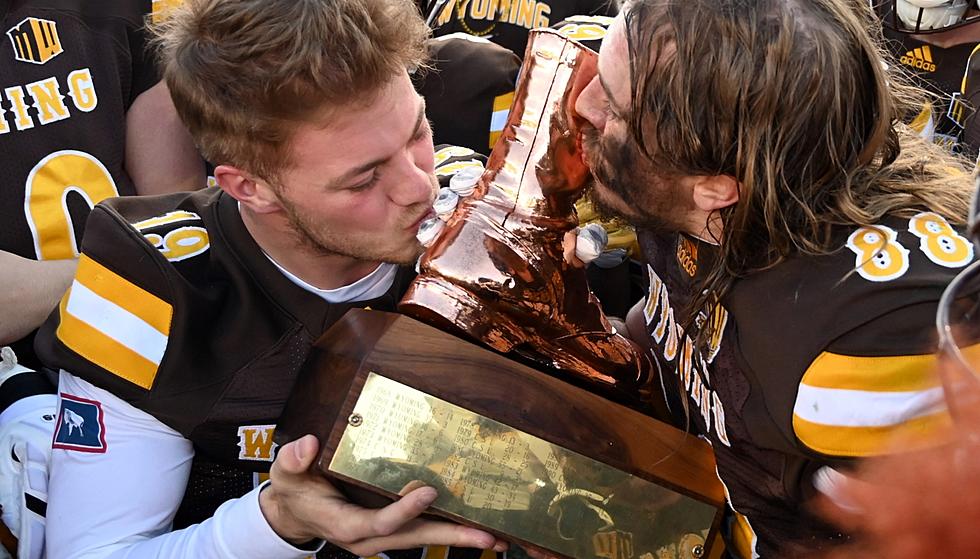 Eberhardt to play role of 'hype man' at Wyoming's NFL Pro Day
UW seniors Ayden Eberhart (from left) and Garrett Crall kiss the Bronze Boot after knocking off Border War rival Colorado State, 31-17, last November in Laramie./ DJ Johnson photo
LARAMIE -- Surprised to see Ayden Eberhardt's name listed as one of seven Cowboys who will compete at today's annual NFL Pro Day?
You're not alone.
In fact, the man himself might be a little less than honest if he told you he'd be on the verge of being back to full speed.
Late in a Week 9 road meeting with San Jose State -- just 150 days ago -- Wyoming's sure-handed senior wide receiver told his quarterback that the Spartans' corner was biting on the outside move. Facing a 2nd and long from their own 18-yard line with 1:50 to go and trailing by six, Eberhardt lined up to the right side of the formation and awaited the snap.
"I got him down the middle, be ready to toss it up," Eberhardt recalls telling Levi Williams. "It was all set up perfectly."
Eberhardt blew off the line, faked right and cut back to the inside.
"It just gave out," he said. "I knew right away something bad had happened."
His intuition was right on. Eberhardt completely tore the ACL in his right knee. His meniscus didn't survive the jolt either.
Behind the play, Williams, for a second straight snap, was on his back courtesy of SJSU defensive end Cade Hall. With the play clock still ticking away -- and the danger of a 10-second runoff for an injury -- Eberhardt knew he had to get to the sideline to keep the visitors' hopes alive.
"I went into survival mode," he joked. "I hobbled across the field as fast as I could."
Eberhardt saved the Cowboys precious seconds. Unfortunately, a pair of incomplete passes that followed sealed the deal.
SJSU 27
Wyoming 21
"I really want to applaud him though," Wyoming head coach Craig Bohl said postgame. "... We were under one minute, and he was way on the far side and ran off the field as opposed to going down because of the 10-second (play clock) run off. I think that embodies where our team is at. I mean, they're fighting and we're going to keep them in the fight."
His Wyoming career was over. The future for the former walk-on was murky at best. Those are just a couple of the thoughts that raced through Eberhardt's mind as he watched the Spartans celebrate on a sunny afternoon in Silicon Valley.
"Obviously, in the moment, it was disappointing," he said. "I had a lot of emotions. I'm typically an optimistic guy, but if I'm being honest, I had trouble with my knees throughout the year. Deep down I had a gut feeling (an ACL) was what it was.
"It was disappointing to not be able to play. I would've given an arm and a leg to finish the season and do what I could to help the team win."
MORE UW FOOTBALL NEWS:
* Wyoming spring football practice begins Tuesday
* 5 burning questions ahead of Wyoming's spring football season
* Seven Cowboys to participate in NFL Pro Day
* Pair of former Pokes named NFL Award of Excellence recipients
That's exactly what the Cowboys did the following week in Laramie, knocking off Border War rival Colorado State, 31-17. Wyoming would drop another close one at Boise State the following week before taking out some aggression on the eventual Mountain West champions in a stunning 44-17 blowout road victory over Utah State.
Two days later, on Nov. 22, Eberhardt went under the knife. Not only was he having his right knee surgically repaired, they took the patella tendon out of his left leg to create an entirely new ACL.
The pain was bearable. Optimism, well, that wasn't coming as easy for the Colorado kid with the bright smile.
"I was feeling pretty down," he said. "I couldn't walk and I was feeling sorry for myself. I knew I had to get the moping out of the way."
He did.
Eberhardt said Monday that he is nearly a full month ahead of schedule. Yes, he will take part in pro day, but will be limited to official measurements and chatting with NFL personnel. Cone drills, leaping and running routes will have to wait about three-and-a-half weeks or so.
Eberhardt, who snagged 50 passes for 764 yards and a pair of touchdowns, said he still feels those familiar butterflies as the biggest job interview of his life awaits in less than 24 hours.
"I'm a little nervous even though I'm not going through it all," he said. "I was always told as a kid, if you're not nervous it means you don't care. That puts me at ease, reverting back to that."
Eberhardt cares. Always has. That was never lost on his teammates -- or his head coach.
"I cannot put into words what Ayden Eberhardt means to our program," Bohl said. "You know, he's a guy that shows up every day, he's encouraging to other guys, he's competent, he makes plays, he's humble, he works hard, he's a great leader and he's always encouraging younger players."
That's a role he plans on filling today, too.
"I'm going to be the hype man," he said with a laugh, referring to cheering on teammates Chad Muma, Garrett Crall, Logan Harris, Keegan Cryder, Trey Smith and Esaias Gandy. "I'd love to see everyone put up the best numbers they can. I'll be there for support."
So, what does his future in football look like? You're guess is as good as his.
For now, his focus is on getting back to his old self. He's eager to show off what he can do. This is simply a chance. That's all Eberhardt can ask for.
He knows how quickly a dream can be ripped away.
"The injury was tough, but it's also something that drives me to get back to where I'm at," he said. "I use it every single day as motivation. That first week -- not being able to move, walk and do simple things -- it's humbling. I don't take anything for granted anymore, that's for sure."
Wyoming's pro day is set to begin at 9 a.m. inside the High Altitude Performance Center. The following drills, which are open to the public, kick off at 10 a.m. in the indoor practice facility.
MORE AYDEN EBERHARDT STORIES:
LOOK: Pokes' unis through the years