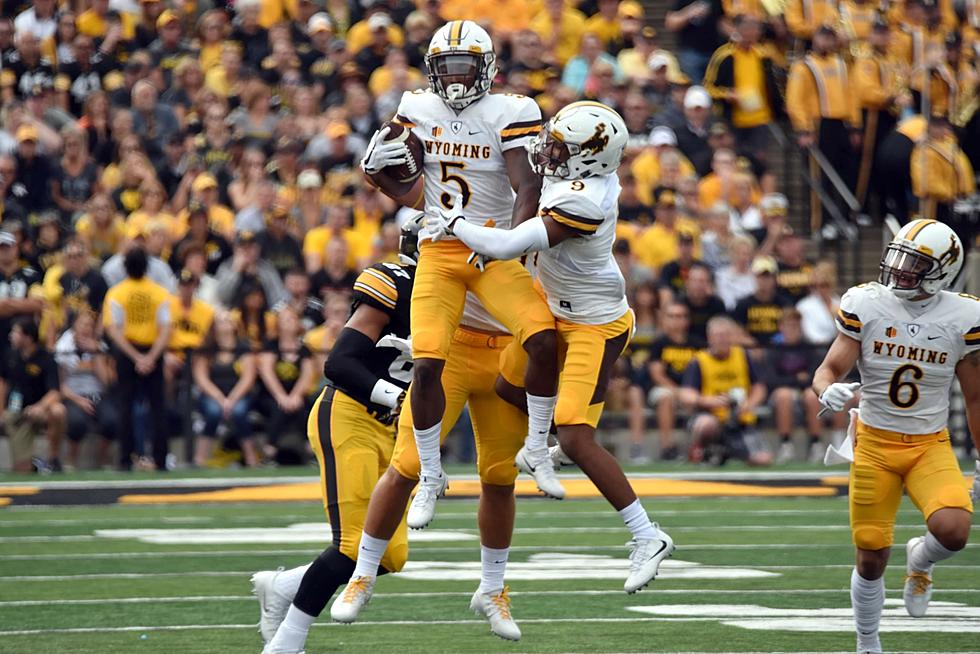 Former Wyoming cornerback Rico Gafford claimed by Buffalo
Wyoming cornerback Rico Gafford picks off a pass against Iowa in 2017./ DJ Johnson photo
LARAMIE -- The Buffalo Bills just added another Wyoming Cowboy.
Rico Gafford Tuesday was claimed off waivers and is joining former UW teammates Tanner Gentry, Jacob Hollister and Josh Allen in Orchard Park.
All four played for Wyoming during the 2016 season, a campaign that produced a win over Boise State and a trip to the Mountain West Championship game.
Gafford, who was a member of the Arizona Cardinals during the offseason and throughout training camp, played his first three seasons in the NFL in the Raiders organization. There, he played in eight games and caught just two passes for 66 yards and a touchdown.
The 5-foot-10, 184-pound Des Moines, Iowa native, started his collegiate career at Iowa Western Community College before transferring to Wyoming for the 2016 and '17 seasons.
During his two-year stint in Laramie, Gafford played the cornerback spot for Craig Bohl. He snagged six career interceptions, including four during his season season, and registered 103 tackles and three forced fumbles out of the Cowboys' secondary.
That year he earned second team All-Mountain West honors.
Where Gafford caught the eye of NFL scouts was during Wyoming's annual Pro Day, where he ran a 4.26 and 4.23-second 40-yard dash in front of hundreds of team personnel who were in town to watch Allen.
MORE UW FOOTBALL NEWS:
* Who will be Wyoming's starting punter in 2021?
* Craig Bohl on WILL linebacker spot: 'I'm excited about Easton'
* Quick hits from camp: Back to school
* Pokes QB's impress in final scrimmage of fall
"I heard from a few scouts that they had me at 4.24, 4.25, 4.27, stuff like that," Gafford told the Casper Star Tribune back in March of 2018. "It felt good to me. I came in wanting the scouts to have nothing less than a 4.35, so to have them leave the day with 4.2 on all their clocks and everything like that, that's a game changer for me. So hopefully, come draft time, my name's called."
Gafford never did get that call, but was scooped up by the Tennessee Titans as a free agent. After being cut in September, Gafford joined the Raiders practice squad.
In 2019, Raiders quarterback Derek Carr hit Gafford on a 49-yard touchdown strike. That was his first career catch. It also came against the Titans.
Gentry and Hollister joined the Bills this offseason. Allen is heading into his fourth NFL season and finished runner-up for the league's MVP award in 2020 while leading Buffalo to the AFC Championship.
Wyoming Cowboys football players in the NFL: Then and now