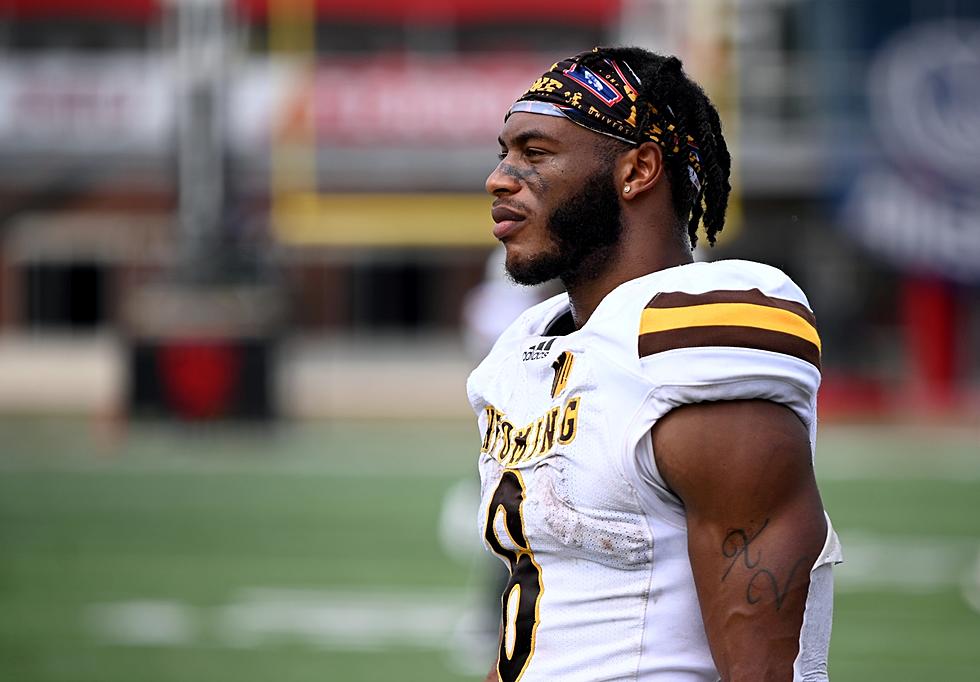 Former Wyoming Running Back Dubbed NFL Combine 'Snub'
Playing just an hour away from his home town Saturday, UW running back Xazavian Valladay looks on from the sideline as the Cowboys' defense took the field./ DJ Johnson photo
LARAMIE -- More than 300 former college football players will put their talents on display for coaches and scouts this weekend at the annual NFL Combine in Indianapolis.
Not one suited up at the University of Wyoming.
That doesn't come as a total surprise. The Cowboys did feature one of the youngest rosters in the nation last fall. Only safety Miles Williams and offensive tackle Eric Abojei truly exhausted their eligibility.
Junior running back Titus Swen also didn't make the cut either despite rushing for 1,039 yards and eight touchdowns in 2022. The 5-foot-11, 206-pound Fort Worth, Texas product was the fifth-leading rusher in the Mountain West and ranked No. 37 in the FBS.
Swen was dismissed from the Wyoming football program for a "violation of team rules" following the regular-season finale. Soon after he declared for the NFL Draft.
Swen did appear in the NFLPA Collegiate Bowl in late January where he led Team American with 73 yards on the ground -- 49 alone on the game-winning drive -- on just eight attempts. He also caught four passes for 22 yards.
The 6-foot-5, 330-pound Abojei also appeared in a college All-Star game, suiting up for Team Kia in the Hula Bowl. He started 32 games on the Cowboys' offensive line during his tenure in Laramie, moving from the guard spot to tackle before his senior campaign.
MORE UW FOOTBALL NEWS VIA 7220SPORTS:
* Let's take a look at Wyoming's future non-conference schedules
* Hendricks on tap to become Wyoming's new defensive ends coach
* Former Wyoming linebacker Korey Jones retained by Denver Broncos
* Five former UW football players still in NCAA Transfer Portal
What about the players who hit the transfer portal after the 2021 campaign?
Xazavian Valladay was listed as one of the biggest combine snubs this week, according to CBSsports.com. Wyoming's second all-time leading rusher rolled up 1,192 yards on the ground during his lone season at Arizona State. He also found the end zone 16 times. Only UCLA's Zach Charbonnet had more rushing yards -- 1,359 -- in the PAC-12.
CBS Sports' Rick Spielman, the former general manager of the Minnesota Vikings from 2006-21, shared his thoughts about Valladay on the "With the First Pick Podcast" earlier in the week.
"Yeah, I threw on tape of him before getting on this podcast because we're going to have to talk about him," Spielman said. "He had a very big game against UCLA (92 rushing yards and two rushing touchdowns in 2022) and when I watched him he looks like he's going to be one of the bigger backs at 6 feet, and I believe he's going to be over 200 pounds. He's a little bit of an upright runner, but he has very good in-line vision. He's not (Chiefs running back Isiah) Pacheco, but he's Pacheco-like as far as one cut and get up the field. What I would like to see a little better from him is lower his pads on contact although he appears to go forward once the initial hit is made on him. He has very good hands out of the backfield. He definitely needs a lot of work in pass protection.
"I think this is going to be a very deep running back class. Everyone knows (Alabama's Jahmy) Gibbs, everyone knows (Texas' Bijan) Robinson, and some of the runners that were down at the Senior Bowl, but when you get into Saturday (Round 4-7) guys like these (Valladay) especially if they have a very good pro day, someone is going to like them well enough that some of these guys are going to get drafted at some point on Saturday. I think this is a very deep running back class where you're going to get value not only on Thursday night (Round 1) if you do to take one on Thursday night, but for sure Friday and Saturday there's value all over the place on runners."
Valladay, who played at UW from 2018-21, rushed for 3,274 yards. Only Brian Hill (4,287) has tallied more yards out of the backfield in Laramie than the Chicago product. Valladay's 1,265-yard performance in 2019 is the seventh-best single season in program history. He also scored 21 career touchdowns in a Cowboys uniform.
Another potential "snub" in Indy is former Wyoming cornerback CJ Coldon, who played his final season at the University of Oklahoma. Appearing in 10 games during his brief tenure in Norman, Coldon registered 40 tackles and finished with a career-high four interceptions. He also broke up six passes.
A two-year starter in Laramie, the 5-foot-11, 185-pound Belleville, Ill., native tallied 115 tackles and broke up 16 passes. He also snagged a pair of interceptions, both in the COVID-19 shortened 2020 season.
Other former Cowboys that are eligible for the 2023 NFL Draft are: Akron defensive linemen Victor Jones (He was selected with the 31st overall pick in the fourth round by the New Jersey Generals of the new USFL) and Ravontae Holt, UCLA cornerback Azizi Hearn and Texas Tech defensive back Keyon Blankenbaker.
The NFL Draft will take place April 27-29 in Kansas City.
Xazavian Valladay
University of Wyoming's Top 50 Football Players
The rules are simple: What was the player's impact while in Laramie? That means NFL stats, draft status or any other accolade earned outside of UW is irrelevant when it comes to this list.
This isn't a one-man job. This task called for a panel of experts. Joining 7220's Cody Tucker are Robert Gagliardi, Jared Newland, Ryan Thorburn, and Kevin McKinney.
We all compiled our own list of 50 and let computer averages do the work. Think BCS -- only we hope this catalog is fairer.
Don't agree with a selection? Feel free to sound off on our Twitter:
@7220sports
- #Top50UWFB
- University of Wyoming's Top 50 Football Players