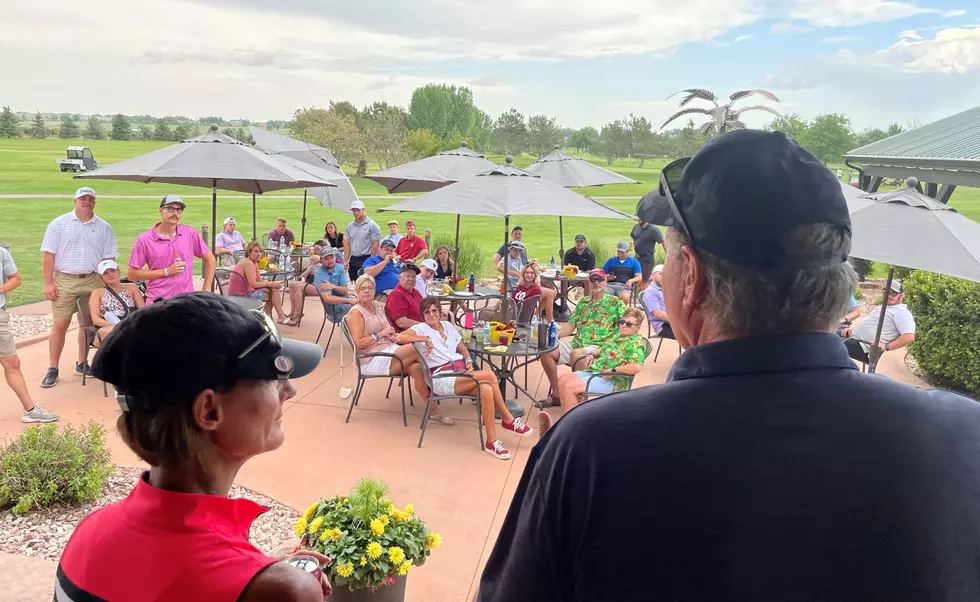 Handwritten notes from Heaven
Lori and Dan Watts speak to the crowd gathered at the clubhouse of the Mountain Vista Greens Golf Course on June 19 outside of Wellington, Colo.
WELLINGTON, Colo., -- "Just a reminder ... I love you."
That brief sentence was inscribed in black ink on a bright colored notecard. It's in cursive. Always cursive. Lori Watts pulled it from a glass jar that sits in her home office in Windsor.
This has been her daily routine for the past six years.
New day. New card. New message.
It was a Christmas gift from her oldest son, Lucas. There are 365 of them, one for each day of the year. For Lori, it's easily her most prized possession.
Somedays the card features a Bible verse. Others, a joke or some random goofy thought. On this day, those words above -- though short, sweet and to the point -- provided her with the strength to be here.
"That's what I needed today to keep going," Lori said, followed with a smile.
Dozens of family friends fill the seating area near the first hole of the Mountain Vista Greens Golf Course outside of Wellington on this comfortable early summer evening. The aroma of pulled pork and cheeseburgers linger in the thin air. Cold beers, plenty of laughs and tall tales are also abundant.
It is a golf course after all.
Technically, this event was billed as a fundraiser. It would better be described though as a community reunion. There were no strangers at this gathering. The words "I love you" followed each embrace. There was meaning, truth behind each one. This wasn't lip service.
Today was for him.
On June 2, 2020, Lucas Watts died at his home in Spokane, Washington. Doctors believe a seizure was the lone culprit. He was on epilepsy medication. That seemed to control the disturbances in his brain. It had been a while, according to his parents, since he had suffered one.
He was just 25 years old.
"I appreciated it then," Lori said of that irreplaceable jar of notes, "now, it's the first thing I do every morning. It's a pick me up. I'm blessed to start the day with him every day."
"It's almost prophetic," her husband Dan Watts chimed in. "It's like, one day I won't be here, mom.
"We think about him everyday."
***
Zach Watts is an offensive lineman on the University of Wyoming football team. He's slated as a guard on the depth chart though the versatile senior can slide over and line up at tackle and center, too.
It was a Tuesday when Zach received the news he had always feared. That was the first day of offseason workouts in Laramie. COVID-19 restrictions were starting to ease and he recalls it being a great day on the North-40 practice field with his teammates.
He had just returned home when his cell phone started to buzz. It was his parents. Both of them. Zach said he immediately knew something wasn't right.
"You could just hear it in their voice," Zach's voice cracked as he sat inside the Cowboys' film room this spring. "They said, 'hey, we have something to tell you.' They said it was peaceful. The emotions -- still speechless. I mean, it's still just a tough, tough thing."
Dan was prepared to drive up Highway 287 and pick up his son. He didn't want him behind the wheel in that state of mind.
Zach, the quiet, stoic type, refused.
He needed time to himself. Time to let that life-changing news sink in. The 83-mile drive wasn't enough. What drive would be?
Dan recalls the moment Zach arrived home. He quickly realized there was something different about the 20-year-old standing before him.
"He said, 'This is not going to tear this family apart,'" Dan recalled. "The little brother had turned into a man. He's been the glue for this family. You want someone to blame, but there isn't anyone to blame. He said, 'Look, we're all hurting.' The three of us are as close as we have ever been.
"A lot of that has to do with Zach."
Each morning after Lori reads her message from Lucas, she snaps a photo and sends it to Zach. That has become a new family tradition of sorts. Admittedly, she leaned on her youngest son during the toughest moments.
"I'm so proud of him," she said. "He was there for me. We were there for each other. He is my rock, but rocks need to break sometimes. I feel like he has been that for us. He's always there."
Standing 6-foot-5 and weighing in at 307 pounds, Zach is very much the prototypical Division-I lineman. Grief, however, can't be intimidated.
"As much as I wanted to be the tough guy and keep everyone sane, there were times when I was weak, as well," Zach said, a tear forming under his right eye. "We have you and you have us. That's the only way to get through this is together."
***
Never Outworked.
That's not just a cute slogan on a T-shirt on the back of a tough football player, it was the way Lucas conducted business. Sure, on the football field he was a ferocious linebacker who oftentimes brought down ball carriers via a violent collision. His weapon of choice -- the crown of his helmet.
But in life, the friendly, outgoing kid from Windsor cared about people.
That impact can be felt on this golf course. It's proven by a thoughtful gift that still brings a smile to his mother's face today. It can also be read in one of his final college assignments.
Lucas was tasked with writing his own obituary. This would be penned through the words of his own imaginary son.
It spoke about athletics playing a major role in his early life. He was an All-State selection. He was named the conference's Defensive Player of the Year. In 2011, he helped lead Windsor High School to a 3A state championship. Lucas earned a scholarship to CSU-Pueblo where he was part of a national title team.
All of those accomplishments contain meaning, but as his faux obituary states, it wouldn't define his life.
"Learning this valuable lesson of work ethic helped him achieve his athletic dreams, however, he used it throughout his entire life to achieve all of his other dreams," it reads.
Dan joked that neither one of his sons were MIT bound out of high school, but Lucas made a commitment to academics after prematurely ending his football career in Pueblo. In just four years, he earned his MBA with minors in finance and marketing all while carrying a near perfect GPA.
"He always stressed to me how important it was from the very beginning to dedicate yourself to your academics," the obit continued.
Lucas worked at a local bank before eventually moving to Washington where he became an account manager for a lumber sales company. He eventually moved on to Stryker Medical where he served as an ENT Sales Representative. Despite working there just six short months before his untimely death, Lucas was the top salesman and they now have an award named in his honor.
Lucas always had a dream of starting a youth sports league for mentally handicapped children in Northern Colorado. That is also in his school-assigned obituary.
"He spent the majority of his retirement working with these children," it reads. "If he could've spent every hour of the day with these children, he would have."
Family friend, Joey Mitchell, now puts together a two-day sports camp called "For the love of the game" in Lucas's honor.
***
Each month, Lori would receive a bouquet of flowers. It was a "hug" from Washington, courtesy of her first-born son. Lucas bought a monthly subscription for her. Even after his death, the arrangements still came.
Today, this gathering of people brings mixed emotions for a mother, who somedays, still struggles to cope with the overwhelming sorrow.
"It helps, but it hurts," Lori admits. "He should be here. He'd be the one getting us all together. On the other hand, I guess he's still getting us together."
As she pans the crowd, Lori jokes that there was a time she asked herself why on earth her son would hang out with some of these characters.
Now, she knows why.
Lori put a stop to the monthly deliveries, instead gifting them to Lucas's girlfriend. The young men gathered around these tables, mostly former Windsor football players and classmates, proved they are no longer the rowdy teenagers they once were.
"All of these guys," she said, pointing to the tables below, "they continue to send me flowers. I never realized how good his friends really are. It lets me know Lucas is still here."
Dan is well aware how tough this situation has been on his wife. It has been since the day Lucas was diagnosed.
Each morning, he said, Lori would make that anxious phone call. The seizures typically happened at night. There were five or six instances that they were aware of. She needed to hear his voice in the morning. She needed to know he was safe.
"It was always our worst fear," Dan said.
Zach knows the weight has been heavy on his mom.
"I mean, it's her first child, you know, her baby boy," Zach said. "Everything was really, really tough for her."
***
"TGIM."
That was the text message Zach would receive from Lucas at the beginning of each week. It stands for "Thank Goodness it's Monday." It was big brother's way of telling "Chunk" to get to work and embrace the challenges that lie ahead.
Now, that responsibility has fallen to Lori. Zach said even his brother's closest friends often send those four letters his way on Monday mornings. It serves as motivation, but also as a reminder.
He's playing football for two people now.
Dan recalled the first time Wyoming reached out to Zach about playing in Laramie. The interest was, let's say, mild. The Watts family attended Colorado State games, the Cowboys' most hated rival. That wasn't the main reason though. The Rams, along with Mountain West foes Boise State and Utah State, kicked the tires on the All-State selection. So did Power-5 schools like Utah, Washington State and Colorado.
Recruiters from UW were persistent in their pursuit of Zach, but an unexpected visit from Craig Bohl spoke volumes.
Wyoming's head coach didn't talk to Zach or the Watt's family that night as he sat alone in the bleachers, watching Windsor take care of Broomfield in the 4A Playoffs. That would've been against NCAA rules. Dan does however remember one specific play when Zach de-cleated an oncoming linebacker and the impact it had on the veteran head coach.
"Coach Bohl said, 'That's a Wyoming Cowboy tough kid right there,'" he said with a grin.
Bohl invited Zach to camp. Lori, Dan and Lucas watched from the stands inside War Memorial Stadium. After the workout, the family was invited to Bohl's office. He had an important question for them.
"Bohl told Zach that every kid had a bit in their mouth but spit it out," Dan recalled. "He told Zach, 'you chewed it.'"
Bohl wanted an answer. Zach wasn't ready to commit, to the amazement of his older brother.
"Lucas said, 'How in the heck did you not say yes on the spot?'" Dan laughed.
Zach wanted to attend CSU's upcoming camp. He also had a private workout with CU. Bohl said he would be in touch. He was. At 7 a.m. the morning after Zach's final tryout.
"The answer was, 'yes, I'm going there,'" Lori said. "I was so proud of him."
Zach appeared in three games during his true freshman season. Fittingly, his first start came in under the lights in Fort Collins against his childhood team and the coaches that failed to extend an offer. UW running back Nico Evans rushed for a game-high 176 yards and a touchdown that night. The Cowboys amassed nearly 300 yards on the ground. CSU didn't sack Sean Chambers one time.
Wyoming 34
Colorado State 21
No one in the stands inside Canvas Stadium was more proud that night than Lucas.
"All he talked about was Zach," Lori said. "He was living his dream."
Zach rubbed his clean-cut blonde hair and made an admission.
"I would never ever tell him this, but he was my hero," he said of Lucas. "He really was."
***
Laramie served as a sanctuary.
It's a place where Zach can focus on school and football with little outside distractions. Did it hurt to watch him get in his car after the funeral and head north? Lori's look alone gives that answer.
The embrace of his teammates and coaches helped him through the dark times, Zach admitted. Injuries, coupled with the pandemic and inconsistencies in his play, allowed his mind to drift.
He missed his brother. He wanted to be there for his parents.
There was another issue, too -- should he even continue to play this game?
Dan said there is no family history of seizures. Doctors said football, especially the way Lucas played, could very well be responsible for the epilepsy, and ultimately, his death.
Did Zach really think about hanging up his cleats?
"More times than not. Yeah, it definitely crossed my mind," he said somberly. "But if you asked (Lucas) if he regretted anything -- absolutely not. It was a quick thought that ran through my head, though, absolutely."
What did his parents think?
Dan smiled and waved off the question, prompting Lori to answer.
"If the passion is there, he needs to play," she said. "Lucas loved what he did. How could I put my fears into Zach? Was I scared? Yeah. But football got him through this. Football bonded them."
Zach is not only still on the roster, he could very well be the Cowboys' starting left guard on opening day. Bohl said that is a real possibility when asked this spring.
"We're going to have open competition as we go," Bohl said in April when asked about Watts. "football is really important to him. He's played in a lot of games. He's been somewhat inconsistent at times and he's going to need to improve on that."
That's the goal.
"I just want to get better every single day," Zach said. "I'm putting the blinders on."
According to Lori, Zach is still refusing to spit that bit.
"He's persevered through all of this," she said. "He's dedicated to being better for his brother. I am, too. We have a lot to live up to."
University of Wyoming's Top 50 Football Players
The rules are simple: What was the player's impact while in Laramie? That means NFL stats, draft status or any other accolade earned outside of UW is irrelevant when it comes to this list.
This isn't a one-man job. This task called for a panel of experts. Joining 7220's Cody Tucker are Robert Gagliardi, Jared Newland, Ryan Thorburn, and Kevin McKinney.
We all compiled our own list of 50 and let computer averages do the work. Think BCS -- only we hope this catalog is fairer.
Don't agree with a selection? Feel free to sound off on our Twitter:
@7220sports
- #Top50UWFB
- University of Wyoming's Top 50 Football Players