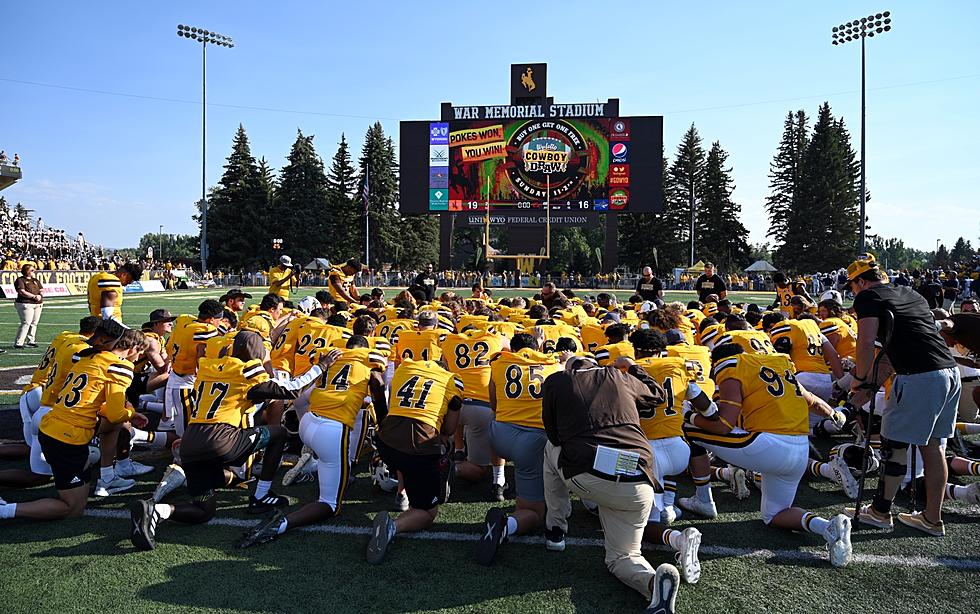 How did Wyoming land a 4-star recruit?
Several members of the Wyoming football team and staff gather at midfield for a postgame prayer Saturday in Laramie./ DJ Johnson photo
LARAMIE -- Wyoming isn't supposed to land four-star recruits.
Since the internet era of ranking prep athletes, the program has landed just one of those guys. That was Jon Hawk, a 6-foot-6, 310-pound offensive guard from Garden City CC (Kansas), who came to Laramie in 2002.
He never played a snap.
In fact, good luck finding anyone who even remembers Hawk. Teammates included.
Craig Bohl and Co. pulled off the unthinkable Wednesday, inking DeShawn Woods, the No. 2-ranked player in the entire state of Nebraska and the 12th-best offensive lineman in the nation, according to 247sports.com.
Woods is the top-rated recruit in that state, per rivals.com. Woods was also a member of the Omaha World-Herald's All-Nebraska team and the newspaper's "Super Six" squad.
So, how did the Cowboys pull this one off?
It's not all that complicated. It starts with relationships.
"We know a lot of people within the high school. We know a lot of people in that community," Bohl said, adding that assistant coach Mike Grant and linebackers coach Aaron Bohl were intrical in landing Woods. "I don't need to get into all the specifics, but there's a tight-knit community within Omaha.
"... I want to be clear on this, we did not stumble on him. We've known about him a long time -- a long time."
Bohl also said current UW nose tackle Caleb Robinson and incoming freshman running back LJ Richardson -- both from Omaha -- also aided in luring Woods to Laramie.
"That was a huge factor," Bohl said.
MORE UW FOOTBALL NEWS:
* Bohl criticizes QB play in 2021, says he wanted to throw more
* Wyoming adds four new commitments to 2022 recruiting class
* PODCAST: Pokes have sights set on first place
* NSD 2022: Wyoming lands highest-rated recruit ever
Since Bohl arrived on campus in 2014, Nebraska has become an unlikely hotbed of recruits for the Cowboys. UW has signed 17 players from the Cornhusker State, including guys like CJ Johnson, Youhanna Ghaifan, Rudy Stofer and others.
Bohl, of course, is a Lincoln native and played and coached at the University of Nebraska.
Woods, who originally committed to Missouri, is a 6-foot-4, 270-pound interior lineman from Omaha Central High School. The list of Power-5 teams to offer is an impressive one: Texas A&M, Tennessee, Penn State, Nebraska, Michigan State, Miami, Kansas State, Iowa, Iowa State, Florida, Arkansas and Arizona State.
Bohl said after the early signing period, one in which the Cowboys signed four offensive lineman, including three on signing day --  tackles Jagger Filippone, Wesley King and Mykel Janise -- the team's focus shifted to "needs."
However, Bohl said if there was a "16-framer" -- no matter the position -- "we're going to take him."
Woods is indeed a 16-framer.
What does that mean?
Bohl said he jumped off the film immediately.
"You probably don't know what 16-millimeter film is, but it don't take too damn long," Bohl smiled. "I mean, I watched that video tape in there and I was like, 'OK -- and I knew who he's playing against -- that's a program guy. That's why we took him. So, we're really pleased."
Rumors have been floated that Woods was not in good academic standings. Bohl squashed those Wednesday.
"I can tell you this, we would not proceed in recruiting him if we didn't feel like he's going to be an academic fit here," he said.
Woods told the Omaha World-Herald he made his decision to play at Wyoming Tuesday night, just a couple of days after a last-minute visit to Laramie.
"Some things happened on my part," Woods told the Omaha newspaper. "(Missouri) decided to let me go without believing in the full process and so I decided to go get some other offers."
Bohl simply said, the stars aligned.
"I can tell you guys -- I think you know our program well enough -- we're not into recruiting stars," he said. "We're into recruiting players. This guy's a heck of a player and I think he's going to really benefit from our environment here at Wyoming and, I believe we're going to benefit from having him in our program."
Just The Facts: Size Doesn't Matter For Wyoming's War Memorial Stadium
Did you know it would take the populations of
Gillette
(32,857),
Laramie
(32,381),
Rock Springs
(23,319),
Sheridan
(17,844) and Wright (1,200) to create a sellout inside Michigan's famed 107,601-seat
Big House
, the largest college football stadium in the nation?
For those of you not familiar with the
Cowboy State
, those are Wyoming's third through sixth most inhabited cities, along with the small mining town in Campbell County.
- Just The Facts: Size Doesn't Matter For Wyoming's War Memorial Stadium