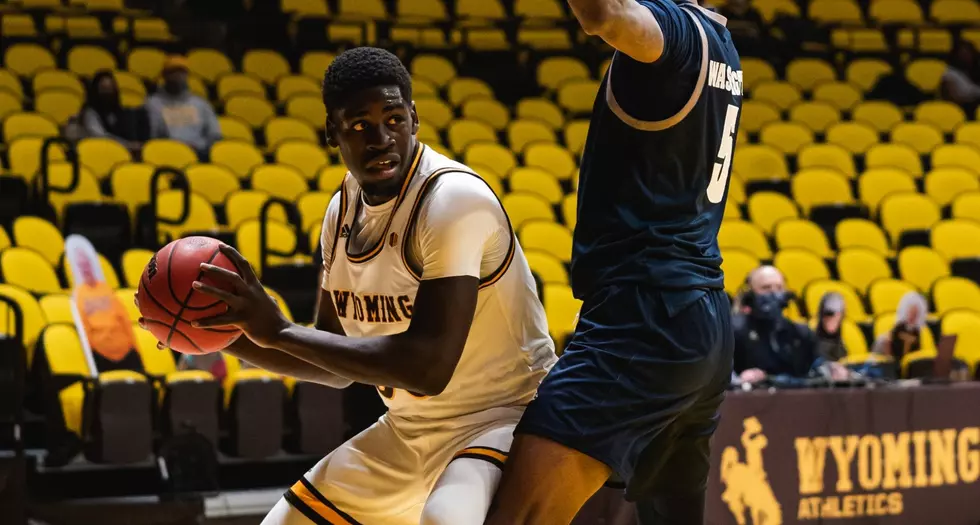 Ike-Queta matchup on hold … for now
UW true freshman Graham Ike battles in the post with a Nevada defender during his first collegiate game in January. / UW courtesy photo
LARAMIE -- There are plenty of reasons to be bummed about this upcoming Utah State series being postponed.
The highly anticipated matchup between the two big men, Graham Ike and Neemias Queta, is near the top of that list.
Queta is the standard when it comes to ruling the paint in the Mountain West Conference. There's the thunderous dunks and smooth moves on the offensive side and the 180 blocks -- and counting -- on the other end of the floor.
"The first time I saw Queta it was like, man, where did that guy come from?" Wyoming's first-year head coach Jeff Linder said Tuesday during his weekly press conference. "You don't realize how big he is until you see him in person."
In Laramie, Ike is still attempting to find his footing at the Division-I level.
Just a few weeks removed from being cleared by doctors after an ACL tear cost Ike his senior season at Overland High School and the first 14 games of his college career, Wyoming 6-foot-9 forward has showed major glimpses of what he could become in just six games.
MORE UW HOOPS NEWS
* Pokes two-game series at Utah State postponed
* 3 Quick takes: This team has its faults, quitting isn't one
* 3 Quick takes: This hurt, but the kids are going to be all right
* 'It was a breaking point for me'
He is averaging nearly 10 points per game. He's hauling in 5.2 boards per outing. Ike is shooting 55.8 percent from the field, too. Saturday afternoon against Border War rival Colorado State, Ike scored nine straight points against the Rams late in the second half.
"He owns the paint when he plays," fellow true freshman Marcus Williams said. "He changes the whole game when he's in there."
This two-game set against the Aggies could still be rescheduled. These two squads could meet in early March at the Mountain West Tournament, too.
For the sake of growth, experience and the game action itself, Linder hopes it does.
"I was looking forward to Graham going up against him," he said. "... It was an opportunity for Graham to kind of see what it's like going up against a a high-level guy and a Defensive-Player-of-the-Year type of guy. He's a guy that allows them to be elite defensively. So, yeah, it's unfortunate."
When Queta was a young freshman on campus in Logan, he chipped in with nearly 12 points per game while shooting 50 percent from the field. He snagged 8.9 rebounds per outing. He blocked 2.4 shots per game en route to a school-record 84 blocks over a 35-game season.
Ike just turned 18 in August. Linder refers to a number of his teammates as "pups." Ike though, Linder said, is more like a "yellow lab, pit mix."
Why?
The Labrador reference is because he is kind and friendly off the court, but if you watched the second Nevada game -- the second college outing of Ike's young career -- you'd know that he has some aggressiveness to his game that goes beyond banging around in the post.
Hence the pit bull remark.
That night, Ike received a technical foul for using some choice words. He fouled out after connecting on 7 of 10 shots, pulling down six rebounds and netting 18 points, his best offensive output to date.
"He's got a mean streak in him when he's on the court," Linder said.
No one knows if Ike will have the career Queta has had to this point, but Linder said he isn't surprised one bit about the early success he is having. They knew his feel for the game and cerebral maturity would aid in his early progression. Linder said the conditioning and exposure will eventually follow.
"He's got a lot of room to grow," he said. "He's going to be a guy that's got a chance to be a dominant big man in the Mountain West."
READ MORE: The Best Burgers in Cheyenne According to Yelp!