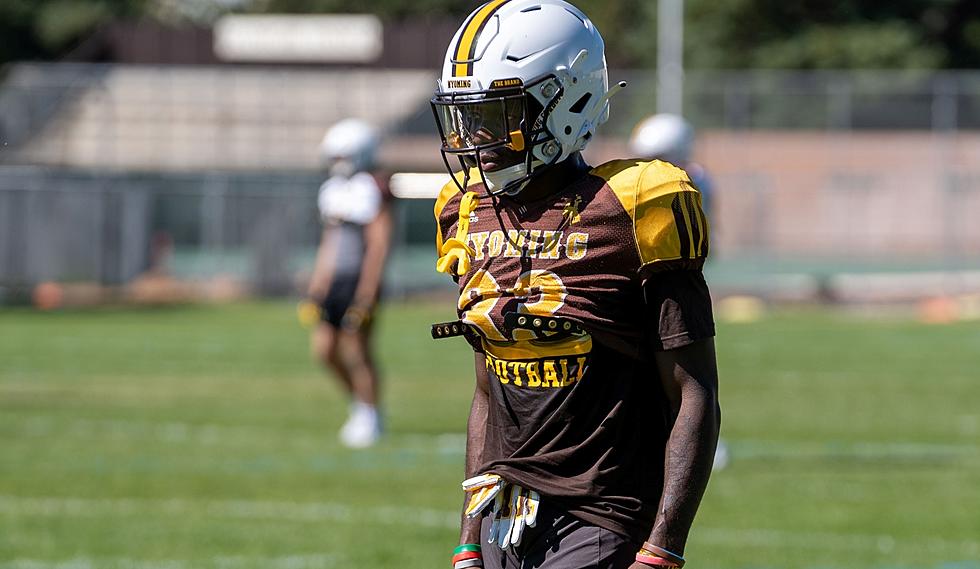 Keany Parks: 'I Feel Like I Belong in Wyoming'
Wyoming running back Keany Parks was the No. 2 recruit out of the state of Wisconsin in the 2023 class./ UW courtesy photo
LARAMIE -- Some call it unrest. Others, a protest.
For Keany Parks and his family it was a stark reality. Nine straight days -- 216 hours, 12,960 minutes -- of anger and arson filled the streets of his Wisconsin town late in the summer of 2020.
"Where I lived wasn't the best part of Kenosha," Wyoming's freshman running back said. "I was two blocks from everything that was happening. So, my mom made us stay inside for most of it. She was there to protect us. With everything going on -- it was a riot, you know?
"It's better to talk about it than to keep it bottled up."
The shooting of an African-American male, Jacob Blake, lit the spark. He was struck seven times by a local police officer and left paralyzed from the waist down.
Parks, then a freshman at Bradford High School, can still remember the tension. The sirens. The chaos. Every day, he said, the remnants of burned down buildings littered his path to class.
"You feared walking out of the house," Parks said quietly.
Those fires left the family in a "dead zone." That's a term that still sticks with Parks today. He learned it in marketing class. In layman's terms, that's when you reside in an urban or rural area, miles from healthy food or a grocery store.
"With the riots, they burned down a lot of stuff," he said. "So, if you didn't have a car or have any way to travel, the bus was the best way to get your groceries. It was crazy."
The experience served as a motivator.
"It pushes you and pushes you," Parks said. "I'm the oldest of four and I just want my younger siblings to have a role model, someone to look up to and show them that Kenosha is not the only place. I'm 17 hours away from my family right now. I'm just showing them that you don't have to stay in Kenosha. You can go as far as you want in your life."
That fatherly role comes naturally.
Growing up in a single-parent household, Parks said his father was never really in the picture. He was forced to grow up quickly. He glowingly speaks about his brother Kemonie Parks, who plays basketball and is entering his senior year of high school. His sister, Jaidyn Wells, will be a sophomore this fall. She runs track.
Kadyn Wells, Parks boasts, will be the best athlete in the family. The soon-to-be fifth grader, like his oldest brother, shines on the football field.
"He makes some moves," Parks said with a smile. "I had to miss his championship game because I came here pretty early, but it was just a great experience. They sent me all the videos. It was just great to see him happy."
Athletics paved the way for Parks. He hopes his siblings follow a similar path.
Rivals.com rated him the second-best football prospect in his home state. 247sports.com labeled him No. 6. He starred on the basketball court. Last spring he claimed a state championship in long jump, landing a final leap of 24'1.25. He even tried triple-jumping for the first time midway through the season. He took second in Division-I.
"I kind of felt like I had senioritis in track," he said. "I was ready to get out here."
During his senior season, Parks rushed for 468 yards and three touchdowns in just nine games, according to wissports.net. He averaged 4.4 yards per carry. The year prior, this time a 10-game campaign, the 6-foot-1, 180-pound slasher rolled up more than 800 yards on the ground and found the end zone eight times. Twice he eclipsed the 100-yard mark, including a 193-yard rushing performance against Racine Case High School.
Arizona State, Iowa State, Washington State and Wisconsin showed interest. So did Louisiana Tech, SMU and Tulane.
"I loved it from the start," Parks said when asked why he chose Wyoming. "Coach (Tim) Polasek and coach (Craig) Bohl, we just clicked from the start. I felt like this is the place I wanted to go to be great. I plan on putting my head down, just working and showing them what kind of worker they got.
"I feel like I belong in Wyoming. This is my home."
MORE UW FOOTBALL NEWS VIA 7220SPORTS:
* Q&A with Wyoming offensive coordinator Tim Polasek
* Tom Burman on realignment: 'I wish I could give you an answer'
* 'Vanilla Gorilla' locking up right tackle spot in Laramie
* Adrian Onyiego's Wyoming recruiting tale all-too-familiar
* Pokes Practice Report: Bohl 'encouraged' after Saturday scrimmage
* 'Wyoming made it easy' for Brycen Lotz to commit to Cowboys
* Wyoming in search of additional depth at defensive end spot
* Wyoming's Dawaiian McNeely to miss season with ACL tear
* Despite injuries, Buck Coors says he won't "pull up'
* Throwback Thursday: My Brother's Keeper
* DQ James' trademark smile, speed has returned
They've noticed.
Wyoming's 10th-year head coach failed to name any rookies who could see playing time this fall. When asked specifically about Parks, though, Bohl said the staff is "grooming him."
"He is really gifted and he has a really good attitude," he added.
Polasek echoed those sentiments, adding it's all hands on deck after potential starter Dawaiian McNeely suffered a torn ACL in fall camp. DQ James and Harrison Waylee are also making their way back from offseason knee surgeries.
Parks said he'll be ready when he gets the call.
"I plan on making them proud," he said of his fellow running backs and coaches. "I'll make sure that they can trust that they have a good back in the room."
Parks grinned and said he's had a few "head-turning plays" through the first two weeks of fall camp. A simple helmet slap from a veteran teammate, he said, sends his confidence "through the roof."
Parks is soft-spoken and makes eye contact when he speaks. His answers are well thought out, articulate. His physical gifts landed him in this place. They also likely saved him from an uncertain future.
"It actually did, a lot," Parks said when asked if athletics kept him out of trouble and off the streets. "Coaches could see that I could be something special. They always tried to keep me out of it. Some coaches would come to pick me up for practice if they had to or I would walk. You always want to stay out of that kind of mess and just keep your head on straight.
"Probably the hardest thing about growing up in Kenosha was not following the crowd and being a leader. So, with me doing all of that, I've actually found a way to talk to younger kids and I try to help them and lead them in the right direction. I would go to games and kids would want to take pictures. It just felt great. It felt great to be that guy that they were looking up to."
University of Wyoming's Top 50 Football Players
The rules are simple: What was the player's impact while in Laramie? That means NFL stats, draft status or any other accolade earned outside of UW is irrelevant when it comes to this list.
This isn't a one-man job. This task called for a panel of experts. Joining 7220's Cody Tucker are Robert Gagliardi, Jared Newland, Ryan Thorburn, and Kevin McKinney.
We all compiled our own list of 50 and let computer averages do the work. Think BCS -- only we hope this catalog is fairer.
Don't agree with a selection? Feel free to sound off on our Twitter:
@7220sports
- #Top50UWFB
- University of Wyoming's Top 50 Football Players