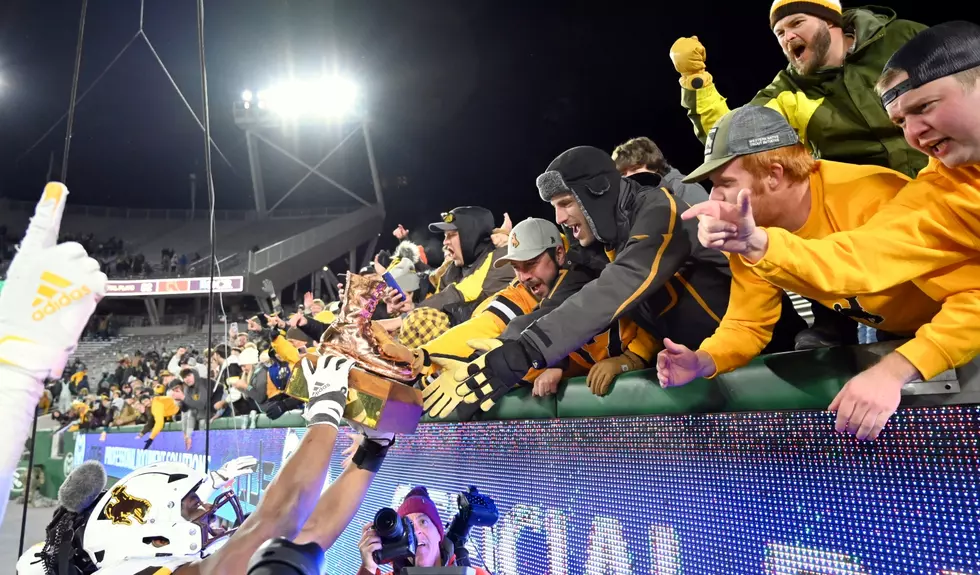 LIVE FILE: CSU Rams at Wyoming Cowboys
Wyoming fans from around the globe sound off during, after the Pokes' 14-13 victory over Border War rival Colorado State./ DJ Johnson photo
LARAMIE -- We typically live Tweet thoughts and insights throughout the game -- and still will today -- but let's condense it all into one spot. All you need to do is refresh this page throughout today's contest.
Wyoming (5-3, 2-2) will look to become bowl eligible for the seventh time in the Craig Bohl era tonight against its most hated rivals, the Colorado State Rams (3-5, 1-3). This marks Border War No. 15 and the visitors hold a 59-50-5 edge in the overall series.
The Cowpokes, however, have made up a lot of ground of late.
UW has won 10 of the last 14 meetings with CSU, including two in a row. Bohl is 6-3 all-time against that team.
Kickoff is slated for 6 p.m. Mountain Time and the game will be televised on CBS Sports Network:
PREGAME:
Have you missed any of our coverage this week? If so, you can find it all right HERE.
You can also check out the 7220sports.com Kickoff Show right HERE.
Have you downloaded our free mobile app yet? Do that right HERE.
* CSU wide receiver Tory Horton has been dealing with various injuries over the last couple of weeks. He was on the turf at Jonah Field doing some pregame work. Like Bohl said earlier in the week, I would be very, very surprised if the senior didn't gut this one out.
* Wyoming players are sporting "state pride" hoodies during warmups.
* The 1993 WAC Champions are in the north end zone of War Memorial Stadium. Appears they might be welcoming the Cowboys onto the field before the 115th Border War.
FIRST QUARTER:
* Chad Muma and Chase Roullier were just introduced to the crowd along with the 1993 team, holding the WAC title trophy, of course.
* Wyoming's offense just crossed the 50. That never happened last Saturday inside Albertsons Stadium. Waylee driving the legs. Looks good so far
* CSU hit with a roughing the passer on 2nd and a mile. Ouch. Pokes in biz at the Rams 19.
* Barnett getting hit with a block in the back here. Can't do that, especially on the edge. Can't do that in the red zone.
* *FIELD GOAL* Hoyland is true from 30 yards out, snapping a 3-miss streak, dating back to Fresno State. That was a 12-play, 66-yard drive that took 6:21 off the clock. Wyoming 3 CSU 0 6:14/1Q
* Wyoming already has 29 rushing yards on one drive. By now, you know that also didn't happen in Boise.
* Kolbey Taylor, after a rough Saturday in Boise, with nice coverage there on Horton. Here comes the FG unit.
* Field goal is NO good. Wyoming will take over at its own 30. Bending but not breaking on that drive. Wyoming 3 CSU 0 3:46/ 1Q
* Peasley with a strike to Asante. Crum with a key block on the play. Big man is pumping those fists. That's a gain of 20. Pokes at the CSU 28.
* CSU is not keeping an eye on Peasley. He just picked up another big first down with his legs.
SECOND QUARTER:
* *TOUCHDOWN* Gunner Gentry with the 9-yard touchdown snag. What a throw, what a catch, what a landing. Have to feel great for that kid after all he's been through. Wyoming 10 CSU 0 14:34/ 2Q
* That was an 8-play, 70-yard drive that took 4:12 off the clock. That's Gentry's second career TD grab, the first coming in the 2020 opener at Nevada. Big time play for the super senior. And I hear his brother is in attendance. What a moment.
* In other news, CSU WR Tory Horton is down. He just got wrecked by Tyrecus Davis, who is making his first appearance since the App State game. The JUCO transfer suffered a partially torn MCL.
* Wyoming's defense answers that scoring drive with a 3-and-out. A score here would be big.
* That 55-yard field-goal attempt landed way short. CSU is going to take over at the 38. Not sure that was a smart idea right there. Wind has been blowing from the south. Four down territory? Have to be aggressive. Wyoming 10 CSU 0 10:25/ 2Q
* CSU takes full advantage of the short field. Fowler-Nicolosi with an 18-yard strike to Brown. Rams are on the board. Bohl had a chance to really put the pressure on, instead the visitors are in the end zone seven plays later. Wyoming 10 CSU 7 7:45/ 2Q
* CSU with the well-timed blitz. Peasley didn't have a chance. Loss of 11. Here comes the punt team.
* Horton is back on the field. Wisely, Wyoming didn't kick it to him. Injured or not, that guy is terrifying.
* Re-kick coming up. Hold on Andrew Johnson. Again, don't kick it to Horton.
* What. A. Punt. Stewart with a 73-yard boomer. Got the friendly roll. Hugh kick by the senior. CSU starts this drive at its own 11.
* He's short. CSU sending on the punt team. Hell of a tackle by Wyett Ekeler right there.
* Guess what? Bohl completely content with bleeding this clock. Now Waylee is limping and CSU calls a timeout with an upcoming 3rd-and-4 from the UW 29.
* Pokes are going to punt with 0:46 to go in the half. Better hope Stewart has another boomer in him here.
* Easton Gibbs with the sack. Good thing, too, there was a CSU WR all by himself over the middle.
* First half stats: Peasley 9-12, 104 yards, TD Waylee 11 carries, 49 yards Alex Brown 2 catch, 32 yards Sam Scott 2 catch, 16 yards Gentry 9-yard TD catch Gibbs 5 tackles, sack Ekeler 4 tackles Bertagnole 3 tackles, PBU Wyoming 10 CSU 7 Halftime
* Weird observation. Wyoming and CSU's coaching staffs have to ride up the single elevator together. I'm sure that's an awkward rise to the top of War Memorial Stadium
THIRD QUARTER:
* Waylee IS on the field for this first drive of the second half.
* CSU again falls asleep on Peasley, who picks up a huge third down. That's a 20-yard gainer.
* Crazy legs Peasley again. This time for 11.
* Another 3rd-and-4 up the gut. Pokes pick up two. Here comes another long FG attempt. 52
* Hoyland can't connect from 52 yards out. That's two long misses on the night. CSU will take over at the 35.
* *INTERCEPTION* Easton Gibbs steps in front of that Fowler-Nicolosi pass. He had all kinds of pressure in his face. Wyoming ball at the Rams 38.
* Peasley to O'Brien on 3rd and 5. Nice play. Needed that one.
* *TOUCHDOWN* Ayir Asante with a pretty toe tap in the back of the end zone. Pokes make the Rams pay for the INT. That was from 11 yards out. Wyoming 17 CSU 7 5:53/ 3Q
* Asante got behind TJ Crandall on that one. Had to wait a bit on the throw and got both feet down. Had to capitalize on the Easton Gibbs pick and they did.
* *INTERCEPTION* Another linebacker pick. This time Shae Suiaunoa steps in front of a Fowler-Nicolosi pass. Pokes at the CSU 46. Wyoming 17 CSU 7 4:49/ 3Q
* Waylee just eclipsed the 100-yard mark on that last run.
* *TOUCHDOWN* Sam Scott plows his way into the end zone from 6 yards out. Pokes have turned back-to-back INT's into back-to-back touchdowns. That was an 8-play, 46-yard possession that took 3:41 off the clock. Wyoming 24 CSU 7 1:08/ 3Q
* Tonight's attendance is 27,905, the biggest since Idaho came to town in 2019
FOURTH QUARTER:
* Bertagnole down on the play. CSU will be facing a 3rd-and-7 from the UW 44 after the break.
* DeVonne Harris bats down that pass. Here comes a 4th-and-7. Rams now 0-7 on third down.
* Never mind. Delay of game. Here comes the CSU punting unit ... we think.
* Peasley, with pressure in his face, tossed an interception right over the middle. Easy pick for Dom Jones. CSU ball at the UW 38.
* Rams with the answer. Goffney with a nice 9-yard TD grab by the boundary. CSU not going quietly. Really bad throw by Peasley set up that 3-play, 38-yard drive. Horton to Fowler-Nicolosi for the 2-pt conversion Wyoming 24 CSU 15 11:07/ 4Q
* Sam Scott picks up 5 on a 3rd and 6. Pokes will punt here with 7:42 to go.
* These Cowboys can't ever make it easy, can they? CSU trailing by nine, has the ball at its own 13 with 7:24 to go.
* Tyce Westland with the bear scoop and score. (I was on the slowest elevator of all time). Pokes at the CSU 1.
* Hell of a goal-line stand there for the Rams. They have 99 yards to go in 2:04. Missed opportunity, to say the least. Wyoming 24 CSU 15
* Pokes are going to salt this one away. Make that 7 Border War wins in the last 8 meetings with CSU and three in a row. Bronze Boot coming right up.
POKES: The Seven Best Games In The History Of The Wyoming-CSU Border War Rivalry (Naturally, they were all Wyoming wins)