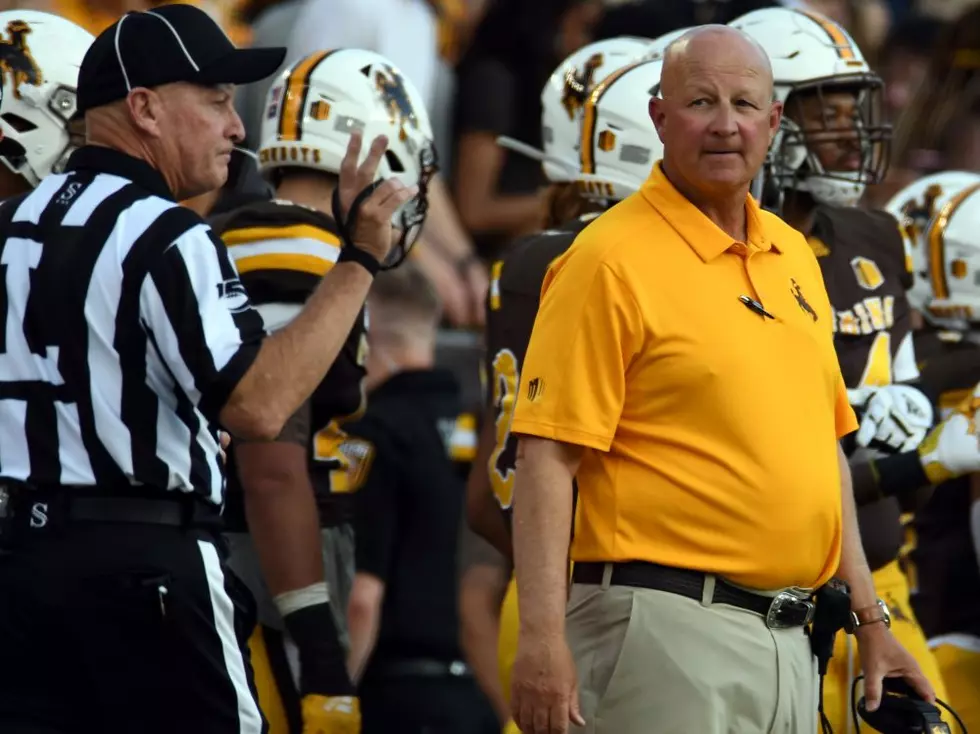 BohlUSE
LARAMIE -- Craig Bohl knew his team -- like every program around the country -- would face plenty of adversity as college football tries to march on through the COVID-19 pandemic.
Wyoming's seventh-year head coach has been sticking to a mantra this fall -- "Happy to just be playing."
That is never more true than now after the Cowboys lost last week's home game with rival Air Force because of coronavirus concerns at the academy. It can disappear that quick.
"I'm proud of the resiliency of our players and staff," Bohl said.
That's how he started out Monday's weekly press conference, too. Bohl is excited to see his team suit up against Utah State. The fact that it will be in front of 7,000 fans Thursday night inside War Memorial Stadium makes it that much sweeter.
Typically this could all be considered "coach speak." Not this year.
Let's hear what Bohl and some of his players had to say Monday:
Wyoming defensive end and team captain Garrett Crall will not be available Thursday night. He is still recovering from offseason foot surgery, according to Bohl. Logan Harris, the Cowboys' starting right guard, will miss his second straight game, too. He has an illness that is not COVID-19 related. We reported Monday morning that Cole Godbout would also miss the Utah State game. Bohl did not confirm or deny that report. UW did not provide a depth chart Monday.
Bohl was asked if the Aggies could serve as a "trap game" of sorts. Utah State is 0-4 this season and features one of the worst offenses in the nation. The defense is also at or near the bottom in a number of categories. USU is also dealing with other issues. Their head coach Gary Andersen and the school parted ways after Week 3. Their starting quarterback Jason Shelley Sunday evening was dismissed from the team for " violating team rules." Bohl's answer was short and right to the point. "We aren't in a position to overlook anyone," he said.

With the unexpected bye week, Bohl said his team would focus on fundamentals. They would also use the time to evaluate some players in the freshman class, who were forced to quarantine for 14 days during fall camp. He said running back Dawaiian McNeeley was a bright spot. "Dawaiian did some good things at the running back position that makes us comfortable with him playing," Bohl said of the redshirt freshman from Ceres, Calif. McNeeley was listed as the third back on Nov. 5 at Colorado State. He has yet to have a collegiate carry.

Savon Scarver has returned six career kicks for touchdowns. That's one off the Mountain West record. Scarver gashed the Cowboys on a 99-yard return in 2018. He has Bohl's attention. "He can turn the field over," Bohl said. "He is a dynamic player." Scarver had a 94-yard kickoff return last week against Fresno State.

The Cowboys worked a lot on pass protection during the bye week. Bohl said quarterback Levi Williams and the offense was faced with too many third-and-longs in the game against CSU. "We worked hard in that area," Bohl said.

Gordie Haug, the Cowboys' running backs coach, said Xazavian Valladay and Trey Smith were able to treat this week as a normal bye week during the regular season. With no spring camp and a limited fall, Haug was able to rest the "two-headed monster" and see what a guy like McNeeley could do.

Williams admitted he was a little banged up after the CSU games. He was sacked six times and on the turf a majority of the night. He called the extra week of preparation a "blessing in disguise."

Count Williams as another player who is not overlooking the Aggies. "Teams with nothing to lose are the most dangerous, in my opinion," he said. "They can cause real problems."

Williams was also brutally honest, as he's known to be, after watching the CSU film. "Losing to CSU is terrible," he said. "Hats off to them, but we should've won that game handily." 

CJ Coldon, like the rest of us, isn't quite sure who will be taking snaps for Utah State Thursday night. But, when he finds out, Coldon said he will do all the digging he can to get to know him. "It's really hard," Coldon said about preparing for a quarterback who has never played at the FBS level. "You go back to watch high school film or whatever you can find, stuff like that. I'll be reading about the quarterbacks, their bios, whatever we can find."

Coldon knows Utah State is desperate, but what about the Pokes? How important is it for UW to be hoisting Jim Bridger's rifle, a traveling trophy between these two rivals, on Thursday night? "Yes, of course want to win all the hardware we can, any chance we get," he said. "We know it's a big game. We're desperate for a win. We're going to get one."

Will Wyoming's offensive line be in a foul mood when the Aggies come to town? "Why do you say that?" offensive guard Eric Abojei said with a smile. "We have a chip on our shoulder ... We have to win. We have to make sure we're the most dominant o-line in the country."

Victor Jones said it will be weird preparing for a quarterback the Cowboys have never seen. That, he said, will make the team focus that much more. And he's not taking this lightly. "He could be one of the greatest quarterbacks we've seen all year," Jones said. "We're not taking it lightly."

One hour ago, Utah State interim head coach Frank Maile named redshirt freshman Cooper Legas the Aggies new starter at quarterback. Legas is 6 foot, 2 inches and weighs in at 205. The Orem, Utah product helped lead his high school teams to back-to-back state titles. Legas is a three-star recruit.