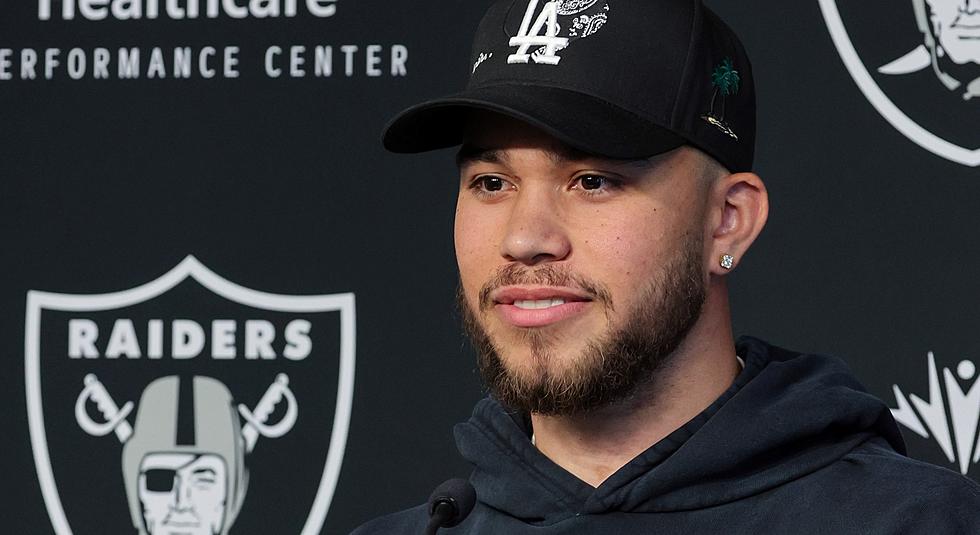 No One Pocketed More Performance-Based Cash Than Marcus Epps
HENDERSON, NEVADA - MARCH 16: Safety Marcus Epps is introduced at the Las Vegas Raiders Headquarters/Intermountain Healthcare Performance Center on March 16, 2023 in Henderson, Nevada. (Photo by Ethan Miller/Getty Images)
LARAMIE -- Marcus Epps was on the field last season for all but 10 defensive snaps as he helped lead the Eagles to Super Bowl Sunday.
The former Wyoming safety tallied 94 tackles out of Philadelphia's secondary. He also tacked on a forced fumble and broke up six passes. That production was parlayed into a 2-year, $12 million contract with the Las Vegas Raiders.
That's not all.
No one in the NFL pocketed more performance-based cash in 2022 than Epps.
The league handed out $336 million in order to compensate players based upon their playing time and salary levels. In other words, Epps earned his keep -- and then some. The former sixth-round selection of the Minnesota Vikings in the 2019 NFL Draft had a base salary of $965,000 last season. He tacked on $880,384 more thanks to this collectively bargained benefit.
Epps, 27, who is originally from Reseda, Calif., walked on to the Wyoming football team in 2014 and redshirted his first season in Laramie. Once he cracked the lineup, the 6-foot, 197-pound free safety racked up 324 tackles and picked off nine passes, including four during the 2017 campaign. Epps, who forced five fumbles and recovered four more, helped lead the Cowboys to a Mountain Division title in 2016 and appeared in two bowl games.
MORE UW ATHLETICS NEWS VIA 7220SPORTS:
* 1WYO launching University of Wyoming's first NIL collective
* Wyoming's Chase Roullier retiring from the NFL after six seasons
* Three-star prep school point guard chooses Cowboys
* LOOK: Take a sneak peek at Wyoming's new end zones 
* 'Wyoming made it easy' for OT Brycen Lotz to commit to Cowboys
* Wyoming announces game times for Portland State, New Mexico
* Memorial service for Jim Brandenburg to be held inside Arena-Auditorium
He wasn't the only former Cowboy to land on this list, either.
Tashaun Gipson, a safety for the San Francisco 49ers, who played at UW from 2008-11, earned the 12th most additional income, according to NFL Communications. Gipson made an additional $708,106 while leading the Niners to the NFC Championship game.
Gipson picked off a team-best five passes in 2022. He also finished with 61 tackles and eight pass breakups.
Gipson, 32, inked a 1-year, $2.9 million contract this offseason.
Logan Wilson also appears on this list at No. 19. The Casper product earned an extra $669,729 in incentives in 2022. Wilson, who was an All-American linebacker at Wyoming from 2015-19, is currently on his rookie contract and his base salary is $1,059, 599.
Wilson, 27, racked up a team-high 123 tackles last season for the Cincinnati Bengals. He also registered 2.5 sacks and hauled in an interception.
How performance-based pay works, per NFL Communications.
Under the Performance-Based Pay program, a fund is created and used as a supplemental form of player compensation based on a comparison of playing time to salary. Players become eligible to receive a bonus distribution in any regular season in which they play at least one official down. In general, players with higher playtime percentages and lower salaries benefit most from the pool.
Performance-Based Pay is computed by using a player index ("Index"). To produce the Index, a player's "PBP Playtime" (defined as the player's regular season total plays played on offense, defense and special teams, divided by the number of plays of the player with the most total combined plays on that team) is divided by his "PBP Compensation" (defined as regular season full salary, prorated portion of signing bonus, earned incentives). Each player's Index is then compared to those of the other players on his team to determine the amount of his Performance-Based Pay. If a player's base salary is less than the Minimum Salary of a player with seven or more Credited Seasons, then player's base salary will be imputed to be equal to the Minimum Salary of a player with seven or more Credited Seasons (i.e., $1.120M for the 2022 season). By imputing a minimum salary of $1.120 million, a slightly higher percentage of the pool is directed to high-performing veteran players whose salaries exceed $1.120 million, but are not among the highest in the league, as contemplated by the formula. This imputation of salary is solely for the purpose of calculating distributions from the pool and does not affect the actual salary paid to the player under his contract.
University of Wyoming's Top 50 Football Players
The rules are simple: What was the player's impact while in Laramie? That means NFL stats, draft status or any other accolade earned outside of UW is irrelevant when it comes to this list.
This isn't a one-man job. This task called for a panel of experts. Joining 7220's Cody Tucker are Robert Gagliardi, Jared Newland, Ryan Thorburn, and Kevin McKinney.
We all compiled our own list of 50 and let computer averages do the work. Think BCS -- only we hope this catalog is fairer.
Don't agree with a selection? Feel free to sound off on our Twitter:
@7220sports
- #Top50UWFB
- University of Wyoming's Top 50 Football Players