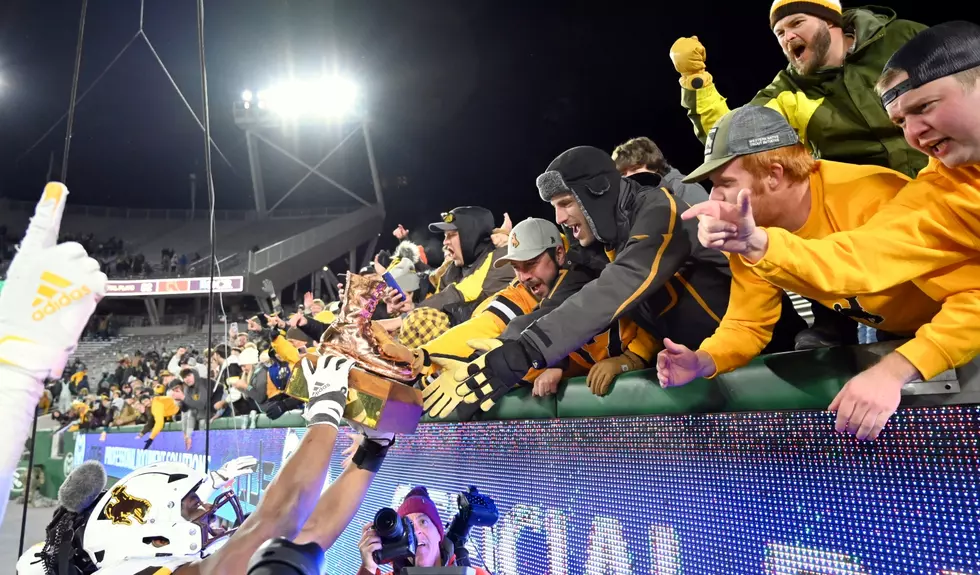 1WYO Launching University of Wyoming's First NIL Collective
Wyoming fans from around the globe sound off during, after the Pokes' 14-13 victory over Border War rival Colorado State./ DJ Johnson photo
LARAMIE -- Jeff Linder said back in May if you want to retain players and compete for championships, the formation of a collective was imperative.
Wyoming's fourth-year head coach called name, image and likeness (NIL) the "elephant in the room," adding his program can not be a "feeder" for bigger schools across the college basketball landscape.
"It's going to be tough to continue to grow. It's going to be tough to get old," Linder said. "Then the way that the transfer portal works, I mean, it's really hard if you're not in that space (NIL)."
The University of Wyoming is indeed entering that space Thursday afternoon with the launch of 1WYO. The school's first collective will be active around noon. Admittedly, the refresh button Mitch Edwards' computer is in for a workout.
Edwards, along with Laramie-based partners Jason Tangeman, Jason Roesler and Steve Gosar, started this endeavor for one reason -- need.
"Someone had to step up and the four of us said, 'hey, let's get together and let's do this,'" said Edwards, who is an attorney with the law firm of Nicholas & Tangeman, LLC. "You know, the coaches, whether it's Craig Bohl or Jeff Linder, have shown that they are great recruiters, they're great coaches and they put a good product on the field. Now, there's one more thing that they have to deal with and that is the question of do you have a collective and do I have the opportunity if I come to Wyoming to potentially profit off my name, image and likeness?
"If you don't have that you're at a disadvantage."
Wyoming is the eighth Mountain West Conference school to join the collective movement, joining Boise State, Colorado State, Nevada, San Diego State, UNLV, Utah State and New Mexico. Only Hawaii, San Jose State, Fresno State and Air Force (prohibited) don't currently feature an NIL donor organization.
Some collectives focus exclusively on one specific sport. That won't be the case for 1WYO.
Under the "make a donation" tab, a potential donor can choose any of the university's 17 NCAA-sanctioned sports. There is also the option to select "all sports."
"Everybody talks about football and basketball -- and that's where most of the attention is -- but the reality is, these student-athletes should have the ability to do it, regardless of what sport they're playing in," Edwards said. "We have fans and donors out there that might be passionate about women's basketball or volleyball or wrestling and not be so passionate about football or men's basketball. So we want them to have an opportunity to contribute as well."
So, how does this all work?
Edwards said it's quite simple. Donations will be aimed at promoting the more than 3,500 local non-profit charities and their specific causes. In turn, UW athletes can use their influence in the community and earn compensation in the process.
MORE UW ATHLETICS NEWS VIA 7220SPORTS:
* Wyoming's Chase Roullier retiring from the NFL after six seasons
* Three-star prep school point guard chooses Cowboys
* LOOK: Take a sneak peek at Wyoming's new end zones 
* 'Wyoming made it easy' for OT Brycen Lotz to commit to Cowboys
* Wyoming announces game times for Portland State, New Mexico
What are the expectations?
Edwards said ideally 1WYO would bring in anywhere from $600,000 to a million in the first year. He added growth will be organic and the board of directors plan to let it "do what it does."
With other entities like the UW Foundation, Cowboy Joe Club, along with renovation projects surrounding athletics, Edwards is fully aware this is another big ask from the fanbase.
"Ultimately, we can reach out and what we know is that Wyoming people have always stepped up to the plate, have always been generous and gotten behind our team and our charity," he said.
Plenty of homework has gone into starting this venture, Edwards said. His group has reached out to other collectives around the country -- big and small -- to see what steps have proved successful and issues to avoid. Doing it the right way, he added, was imperative.
Was there any apprehension? You bet.
"You don't know if it's going to work," Edwards laughed. "It's your own credibility and it's your group's credibility that's on the line. That's why it took us a while to get to where we are."
The 1WYO board of directors will not be compensated for the work put into the collective, Edwards said, joking that the hours have already been more than anyone imagined. Volunteers and interns, he said, will play a part down the road.
The anticipation is very real, Edwards said. Thursday morning he will be inside an Albany County courtroom working his day job. The second the 1WYO website goes live, however, there's no denying it, he will be eagerly awaiting those first donations.
"I'm going to have to be pretty disciplined to not just constantly sit in front of my iPad and look at every notification and follow and comment," he said. "... I hope we're the right ones and we hope we're doing it right and that everybody can be proud of the product that we're putting out there."
To visit the 1WYO website click HERE.
For FAQ's click HERE.
Learn about the 1WYO Board of Directors HERE.
To make a donation click HERE.
LOOK: Pokes' unis through the years
University of Wyoming's Top 50 Football Players
The rules are simple: What was the player's impact while in Laramie? That means NFL stats, draft status or any other accolade earned outside of UW is irrelevant when it comes to this list.
This isn't a one-man job. This task called for a panel of experts. Joining 7220's Cody Tucker are Robert Gagliardi, Jared Newland, Ryan Thorburn, and Kevin McKinney.
We all compiled our own list of 50 and let computer averages do the work. Think BCS -- only we hope this catalog is fairer.
Don't agree with a selection? Feel free to sound off on our Twitter:
@7220sports
- #Top50UWFB
- University of Wyoming's Top 50 Football Players