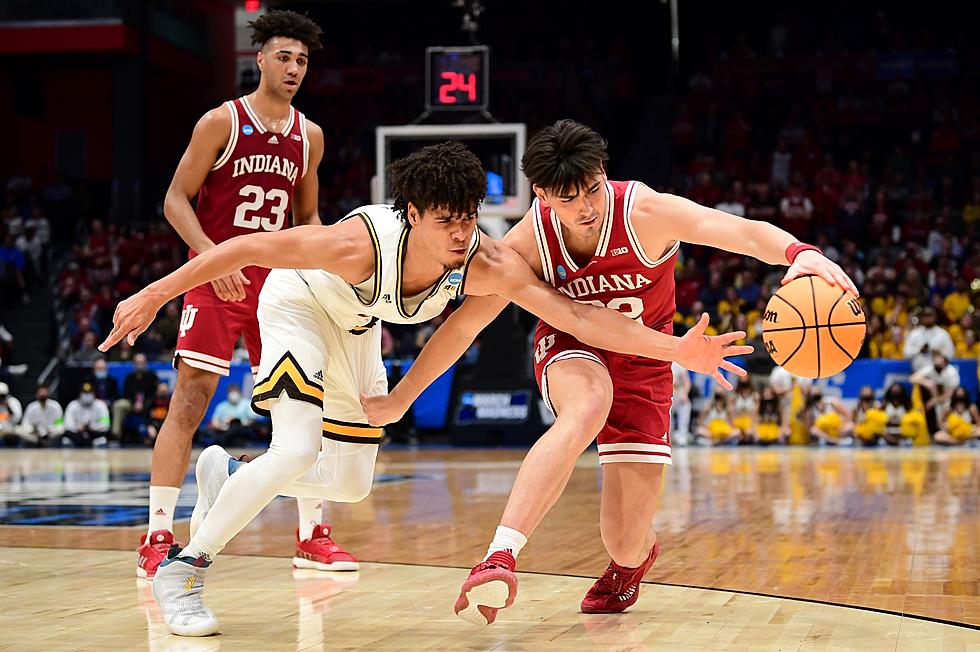 Wyoming's Jeff Linder on NIL: 'That's the Elephant in the Room'
DAYTON, OHIO - MARCH 15: Brendan Wenzel #5 of the Wyoming Cowboys and Trey Galloway #32 of the Indiana Hoosiers compete for a loose ball during the second half in the First Four game of the 2022 NCAA Men's Basketball Tournament at UD Arena on March 15, 2022 in Dayton, Ohio. (Photo by Emilee Chinn/Getty Images)
LARAMIE -- San Diego State's "MESA Foundation" helped fuel the Aztecs run to the National Championship game.
New Mexico has the "505 Sports Venture Foundation." Utah State's version is called "Light it Blue." Nevada leans on "Friends of the Pack" and those Runnin' Rebels to the south receive funding via "Friends of UNILV." Clever.
"The Horseshoe Collective" is helping power Boise State athletics while "Bulldog Bread" is doing the same over in Fresno.
The Cowboys most-hated rival, Colorado State, has the "Green & Gold Guard." It features monthly memberships and one-time gifts, ranging from $10 to $5,000.
Even programs like South Alabama, Sam Houston State and Stetson have Booster-driven collectives.
Wyoming uses Opendorse, a school-specific Name, Imagine and Likeness (also referred to as NIL) marketplace. What is that? Just take a gander at the Pokes' basketball roster on the official website.
Click on the small money sign below the mugshot.
Let's say you want sophomore guard Cort Roberson to make a video for you, saying Happy Birthday. That will run you around $12. What if you want forward Caden Powell to make an appearance at your fundraiser? That will set you back roughly $360.
Looking for a Brendan Wenzel autograph? That's going to cost around $50.
Get the picture?
UW, of course, isn't the only university using this. The entire Mountain West Conference utilizes this platform.
It's a start.
Other businesses and non-profit organizations have kicked in some coin, according to Wyoming Athletics Director Tom Burman. For instance, student-athletes partnered with the local Boys and Girls Club, raising roughly $300,000. Some of that cash was kicked back to the players. It worked well, Burman added, but attrition continued..
"It didn't keep them here," he said. "That's kind of the common theme we're starting to hear from some donors."
Consider this. SDSU's collective, which has a first-year budget of $350,000, is paying 11 men's basketball players $2,000 per month, according to the San Diego Union-Tribune. All those guys are required to do is make a few social media posts and attend a specific number of events.
Not a bad gig, huh?
Jeff Linder met with the media Tuesday for the first time in nearly two months. Since that last chinwag with Wyoming's head basketball coach, his roster has been decimated, to put it lightly. Ten players, including the conference's preseason Player of the Year, Graham Ike, entered the NCAA Transfer Portal.
Why?
A 9-22 campaign on the hardwood certainly didn't help matters. Neither did turmoil within the program, which led to an internal investigation for mistreatment of players.
MORE UW HOOPS NEWS VIA 7220SPORTS:
* Jeff Linder moving on from mistakes, rebuilding program
* Wyoming officially announces eight basketball signings
* PODCAST: Talking with Tom Burman
* Wyoming signs 6-9 power forward from Kansas City
* Sharp-shooting Sam Griffin Signs with Pokes
* Cowboys add D2 All-American guard Akuel Kot
* Linder, Cowboys basketball adds two more signees to 2023-24 class
Linder said he isn't going to guess or question why the exodus happened, but instead focus on the four players who stuck around and the eight recruits that recently signed on the dotted line.
Still, there's an elephant in the room. Wyoming needs a collective, according to the Pokes' fourth-year head coach.
"Well, that goes without saying," Linder said. "... That's the reality of college basketball right now. Obviously, you know, at this level of college basketball, I mean, if you want to compete for championships, if you want to retain your players (you need a collective). That's the hard part, you can't be a feeder system. You can't be a junior college."
Does Linder take it personally when one of his guys enters free agency? Sure. He's a competitor, he said.
What makes it even worse?
"When you spend the amount of time (recruiting, practicing, etc.) and when you know what really is going on, I mean, I think that's the tough part," Linder said, failing to elaborate. Burman said on the Roaring Repeater Podcast he has heard rumors of a UW player being offered $250,000 to $300,000 to sign with another school.
Collectives are typically making those offers, Burman added, whether they can foot the bill or not.
"It's going to get ugly," he said, adding that some student-athletes are toying with the idea of suing universities. "I don't know when it will, but it's going to get ugly."
Burman said NIL is one of the questions many prospective athletes inquire about before committing to Wyoming. Does it even work here? Yes, he says, and the example he uses is the case of former basketball star Hunter Maldonado.
"He was probably one of the higher paid kids in the Mountain West," Wyoming's AD said. "Most of that fell on Hunter Maldonado. He really worked at it and was extremely creative ... Other kids, it didn't work as well. They didn't work at it as hard."
Linder said his job is to bring in the Jeremiah Oden's and Ike's of the world. If you can't keep them, he added, building a program is not going to be an easy task.
"It's going to be tough to continue to grow. It's going to be tough to get old," he said, referring to SDSU having eight seniors last season. "Then the way that the transfer portal works, I mean, it's really hard if you're not in that space (NIL).
"There's a lot of teams in our league that are doing that and that's something that I know is going to have to be done here if we're really going to want to compete for championships."
University of Wyoming's Top 50 Football Players
The rules are simple: What was the player's impact while in Laramie? That means NFL stats, draft status or any other accolade earned outside of UW is irrelevant when it comes to this list.
This isn't a one-man job. This task called for a panel of experts. Joining 7220's Cody Tucker are Robert Gagliardi, Jared Newland, Ryan Thorburn, and Kevin McKinney.
We all compiled our own list of 50 and let computer averages do the work. Think BCS -- only we hope this catalog is fairer.
Don't agree with a selection? Feel free to sound off on our Twitter:
@7220sports
- #Top50UWFB
- University of Wyoming's Top 50 Football Players