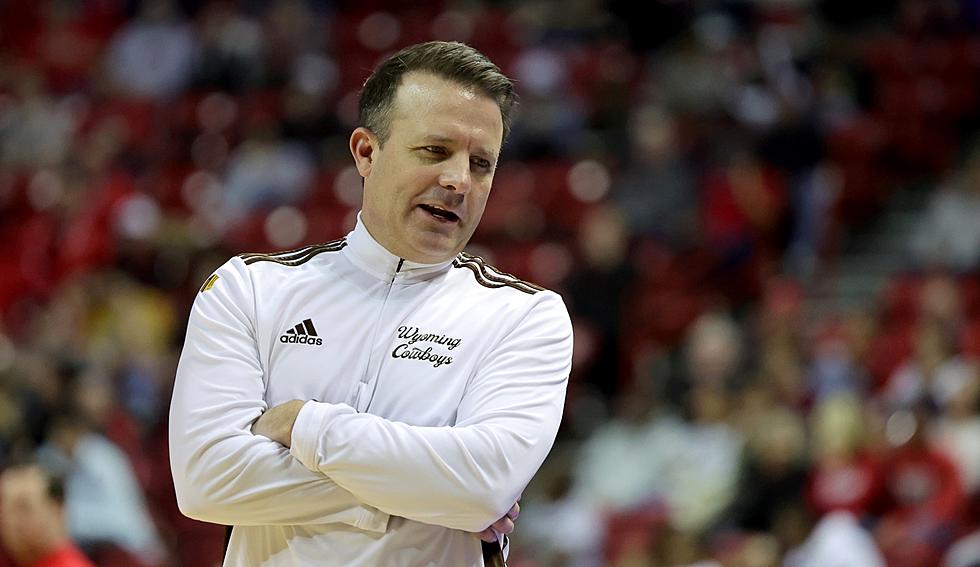 Wyoming's Jeff Linder Moving on From Mistakes, Rebuilding Program
LAS VEGAS, NEVADA - JANUARY 24: Head coach Jeff Linder of the Wyoming Cowboys looks on in the second half of a game against the UNLV Rebels at the Thomas & Mack Center on January 24, 2023 in Las Vegas, Nevada. The Rebels defeated the Cowboys 86-72. (Photo by Ethan Miller/Getty Images)
LARAMIE -- It has been 58 days since Jeff Linder last spoke publicly.
That came directly after the Cowboys 67-50 loss to San Diego State in the regular-season finale. It was a phone conversation with a lone media member on the other end of the line.
There's been good reason for the silence, too.
The same day Wyoming fell to New Mexico in the opening round of the Mountain West Tournament, Linder's father, Bruce Linder, passed away. Just four days later, Noah Reynolds entered the NCAA Transfer Portal. Nate Barnhart followed. So did Jeremiah Oden, Xavier DuSell, Nathanial Talich and, eventually the conference's preseason Player of the Year, Graham Ike.
Three other players -- Jake Kyman, Ethan Anderson and Max Agbonkpolo -- didn't even wait for the end of the season to pack their bags. The PAC-12 trio left the program together in early February.
An internal investigation into mistreatment of players was sandwiched in between. Wyoming Athletics Director Tom Burman said last month he is "satisfied" with the findings.
Instead of doing damage control via the press, Linder instead did the only thing he knew to do -- recruit.
Over the last 20 days, Linder and his staff have rebuilt this roster from nearly scratch, adding eight new faces. Two available scholarships remain. Whether those will be filled or not is still in the works.
Linder faced the media Tuesday afternoon deep inside the bowels of the Arena-Auditorium.
He talked about landing the NAIA Player of the Year Mason Walters. He boasted about the scoring prowess of Akuel Kot, Kobe Newton and Sam Griffin. He thinks the length of 7-foot Nebraska transfer Oleg Kojenets will cause fits in the paint. Wyoming's fourth-year head coach loves the upside of high school products Nigle Cook, Kael Combs and 17-year-old Cameron Manyawu.
READ ABOUT THE NEW GUYS RIGHT HERE:
* Wyoming signs 6-9 power forward from Kansas City
* Sharp-shooting Sam Griffin Signs with Pokes
* Cowboys add D2 All-American guard Akuel Kot
* Linder, Cowboys basketball adds two more signees to 2023-24 class
* Wyoming basketball inks guard from famed DME Academy
* Wyoming receives commitment from NAIA Player of the Year
* Wyoming lands first commit of 2023-24 class
Of course, he also praised the loyalty and spring workouts of the four remaining bodies on the roster: Brendan Wenzel, Caden Powell, Cort Roberson and Kenny Foster.
"Two months ago, people thought the sky was falling around here," Linder said. "Well, right now, two months later, we got more guys than probably 90% of the teams in the country."
The media in attendance had other questions, though. Like, what happened?
Linder didn't get into specifics, but he did shoulder the load.
"We looked at it as a challenge and we've also looked at it is an opportunity," he said of overhauling this once-barren locker room. "How can we learn from what just happened? Because, obviously, there was mistakes that were made. Like I said, that's nobody else's fault but me, as the head coach.
"So, how can we learn from those? How can we move forward?"
Craig Bohl knows all too well what his basketball counterpart is going through.
After the 2021 season, the Cowboy football program lost 15 players to the transfer portal, including both quarterbacks and cornerbacks, a wide receiver with a dozen touchdown grabs and the school's second all-time leading rusher, among many others.
That led to plenty of soul searching from the then-62-year-old.
Bohl spoke with Linder in late March. He said plenty of "slings and arrows" head in the direction of the two men in those positions, but his main advice was plain and simple -- evolve.
Bohl said he needed to have a better relationship with his players. By all accounts, that happened. The Pokes featured the third-youngest team in college football last fall yet still won seven games and made a bowl appearance.
Seventeen former UW football players have since entered college athletics' version of free agency. Only three of those were full-time starters.
"I encouraged him to stay who he is, and people know who he is," Bohl said of his meeting with Linder. "I really want to encourage our fans to understand that the landscape has changed and the sky is not falling. We will move forward."
Burman said every coach on campus needs to adapt, not just the high-profile ones.
"The world is changing. The leverage -- or the power, I guess you would say -- which for decades was in the coach's hands, has shifted now to the player's hands," he said. "Now, I think, hopefully it's just like anything, the pendulum has probably swung too far. We have to come back to the middle. And hopefully there's a way to do that. It looks complicated to get there right now, but, yeah, I think every coach is going to have to adjust to the current landscape. You have to have a closer relationship so it's more difficult for a young man or young woman to walk in your office and say they're out.
"If there are kids texting you that they're out, that means they're not very connected, too. And that has happened to many of our coaches in many of our sports in the last few years. We just have to do a better job."
Will Linder do some self-reflecting?
"Obviously you have got to adapt," he said. "I mean, kids are way different now than they were two or three years ago. But I don't think what we do is lower the standard. I know this, I've won a lot of games as an assistant coach and have won a lot of games as a head coach.
"... I have to look in the mirror. I mean, I talk to my players all the time about response. I can't sit there and hold them to 'Hey, what's your response going to be when, you know, I have to do the same."
How soon people forget.
Yes, Wyoming won just nine games in a year that was supposed to extend well into March. Injuries, especially Ike's lingering right foot issue coupled with Reynolds' multiple concussions, aided in the derailment. So did setbacks to Hunter Maldonado, Hunter Thompson, Foster and Wenzel., among others.
"We had more injuries than any team in the history of college basketball," Linder embellished.
This team simply never found its footing. It never gelled. Lofty expectations weren't met.
"There's some things that we can do a little bit differently, but, you know, at the same time, too, we had one tough year," he said. "The year before, I mean, we had an at-large bid to the NCAA tournament, which the last time I checked, hadn't done that here since 2000 -- I don't when the last time they did that here. That's really, really hard to do.
"I didn't forget how to coach after one year, which a lot of you guys thought was the case. We just kind of had the perfect storm. As I said, it's on me, as the head coach. I'm the CEO, I'm the leader of the deal."
How have these last two months really affected him?
"You know, things sometimes just don't work out," he said. "Sometimes, that's just the way it goes. At the same time, too, I mean, you have to roll the dice and you have to try. Sometimes it doesn't work and that was the case ... I can sleep at night knowing the time that I spent with those guys, regardless of what has been said, the time that I spent with those guys in my office, the time I spent watching film with those guys, where my heart was at in terms of putting those guys in the best position to be successful.
"I know what goes on on a daily basis. Sometimes you just have to ignore the noise, and, like I said, know that better days are to come. That's what we're going to focus on."
MORE UW HOOPS NEWS VIA 7220 SPORTS:
* Wyoming officially announces eight basketball signings
* PODCAST: Talking with Tom Burman
* Ken DeWeese named associate head coach of Wyoming basketball
* Bryston Williams joining Wyoming basketball staff
* Nick Whitmore added to Wyoming coaching staff
POKES: The Seven Best Games In The History Of The Wyoming-CSU Border War Rivalry (Naturally, they were all Wyoming wins)