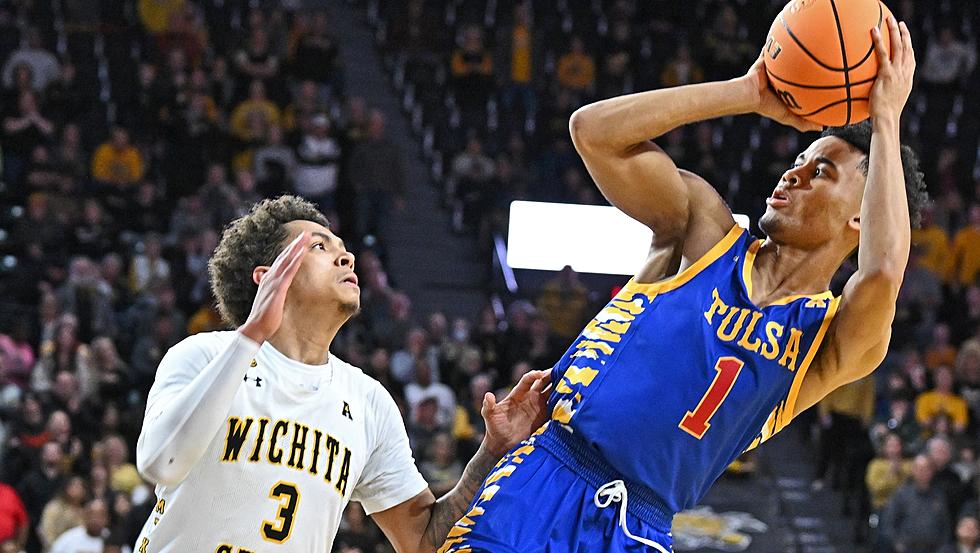 BREAKING: Sharp-Shooting Sam Griffin Signs With Pokes
WICHITA, KS - JANUARY 14: Sam Griffin #1 of the Tulsa Golden Hurricane shoots the ball against Craig Porter Jr. #3 of the Wichita State Shockers in the second half at Charles Koch Arena on January 14, 2023 in Wichita, Kansas. (Photo by Peter G. Aiken/Getty Images)
LARAMIE -- Third school a charm?
Sam Griffin, who spent the first two years of his career at Texas-Arlington and the last two at the University of Tulsa, inked with Wyoming Monday, becoming the seventh player to join Jeff Linder's program since the traditional signing day period began April 12.
Griffin, a 6-foot-4, 180-pound guard, has one season of eligibility remaining.
"Sam is a proven playmaker at the high D1 level who can create for himself and his teammates," Linder penned on Twitter.
Griffin led the Golden Hurricane in scoring, averaging 15.2 points per game. He also dished out two assists and pulled down nearly three rebounds an outing. The Miami native connected on nearly 40% of his shots from the floor. From deep, he drained 32% of his attempts. That was good enough for seventh in the American Athletic Conference.
In his career, Griffin has hit 244 triples in 115 games.
During his final season at Tulsa, Griffin reached double figures in all but four outings. Seven times he eclipsed the 20-point mark including a career-high 29 in an opening night loss to Oregon State. Griffin was 10-of-21 from the field and sniped five 3-pointers in that 73-70 setback.
Griffin has averaged double-digit scoring over his last three seasons. As a freshman at UT-Arlington, he added 9.4 a night.
He has 1,497 career points.
Navy, Northern Arizona and Florida International, among others, offered Griffin out of Westminster High School, where he averaged 23 points per night and led his team to three consecutive state championships.
So did Northern Colorado, then coached by Linder.
Wyoming still has three scholarships available after inking Griffin. He will join fellow transfers Oleg Kojenets (Nebraska), Kobe Newton (Fullerton College), Mason Walters (Jamestown) and Akuel Kot (Fort Lewis). A pair of prep stars have also signed to play in Laramie -- Kael Combs and Nigle Cook.
The traditional signing period will close May 17.
READ ABOUT THE NEW COWBOYS HERE:
* Linder, Cowboys basketball adds two more signees to 2023-24 class
* Wyoming basketball inks guard from famed DME Academy
* Wyoming receives commitment from NAIA Player of the Year
* Wyoming lands first commit of 2023-24 class
MORE UW HOOPS NEWS VIA 7220SPORTS:
* PODCAST: Talking with Tom Burman
* Ken DeWeese named associate head coach of Wyoming basketball
* Bryston Williams joining Wyoming basketball staff
* Nick Whitmore added to Wyoming coaching staff
POKES: The Seven Best Games In The History Of The Wyoming-CSU Border War Rivalry (Naturally, they were all Wyoming wins)